Tinderbox Roasters has been caffeinating both visitors and residents of Westport for several years now. Owners, Chad and Aubrey Baier bought the business in 2014 from Nick and Tara Greeley who began the roaster in 2012. But changes are brewing once again.

Even if you've not stopped by their eclectically decorated and aesthetically pleasing shop at 101 N. Montesano Street in Westport, you may still be familiar with their roasts served around the Harbor. Several establishments serve Tinderbox coffee or sell their beans including Huckle-Bearies Espresso & Bake Shop, The Market Place and Rediviva in Aberdeen, Nelson Crab Company in Tokeland, Frontagers in Seabrook and All Wrapped Up in Montesano.
Now, the Baiers are bringing their bean biz to new grounds and Chad and Aubrey are enthusiastic about bringing you the best roast on the coast.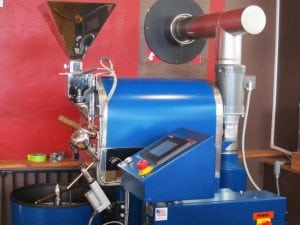 The lease on their Westport location ended and the building is selling, causing the couple to search for the next ideal site for their business. The Westport operation is soon closing and moving to a new scene for their bean in Aberdeen at 113 E Wishkah St. adjacent to the D and R Theatre. Chad and Aubrey hope to have the shop opened by April 1, 2017. No foolin'.
Tinderbox, the only in-house roaster on the Harbor, roasts in small quantities to keep their coffee fresh and offers blends as well as balanced single origin roasts. Always endeavoring to expand the nuances of their product while focusing on fairly-traded and organic beans, Chad and Aubrey are passionate about roasting and brewing for perfection—presenting coffees with body, rich flavors, a balanced acidity, and an aroma that can be appreciated by cupping professionals and discerning coffee-lovers alike.
Chad, who works for Labor and Industry, met Aubrey about ten years ago at church. Aubrey, who was then a single mom and working in the banking industry, recalls, "When I first went to Chad's house…I thought to myself, 'This man is a total nerd!' He had a coffee tasting flavor wheel on his wall, a miniature personal coffee roaster, green coffee beans in his cupboard, and an extensive vinyl collection of bands I had never heard of."
They soon fell in love, married, and moved to Montesano, where they live today. Coffee became a prominent mutual interest.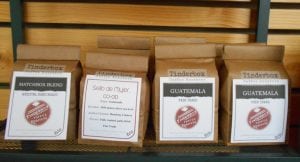 Aubrey says she's become a coffee nerd, too. "I have found myself geeking out on all of the different notes in the coffee he roasts and realize how much he has rubbed off on me."
"A friend came up to me at church and said I needed to go to Tinderbox," recalls Chad of their introduction to Tinderbox which was, at the time owned by the Greeleys. "The minute I walked in I had this instant feeling I was going to own it one day." When the business went up for sale a short time later, he told Nick Greeley of his interest.
Nick was looking for someone with passion and some coffee-sense. Chad had been involved in the trade off and on over the past twenty years and absolutely loved coffee. He hoped that would be enough to persuade the Greeleys that he and his wife should be the next proprietors.
In June of 2014, Nick called Chad to say he'd chosen the Baiers to be the new owners of Tinderbox. The rest, as they say, is history and the couple have been successfully brewing up business ever since.
Aubrey believes she and Chad are well-suited for the job. "My goofy and inviting personality coupled with his knowledge, skill and natural talents have come together to create a business where over and over again I receive the highest of compliments."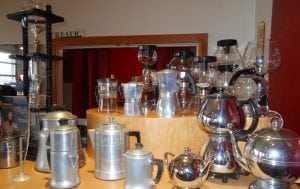 The Baiers believe Aberdeen will be a great place to do business. Not only because it's a larger city, but because most folks destined for the coast can swing in for their fix on their way. Tinderbox served the surfing community while in Westport and Chad says, "I have a feeling a lot of them will stop here on their way to the beach."
Chad believes the locals will catch on, too. He watches current trends in the trade and knows the desires of today's coffee lovers. But loving coffee is only part of the picture; loving people is what it's really all about.
"I have always been in customer service based jobs," says Aubrey, "and I can tell you that I absolutely love serving people. I enjoy meeting new customers, chatting-it-up with regulars, and making amazing coffee. It is their support, kindness and love for local business that keeps us going."
With more than 2,000 square feet, the new shop is twice the size of the old one, allowing room to do more than ever before. Tinderbox will offer free WiFi and plenty of electrical outlets, locally crafted pastries from Cakecakes, and box lunches from Redivia are in the works.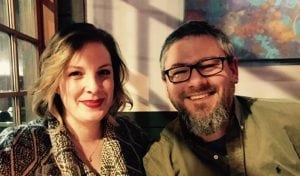 "I want Harbor folks of all ages to feel like this is the place to be," Aubrey continues. "We plan to be open for those late night college cramming sessions, for parents who only have the evening to get out, for high school kids to come and have a place to hang, for business people to come and respond to emails."
The Baiers are working with Wil Russoul of Stone Soup Artists to book music in for First Fridays and more. "The [Aberdeen] music scene is becoming more vibrant than ever," Chad shares.
Tinderbox is focused on quality – of the coffee and the experience. They offer espresso, drip, Hario pour-over, Clever, Aeropress, French press, toddy and siphon brew methods. Their goal is to provide you with amazing coffee and tea made any way you like it. They serve blends from the highly-caffeinated white and lighter roasts to the dark and robust. And the friendly, knowledgeable baristas, trained in crafting a custom hot beverage just for your personal pallet, are part of the family, too.
"We develop relationships with our employees and work to make them feel our appreciation for all that they do," says Aubrey of their dedicated and talented team.
So, if you appreciate a carefully and wonderfully made coffee, coffee culture and the rich and varied flavors that can be achieved through the roasting craft, the new Tinderbox in Aberdeen will likely be your place to sit back, sip and savor.
"We look forward to being a part of another business community that promotes and supports each other. I believe that all aspects [of our business] will help improve the appeal of Aberdeen's downtown and create an environment where pedestrians can walk, shop and work all on the same block," Aubrey shares.
Folks are encouraged to watch their website, which is being revamped by Westport designer Trina Packard, for updates and grand opening information.