The people of the Quinault Indian Nation (QIN) have a deep connection to canoes. Their ocean-going "Big Water" dugouts are an important part of tribal heritage and custom. They are not made of aluminum, fiberglass or canvas stretched over a frame. Instead, they are dug wide and deep from old-growth cedar—much wider and larger than the river canoes of the inland tribes.

Each summer the YMCA of Grays Harbor welcomes a camp-full of Quinault boys and girls to Shelton's Camp Bishop. Ryan Hendricks Sr., Intern Construction Manager for the Quinault Indian Nation (QIN), Grays Harbor College carpentry student and father of four children, believes strongly in the program they offer. "I'm hoping to see my kids go there," he says.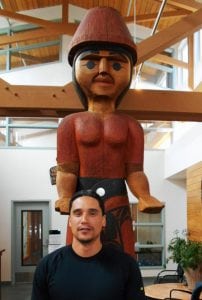 And, when his children do attend Camp Bishop, they will be able to proudly point to a beautiful new structure, currently under construction, called The Canoe House at Camp Bishop. Ryan, along with his fellow Grays Harbor College carpentry students, are constructing The Canoe House to shelter the camp's water craft and equipment used heavily by the campers. In particular, the structure will provide a permanent home for one very special canoe with a very special history.
The story begins with Westport's Vern Heikkila, once a Camp Bishop camper, who fondly remembers paddling a classic (1957) Old Town canoe while at camp. In the quiet, foggy mornings on Lost Lake, the clean crispness of the paddle's almost silent dip and swing through the water stirred something in him.
Over time, the 25 foot canvas on wood vessel fell into disrepair and ended up behind the Aberdeen History Museum in hopes that it one day might become a gallery piece. Something again stirred in Vern and, after an extensive search, he located the canoe that had given him such solace and satisfaction. He would spend two years restoring it to its former glory.
Once repaired, he began hauling it back and forth to Camp Bishop each summer, his heart set on sharing his love for canoeing, and his love of this canoe, with another generation of campers.
In time, Vern decided the canoe needed a permanent home at Camp Bishop and the YMCA of Grays Harbor agreed. After thoughtful conversation, a design was commissioned and local architect Will Foster came up with something imaginative—a canoe-inspired building: curved and sleek with a heavy timber frame to represent the Harbor's heritage of wooden boat construction, the timber industry and the canoes of the local Quinault Indian Nation. The structure, to be crowned with a ridgepole in the silhouette of a canoe, would house the camp's canoes and water sport accessories.
But who would build The Canoe House, as it came to be called, and how could the Y budget for the cost of construction?
The design team approached Adam Pratt, carpentry instructor at Grays Harbor College, seeking his advise, but also the practical skills of his talented students. Pratt immediately saw it as an opportunity for his students to learn custom construction techniques on a highly detailed project that, while complex, was on a manageable scale. All this while also serving the community and saving the YMCA in  construction costs.
"This partnership between the college and the YMCA presents opportunities for volunteers and organizations throughout the community to support campers," says Pratt. And that's just what's occurred.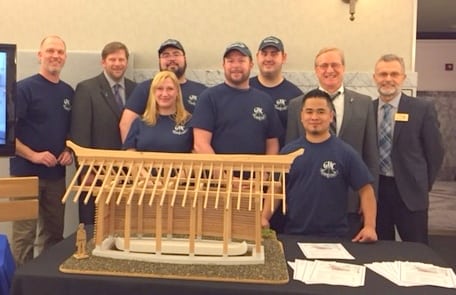 When the project commenced, Ryan Hendricks was working toward an Associate in Technology at GHC and was among those first carpentry students to look at the plans. He helped create the design proposal, consisting of digital images and a 3D model, which his fellow students presented before this year's State Legislature Open House. (Ryan graduated prior to the Open House.)
More importantly, however, Ryan has shared the project with the Quinault Indian Nation's Council Members as well. Ryan's connection to the QIN and it's rich tradition and connection to canoes spawned an idea for the ridgepole be crowned with one of the tribe's "Big Water" canoes—an actual hand dug canoe.
Ryan notes that the very centerpiece motif of the Canoe House at Camp Bishop, including the Nation's contribution, would be educational to children using the camp—both tribal and non-tribal alike. "This was kind of a selling point I used with our Council," says Ryan. "For the Nation to participate in this community project is a way for the them to give back. It brings a piece of our heritage to the centerpiece—a visual piece to top the Canoe House."
Ryan hopes the Canoe House will incorporate cedar from the QIN's reserves. The majority of the timber to be used in construction will come from salvaged logs donated by the Anderson Middleton Logging Company. The cedar logs were cut and buried around 50 years ago to support a logging road.  The wood was preserved due to the fact that it was buried underground. The logs will be sawn into lumber and kiln dried before it is used.
"My vision is to have children out there [at Camp Bishop] to see, and to feel, something inside the architecture—something familiar, something they can relate to, something they grew up around." He says the Canoe House's cooperatively inspired design "helps bring communities together and brings something beautiful to the children."
Franzine Potts, CEO of YMCA of Grays Harbor, says, "We are very excited about the collaboration, truly a great combined effort within our community."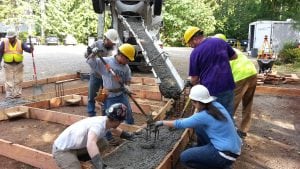 "The project has now moved off paper and on to the job site," says Adam Pratt. "Footings have been poured and the college will offer a six-week, 16-credit carpentry course this summer specifically dedicated to the build. This is an amazing opportunity for a person looking to learn skills, explore a career or participate in service to the community."
He says that there are many ways for others to get involved with the project both hands-on and through financial support. You can learn more information about the Canoe House at Camp Bishop by emailing Adam at adam.pratt@ghc.edu.