Annually, Comcast employees give a special Saturday in April to their communities by volunteering to make it a better place. That event is known as Comcast Cares Day. Nationally, every able-bodied employee—more than 3,000 from Comcast and NBCUniversal—alongside family, friends and volunteers, including the top brass—participate in a workday to brighten their communities.
The Harbor's local Comcast, in partnership with and the families of Hoquiam Youth Baseball (HYB), city officials and community volunteers, came out Saturday, April 22, 2017 to spiff-up Roger Jump Memorial Field at the east end of the Olympic Stadium, at 3003 Cherry Street in Hoquiam.
Aaron Mefford, Operations Manager for Grays Harbor Comcast, says the company's employees are happy to help with this year's project in support of local youth. Projects for this year's local Comcast Cares Day at the field included: residing the scoring tower, resurfacing the park's seven picnic tables and general field maintenance.
Painting of the grandstand bleachers was also planned, but postponed due to rain. Work began at 8:00 a.m. and was slated to finish at around 3 p.m. after a fundraising raffle and lunch provided the Farmer family (owners of the local Dominos) and Coca-Cola. Several other local businesses got behind the projects by provided additional snacks and beverages to keep volunteers fueled. Building supplies were donated by Home Depot, Levee Lumber, the Port of Grays Harbor, T.J. Spradlin Rock, Inc., Fastenal and Bob and Suzie Van Ogle.
Bryan Montoure, who works for the City of Hoquiam, is President of HYB. He's served on the board for many years, has been President for the last four and couches two teams. He remembers playing ball here when he was a kid.
"When I was my youngest son's age," says Bryan, "this was just being built. Playing ball was so much fun and I loved the experience, so I want that for other kids." Many of his family members have been involved in HYB and over time, the field has become run-down. It was then that he became involved again in efforts to revitalize the field that is used by more than 400 youth each year. He explained there are twenty-five HYB teams that use the field throughout the season. Then, speaking as a city employee, he says he knows that not a lot of money is there for the upkeep.
"I was just kind of talking with Comcast and it worked out that they would help as they were looking for something to do in Hoquiam [specifically this year]," he shares. The HYB has a work team every year to spruce up the field, usually about a dozen people, and that many of the same guys and gals come back year after year.
However, he notes, "having [Comcast's] help is just awesome!" About 350 volunteers had cycled through by 3:30 p.m., counting the twenty or so employees of Grays Harbor Comcast, their family members and other volunteers alongside the families of HYB players on the rainy Saturday just one week prior to the opening of the local baseball season.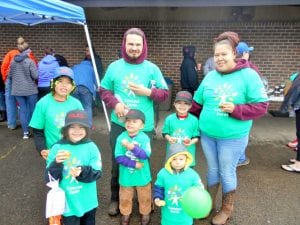 Hoquiam Mayor, Jasmine Dickhoff, was present with City Council Member, Angela Forkum, to support the effort. "The City owns the stadium," she notes, "and we are one hundred percent behind [Comcast and HYC] to help in making this look better. I offered to get dirty," she says with a smile, but they needed her and Angela, to sell raffle tickets. The mayor proudly notes that Angela has begun a non-profit group specifically designed to help fund maintenance, revitalization and promotion of the field.
"Friends of the Olympic Stadium," pipes in Angela, noting that the group is actively pursuing donations and grant monies. "We call it FOS. You can find us on Facebook."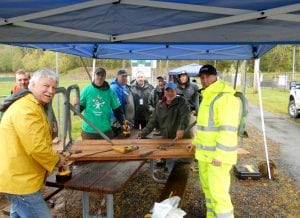 "Most of the guys doing the picnic tables and the siding project are old players from the past," says Bryan, "and most have family members that helped build the existing buildings including the grandstands. I also noticed a bunch of familiar faces working around the park."
"I think this is great in spite of the weather," says Aaron, obviously pleased with the turnout and effort, "with [HYB] kids filtering through, everybody helping out. It helps having all levels of projects for the capable and the willing."
"It was nice to see all of the help," agrees Bryan, noting that all work was completed (though the last nail on the scoring tower wasn't driven until 8:55 p.m.) "It's amazing how much work we were able to get done in one day with everyone's help. We are thankful for everyone who helped out —especially the crew and staff at Comcast. They have been great to work with from day one."
The all-out effort came off so well because of the support, and volunteer numbers, that the Comcast Cares crew provided. This year, Comcast expects more than 100,000 volunteers to participate in approximately 900 projects around the world.
Comcast Cares Day began 16 years ago and volunteers have since contributed to about 7,700 projects with around five million volunteer hours.
Because, well, Comcast Cares.
Sponsored