Cosmo Silver is a versatile enough athlete that you could probably throw him into almost any track and field event and he'd find success.
But the main focus for the Ocosta High School senior the past two seasons has been on one thing – the pole vault.
"That was pretty much all I did at practice when I was a sophomore and junior," Silver said. "It's something that definitely takes a lot of time."
There's a very specific reason Silver was willing to dedicate so much effort into the event.
"It's just great when you get that nice bend and it just flings you up in the air," Silver said. "The best feeling in the world is when you're falling back and look at the bar and it's still up there. You know you've cleared it. Incredible feeling."
It's far from unusual for a high school track program to feature multiple gifted runners or throwers on the same squad, but to have two quality pole vaulters is somewhat against the norm – made even rarer when you're talking about a smaller school.
It's the envious situation, however, Ocosta coach Aaron Anderson currently finds himself in as the Wildcats' roster sports not only Silver, but fellow senior Matthew Hart – two of the state's top pole vaulters in the 2B ranks.
"It's a thrilling event, but it's certainly not for everyone," Anderson said. "It's tough for athletes because when you're vaulting you basically have to throw your head back and expose it to concrete. It's a very unnatural position to put your body into. Some athletes just aren't willing to do that. It's not all about athleticism. It takes the right kind of personality to be a pole vaulter."
This personality is something Anderson has in both Silver and Hart.
Both are ranked among the top 10 performers in the state this season, with Silver currently clocking in at sixth with a top height of 12 feet and Hart coming in at ninth with a mark of 11 feet. This comes after a junior campaign which saw both athletes place at the 2B state meet.
"They're both just phenomenal, all-around athletes," Anderson said about his two upperclassmen. "They can both do pretty much any event well. They started out in junior high with the pole vault and just fell in love with it."
Steadily, both began to improve during their first season as vaulters, but it wasn't until the following year, according to Hart, that things started to click.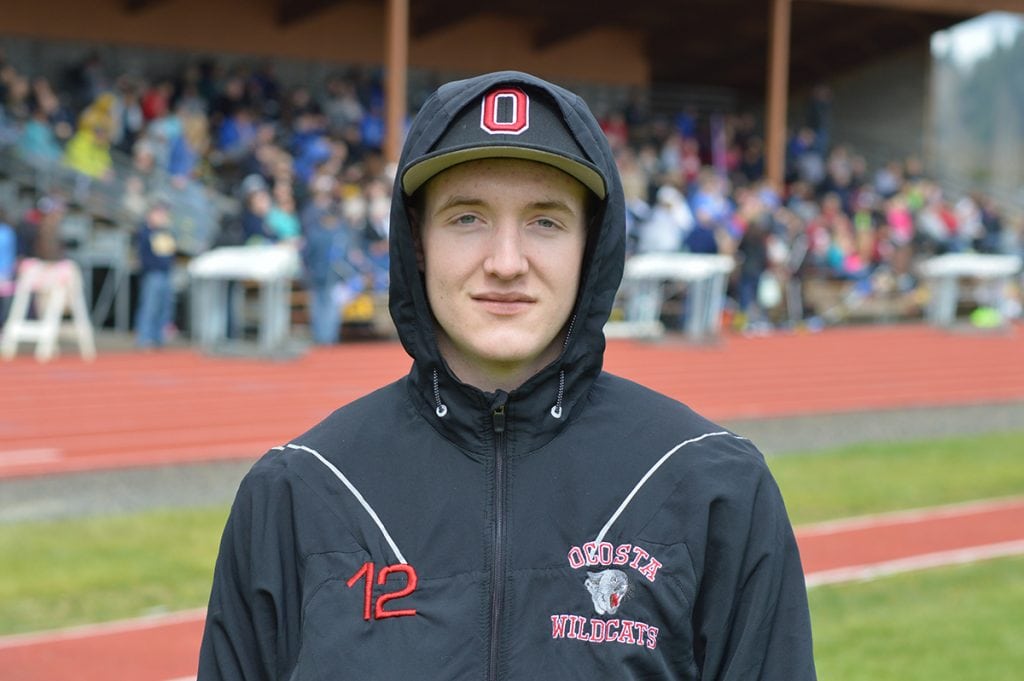 "Those that try it tend to really like it," Anderson said. "Especially when they figure out how to bend the pole. It takes a while to develop that, but once the pole starts bending there's nothing like it."
By the time things started to make sense in the event for both athletes, Silver had transferred to North Beach, forcing the two to compete as rivals for a season before Silver moved back to Ocosta as a freshman the following year.
"Thankfully he moved back here," Hart said. "It's nice to have someone out there pushing you every day at practice."
Silver recently cleared a personal-best 12 feet at the Grays Harbor Championships. His previous high was 11-6 set last year. He finished 10th at state with a mark of 10-6.
"Having us both on the team makes for some good competition. We are always trying to one-up each other," Silver said. "Neither of us talk trash, but it's kind of fun to let the other one know we just PR'ed."
Silver, who also holds the team seasonal benchmarks in the 100, 300 hurdles, high jump and long jump, stated his main goal this season is to simply improve on last year's state finish.
"I just wanted to place higher than I have been. My PRs the last couple years have been 11, 11-6 then I will choke at state," Silver said. "It's not really pressure being the issue. It's just the whole atmosphere and how the entire meet feels. So the goal is to overcome that and improve on what I've done in the past."
While Silver has not circled any specific height, Hart has one firmly set in his mind. "The school record is 14 feet," said Hart, who has placed fifth in state the last two years. "I want to beat that mark. I've cleared 12 before at state and in practice. That's the goal for this year."
That lofty aim adds to an already busier-than-normal spring so far for Hart, who is also a member of the Wildcats' baseball team.
"I actually haven't played baseball since Babe Ruth in seventh grade," said Hart, who also competed in football and wrestling. "All my buddies are playing. It's my last year of high school. So I thought I would try both."
So far things have panned out brilliantly as Hart is powering towards another state championship meet appearance while at the same time helping Ocosta to the top of the Pacific 2B standings in baseball.
"If they keep improving and continue to push each other," Anderson said, "I think both will do very well at state again this year."