Submitted by Washington Beach Sports
The 2017 Ocean Shores Beach Blast has turned "pro" this year. On July 7, 8 and 9, AVPNext heads to Ocean Shores. AVP is the best known U.S. Beach Volleyball tournament organization.
What does our beach volleyball tournament look like? First, there are adult two person men's and women's teams, playing at the AVPNext Division level with a prize of $1,000 and a bid to the sport's iconic Manhattan Beach Open, August 17-20 for the winning teams.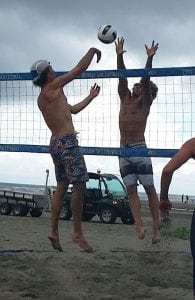 AVPFirst Division players are 18 years old and younger. These teams are competing for the Junior Hermosa Beach Tournament, July 20-23. The winning teams get slots in that tournament. Think of the AVPFirst players as a AAA baseball team getting ready for the majors which are the AVPNext players.
Finally, the Recreational Team Tournament includes both adult and junior teams. Two and four person teams compete, as well as co-ed teams. Prizes will be awarded from "Five 12 Apparel" and "Uprising Outfitters." Right now we have nearly 20 teams signed up with room for a total of about 50 teams. Sign your team up at online at Washington Beach Sports.
Oyhut Bay is our host this year with the four "main" volleyball courts front and center in this newest seaside village in Ocean Shores. The "beachside" courts are located on the Pacific Ocean beach at the Damon Road Beach Access near the Best Western Lighthouse Suites Inn.
Mati Bishop of Uprising Volleyball is the tournament director for Beach Blast. On Saturday, June 17, Mati will use the new beach volleyball courts at Oyhut Bay to teach the basics to anyone wanting to learn, free of charge. You are welcome to participate or spectate.
The schedule for Saturday, July 17 is:
5-10 year olds from 10:00 – 11:00 a.m.
11-17 year olds from 11:00 am – 1:00 p.m.
Oyhut Bay provides a wide variety of amenities for players, families and spectators. As of now, beach home rentals are available. Check out home layouts and locations online here. Oyhut Bay's Facebook page shows many of the equipment rentals and activities available as well to renters and residents. The athlete's village will provide a place to gear up, rest between sets and meet up with coaches and families. The Amphitheater will host the award ceremonies as well as a variety of music groups throughout the weekend. Free parking is available for everyone.
The City of Ocean Shores offers a variety of shopping, dining and entertainment options for your family. Or, you can download a free app "Ocean Shores – Something Fun!" for your Android phone or iPhone. Think about forming your own beach volleyball team. Register at http://washingtonbeachsports.com/index.php/ocean-shores-beach-events/beach-volleyball.  
Whether you play or stay just to watch all the action, join us at the 3rd annual Ocean Shores Beach Blast!
For more information contact Washington Beach Sports at WashingtonBeachSports@gmail.com.