The best seat in the house is the bench facing the bay on the porch of the Coastal Interpretive Center (CIC) in Ocean Shores where lead docent Steve Green explains the live show taking place in the sky. He points out a fascinating display of nature which is easy to miss with the unschooled eye.

This particular morning, a band of crows are harassing a marsh hawk which seems to flee from its persecutors. "The large raptors will let themselves be chased by the crows for a while," Steve explains. "They all do this, eagles and osprey, too, until they have had enough. Then they will flip and grab a crow with their talons."
A resident comes in from his beach walk carrying an injured sea bird in his arms which Steve identifies. "You have found an 'Ocean Shores penguin'. That's what we call them because they look just like penguins on the beach. It's a common murre. They're sweethearts." Steve strokes the bird's neck and amazingly the murre is not frightened but seems to enjoy the human contact. After supplying the rescuer with some interesting information about his find, the docent directs him to Beacon Pest Control at 10 Oyehut Road where injured wildlife is taken care of. It's a typical summer morning at the CIC.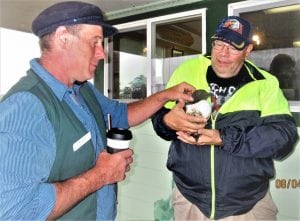 Coastal environments and visitors hungry for information are Steve Green's life. From the amount of knowledge he reveals talking to a just a few visitors about birds, crab and humpback whales, one would conclude that he is holds a degree in wildlife biology. Surprisingly, Steve is almost entirely self-taught. His formal education as a naturalist consisted of only a few seminars.
Steve was raised in a family of naturalists in Olympia. He discovered Ocean Shores fourteen years ago when a part-time construction job led him there. "The bread crumbs I'd left behind to find my way home were eaten by birds," he jokes. "I was stuck here."
A harvester, Steve went on daily walks on the beach where he fished, clammed and caught crab for his table. Often he would find and rescue animals. A cuttlefish bone started his career in citizen science. He took it to CIC to be identified. This first specimen was followed by many others which were identified by agencies as far away as Port Townsend.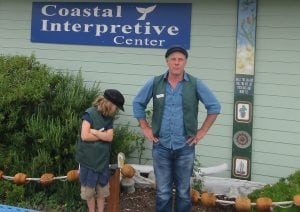 Steve was recruited as a volunteer when he visited the CIC booth at the Beachcombers Fun Fair in Ocean Shores. "My first job was not what I expected," he remembers. He was sent to drag a humpback whale jaw bone from outer Damon Point back to the Center. "It was so heavy, it crushed the golf cart I was offered as a means of transport," he laughs.
Steve quickly worked his way up. In 2005, he joined the CIC paid staff. His education happened by virtue of his curious nature enhanced by the constant support of Gene Woodwick, his late mentor and former director of the CIC, who encouraged him endlessly. She told him he knew too much not to work at the center. Diane Beer also greatly contributed to his education. Today, Steve is the lead docent of CIC and heads the docent volunteer program.
The CIC offers a number of nature and local history exhibits including the shell room, the habitat room, the tsunami exhibit, the Quinault Indian Nation exhibit and the Catala shipwreck exhibit. The Matthew McGhee Nature Trail loops through coastal forest with wetland at the rear of the center.
One of Green's favorite tasks is leading field trips to the Damon Point tide pools. Visiting groups include Head Start, Girl Scouts and Boy Scouts, the Tukwila Parks and Recreation kids who have been coming for five years and an annual group of Chinese exchange students from Green River Community College in Auburn. Larger groups can consist of 150 visitors. Steve enjoys the enthusiasm of children. "The Tukwila kids were fascinated by something as simple as a shell," he says. "Imagine how they reacted when they saw a pod of porpoises play by the jetty. "Another group came all the way by bus from Montana and had the wonderful experience of finding a fourteen inch California sea cucumber in a tide pool.
Steve is proud that the Montana visitors came especially for the Interpretive Center. "We are making a difference," he says. "These people have to eat somewhere and stay in a local hotel. CIC is helping the local economy."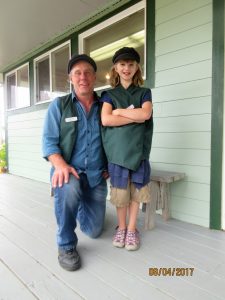 On this busy morning, Steve receives some help with his work. Nine-year-old volunteer Allyson Roseburg comes in with her family who is staying at their time share in Ocean Shores. Allyson is following in Steve's footsteps soaking up all there is to learn about coastal nature. She is already a knowledgeable advocate for endangered animals. Steve hands her a uniform identical to his: a Greek fisherman's hat and a green vest. A young naturalist in training is ready to work.
Contact the Coastal Interpretive Center at 360-289-4617 or email them at info@interpretivecenter.org and visit their website for more information or follow them on Facebook. The center is open daily from 10:00 a.m. to 4:00 p.m. until Labor Day. Fall hours to be announced.