No time is more vital for setting the stage for learning and cognitive development than our early years. The YMCA of Grays Harbor knows this and has developed their early learning readiness and after school programs to foster learning and cognitive growth. In addition, they incorporate social and emotional development with a focus on positive relationships with others as well. The end result is a holistic approach to setting your child up for long-term success as a student and as a human being that will be a positive contribution to society.
Preschool Program
The YMCA of Grays Harbor offers a licensed preschool for children ages three to five-years-old. The program follows Washington State Benchmarks for kindergarten readiness. Staff members are MERIT certified and active in Early Achievers with an "excellent" rating. The Y's curriculum is child-focused and meets Common Core Standards.
"Our preschool program has been in existence for almost nine years and has grown quite a lot," says Suzie Ritter, preschool lead teacher. "Our new curriculum is a thematic-based approach that rotates based on the children's interests." Suzie says this allows children to develop their own individualized social and academic learning style, rather than force-feeding them information. Stations include STEAM-based activities, literacy, growth motor development, cooking and outdoor education.
It stems from a curriculum called "Creative Curriculum," which is what most public and private schools in the area use. The Y incorporates a lot of different styles into their program, including some Montessori and Reggio Emilia themes.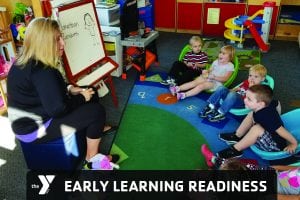 Students take on their own projects throughout the year, create programs for parents and have their work displayed in the classroom. "It allows more time for the students to be creative and develop their own interests," Suzie explains. "Our job is more of a facilitator and environment creator to give them the materials they need to explore what they want to learn about."
The Y currently has about 42 students enrolled in preschool, which runs 9:00 a.m. to 3:00 p.m. with after-school programs available until 6:00 p.m. They are opening a second preschool with an enrichment afterschool program at Pacific Beach Elementary. The second preschool program launched on October 12.  This additional early learning readiness opportunity for the children in our community was made possible due to the support and collaboration of Ocosta School District and the Grays Harbor Community Foundation. 
Care & Kids
The YMCA of Grays Harbor also has a unique program for children ages birth to five-years-old. Care & Kids is free and takes place at Washington Elementary School in Hoquiam. Children and adults go through the program together. The goal is to prepare children for kindergarten while teaching caregivers how to function as teachers in their children's lives.
"We get parents, grandparents, babysitters, aunts, uncles – you name it," says Allegra Hood, member services director. "Anyone who is looking after a child in this age range is welcome."
The program includes a monthly color and shape theme that is incorporated in the lessons. The class includes a circle time with singing, American Sign Language (ASL), Spanish vocabulary, calendar (such as days of the week) and weather. Then, they have 13 possible stations that are rotated in a similar structure to the Y's preschool program. The classes also include physical activities and music.
"During snack time we give a caregiver talk where we focus on a topic for the adults," says Allegra. "Topics include nutrition or how to develop healthy sleep patterns. We want to give caregivers the tools to help raise their kids."
Sessions are twice weekly: Mondays/Wednesdays and Tuesday/Thursdays from 9:00 a.m. to 11:00 a.m. and begin at the end of September each year.
Harbor After School
The Harbor After School (HAS) program is run by the YMCA of Grays Harbor at six local area schools:
Elma Elementary
Elma Middle School
Hoquiam Middle School
McCleary Elementary
Miller Junior High (Aberdeen)
Ocosta Elementary
The free program provides over 450 students at these schools a safe place to hang out until 5:00 p.m., Monday through Thursday. Certified teachers and para-educators provide homework assistance and recreational play and other enrichment activities are provided by YMCA mentors.
"These programs give our mentors the opportunities to develop relationships with kids to help raise amazing adults," says Chrissy Hawkins, Harbor After School director. "We do this in many different ways, through serving snacks, going to recess, helping with academics and activities that are STEM or STEAM-based." The mentors write lesson plans for these activities themselves, demonstrate the activities and then teach the kids.
The mentors are YMCA employees recruited from local colleges and high schools, as well as educators and people from the community. "Our mentors come from all over with different backgrounds and experiences," she adds. "And, they range in age from high school all the way up to senior citizens." This gives kids a chance to develop relationships with a broad spectrum of people, teaching respect and tolerance as they learn to get along with diversity.
The purpose of the YMCA Harbor After School program is to provide quality afterschool programs across Grays Harbor County. These programs focus on academic achievement and grade standard improvement. In addition, the program incorporates positive mentoring between mentor and student through enrichment activities and physical play while also addressing hunger and food insecurities of the youth in our community. The four core values of Respect, Honesty, Caring and Responsibility are stressed daily to the students that the program serves.
"The kids in our community come from many different households and in so many cases, the homes they come from are something less than positive or supportive," Chrissy explains. "This is our chance to help build a trusting relationship with those kids which helps them with social, emotional and academic growth." To that end, the mentors have monthly staff development and training meetings where they learn advanced skills including conflict resolution (and how to teach conflict resolution to the kids), how to develop relationships, lesson plan development and teaching skills.
To encourage participation, the YMCA of Grays Harbor offers a free, one-year membership to each student who attends HAS at least 60 times in a school year.
The YMCA of Grays Harbor has many options to help your children get a solid foundation, not just in education, but in emotional development and relationship building as well. For more information, visit the YMCA of Grays Harbor website or call 360-537-9622.
Sponsored