There is nothing worse than wondering where the bus is, especially if you are on a tight schedule or in bad weather. This is one reason Grays Harbor Transit (GHT) partnered with Unite GPS to create a real time vehicle locater system implemented last May. The system allows passengers to track transit vehicles in real time, faster than other websites.
"Our tracker updates every five seconds," says Terri Gardner, supervisor at Grays Harbor Transit. "Other similar GPS systems, are updated every two minutes, which can be the difference between catching and missing the bus – a bus can go three blocks in a minute."
When you click on the website, it takes you to a list of routes. From there, simply click on your route to see your bus driving down the street. You can also select a stop to find out when the next bus will arrive serving as an accurate schedule as well. The route maps on the site are color coordinated with GHT's routes for ease of use.
In the future, a rider alert system will also appear across the top of the website to alert riders if routes have changed due to weather, construction or accidents.
Safety for Passengers and Drivers
The website also provides peace of mind for drivers and passengers. "If a bus ever gets stolen, we are able to track it instantly and it wouldn't get far," says Terri. Or, if a bus breaks down, dispatch can use the administrative side of the website to find their exact location and send help quickly.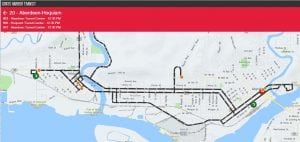 What if a bus driver is incapacitated and is unable to radio in? "Soon if  a bus stops and is stationary for too long, the system alerts  dispatch that they need to check on that bus," she adds. They can even tell how fast a bus is going ensuring the safety of passengers at all times.
Currently, 130 people are using the tracker each day. To get the tracker on y our phone, visit the Grays Harbor Transit website and add the quick link to make it easily accessible. The vehicle locater system works on any device with internet. Terri shares that Chrome is the best browser to use.
GHT is continuously trying to improve its system and looks forward to your feedback. If you have any ideas or suggestions contact Grays Harbor  Transit at info@ghtransit.com or call 360-532-2770.  More information on this new technology and how to access it can also be found in their current Busbook and on the GHT website.
Sponsored