Three adjacent old homes on Hoquiam's Garfield Street were slowly succumbing to the relentless Hoquiam weather, when an amazing thing happened in February 2017. A sign appeared on the sidewalk: Old House Rescue. People were seen working on 218. Today, it is hardly recognizable in its attractive new exterior.  The formerly dilapidated building has become the jewel of the neighborhood.

Are these unassuming homes without yards or garages worth remodeling? Carole Pagels, an unusually savvy realtor with Van Dorm Realty, Olympia, knows they are. She is also a contractor with a keen interest in historical preservation. Her specialty is finding homes for seniors and disabled veterans. She looks for places with an interesting history, locates historic properties, finds investors and finally restores the homes herself. This is what she loves to do and what she excels at.
When Pagels discovered three homes, 214, 216 and 218 Garfield Street, listed for sale, she began to research Hoquiam history. She read the story of the lumber barons who founded Hoquiam and who made riches in logging and lumber. Just up the hill from the three little homes, Hoquiam's Castle built from 1897 to 1900 and its neighbor Lytle House bear witness to the wealth of their former owners. Downhill on Garfield lived the people who worked for them. They needed housing.
Pagels believes the homes may have been purchased as kits from the Sears Roebuck Catalog. Built in the early 1900s in the then popular Craftsman style, their design is nevertheless beautiful. Faithfully and lovingly restored, these homes will appeal to a new market of senior buyers who are looking for quality homes in historic neighborhoods. Pagels and her business partner Antonio Martinez specialize in superior workmanship and up to code remodeling.
Carole Pagels is uniquely equipped with what it takes to save historic homes. Descended from a family of artists and masons, she grew up in a Kansas City working class home where hard work and high work ethics were expected. "I love to learn, "she says. "I spent many years in college, but I had to work hard to pay my own way." She studied architecture with a special interest in historical preservation, design, business and marketing at the University of Iowa. Possessed by an entrepreneurial spirit, she financed her studies through several businesses including a very successful dog grooming parlor.
After more years of study, this time in real estate and property law at the University of West Los Angeles, Pagels decided to go into real estate – with instant success. Interested in the revitalization of areas, she decided to fix up old houses.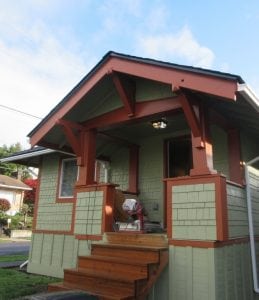 In 2005, Pagels moved to Olympia on a fluke. Antonio Martinez had worked with Carole for over 20 years in California. He decided to follow her to the Pacific Northwest. They now work together as Old House Rescue. Martinez shares Pagels' love for quality work. "I will make this last thirty years," he says while working on Number 218. He can do anything needed in home construction including carpentry, plumbing and painting. The duo executes most of the remodeling work with the occasional assistance of sub contractors.  Pagels enjoys the physical labor of construction. She holds up her hands: "My fingernails aren't painted."
Pagels interest in Hoquiam was initiated by a client, a retired electrician, who had already bought property in Aberdeen. 218 Garfield is now nearing completion. This beautiful home will be fully insulated according to current code. Heating costs will be exceptionally reasonable. Pagels envisions a retired couple moving in, people who are looking for a condominium alternative.
After completion of 218, the remodeling of 214 will begin. The area has challenges however. FEMA flood regulations require homes to be lifted six feet above the flood line if remodeling exceeds 50 percent of the value of the home. This would require up to fourteen steps to the front door, an impossible situation for seniors or the disabled where there is no space for a ramp. "The revitalization of this area is not helped by excluding these potential renters or buyers from many of the buildings," Pagels sighs. The concept of 'aging in place' is a concern close to her heart. Her concern is also for low-income neighbors forced to abandon their homes because they cannot afford the new code regulations. Pagels would love to see this trend reversed. She insists: "There must be a reasonable plan to deal with flooding."
Since Old House Rescue has been working on Garfield, many people have come by to thank Pagels and Martinez for improving the neighborhood. Residents realize that three remodeled houses will not only beautify the area but raise the value of their own property.
Old House Rescue is a fully licensed, bonded and insured general contractor. Contact Carole Pagels at 360-339-2321 or email oldhouserescueconstruction@gmail.com.