Submitted by Grays Harbor Historical Seaport
Along the Pacific coast, dozens of small towns recognize the off-white canvas floating toward them on the horizon. "We look forward to the tall ships' visit every year," says Coos Bay Oregon Port Liasion, Thomas Leahy. "Lady Washington and Hawaiian Chieftain's visits bring a focal point of maritime history to our town, which started with the lumber schooners. They bring education for our kids, a reason to get the community together, and tourism dollars to downtown." Mr. Leahy is a member of the Coos Bay Boat Building Center, a 501(c)3 organization that is the designated host for the tall ships' visit in Coos Bay and North Bend, OR.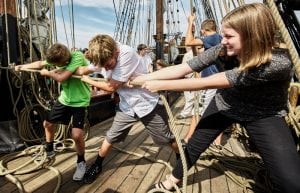 This winter, Grays Harbor Historical Seaport is seeking new leaders to help steer the organization into the future. The 30 year old nonprofit has been operating since 1986, and put out the call this month for additional Board Members to join the team. The GHHS website outlines the position, stating:
"Board members are people who want to give of their time, resources, and talents to help steer this beloved organization to even greater success in the coming years."
Board terms are 3 years long, and applicants are invited to interview the organization, meet the staff, and current board members by visiting the GHHS home office in Aberdeen, WA. Vessel visits are also highly recommended, to see first hand the organization's programs and mission.
The organization invites maritime professionals and people with marketing, leadership, fundraising, and community organizing skills to apply. Board meetings happen monthly, at
Seaport Landing
in Aberdeen, Washington.
The reach of Grays Harbor Historical Seaport is considerable, serving over 70,000 people annually. Based in Aberdeen, Washington, the nonprofit's vessels cover thousands of nautical miles every year, across three states. The vessels visit Washington, California, and Oregon, traveling as far south as San Diego, CA and north to Vancouver, Canada. Aboard, K-12 students participate in hands-on history programs and youth learn job skills to go into the maritime field. In recent years, they've taken on the redevelopment of an industrial site, working to develop it into a mixed-use maritime heritage site, Seaport Landing. In 2017, GHHS announced it would launch Sea School in 2018, an expanded job skills training program for disadvantaged young people seeking to enter the commercial maritime field.
"The work we do changes lives.  There is nothing better than to see someone find their purpose and to become independent," says Executive Director Brandi Bednarik. "We are dong wonderful, meaningful work, and we need to have a solid team to move us forward.  That starts with our Board of Directors.  We are looking for people willing to invest the time and effort to not only change our community, but to be part of something larger."
Interested parties are invited to visit the
board recruitment page
of the GHHS website to download and fill out an application. Board members need to be able to attend a monthly meeting in Aberdeen. Anyone with questions can contact
development@historicalseaport.org
for more information.