Did you know that Grays Harbor has a tradition of belly dancing? Kaleidoscope Belly Dance is a group of women led by instructor Angela McFall who enjoy the shimmying, undulating movements and colorful costumes of this dance style, which has recently gained popularity in the United States.
Angela has been fascinated with belly dance ever since she was a little girl. She had watched dancers and loved their movements. At Wishkah Valley High School, Angela was a varsity cheer leader but her dancing days did not begin until 2006 when she was working at Suzie' Cakes in Hoquiam. A belly dancing colleague introduced her to Loni Hooper and her Hips Ahoy Pirate Belly Dancers. This Westport-based troupe was closely associated with the Rusty Scuppers Pirate Daze Festival and members would perform at Grays Harbor fundraising and community events. In 2016, when Loni closed down her troupe, Angela continued the local belly dance tradition by opening Kaleidoscope Belly Dance in Aberdeen.
The Hips Ahoy dancers did not conform to the popular image of belly dancers as seductive ladies in skimpy costumes, like those in Hollywood's Arabian Nights. They were ordinary Grays Harbor ladies of varying ages, mostly with "figures," who looked comfortable in their colorful, ruffled pirate skirts. You could tell they were having fun and were fun to be with.  Kaleidoscope Belly Dance is continuing in this tradition.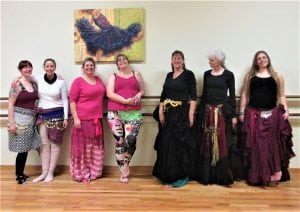 Unlike more academic dance forms that require rigorous training and a strong, athletic body, belly dance lends itself to a more relaxed approach suitable for women of all ages. This does not mean that dancers do not get a work out. On the contrary, belly dancing is vigorous aerobic exercise.
"We are all about a healthy body image," Angela emphasizes. "And we all go at our own pace. We have a dancer with asthma, for example, who stops whenever she gets short of breath."  In belly dance the focus is on isolated muscle movements of the torso which are combined to create undulating movements. Dancers become more aware of their muscles and strengthen them. Angela mentions that some women practice belly dance to ease the labor of child birth.
Belly Dancing: A Brief History
There are a myriad of different styles of belly dance. Also known as oriental dance, this dance form originates in the Middle East. Its exact origins are lost in history. Styles evolved in different areas and social settings. There are Egyptian, Turkish and Saidi, as well as tribal and cabaret styles. The basic moves are the same while being incorporated and choreographed differently.  Props and costumes also vary. While costumes generally accentuate the hip movements, there is a broad range of attire from ultra heavy tribal wool skirts worn over long pants and long sleeved dresses to cabaret outfits that show off plenty of bare skin. The latter is a more recent development and is unacceptable in the Islamic cultures of the Middle East.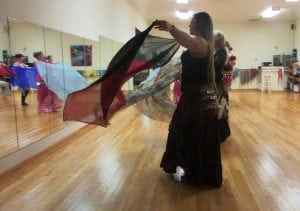 Kaleidoscope mostly follows the American Tribal Style, ATS, which originated in California in the seventies.  The troupe creates their own choreography and uses many different kinds of music, from traditional Arabic music to anything with a good beat. "I don't like to dance to lyrics I cannot understand," Angela says. "I want to know if a song is happy or sad so I can dance accordingly." ATS is a fusion, taking elements from many belly dance styles, including their movements and costumes.
Props and costumes are part of the student's fascination with belly dance. Nineteen-year-old Jessica Gliddon shows off her gummy bear patterned harem pants made by her mother Sheri. "You can't buy these in the store," says Sheri showing off her own colorful pair." They are easy to sew." The mother-daughter team enjoys having fun with costumes and props. Harem pants under full, layered skirts and a close fitting bra or top decorated with jingling ornaments are standard outfits.  Colorful scarves or coin belts are worn to accentuate the hips. There are no costume regulations at Kaleidoscope.  Students may wear what they are comfortable with and are encouraged to use their creativity.
Belly dance props include veils, swords, canes and metal finger zills which resemble Spanish castanets.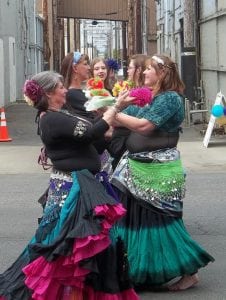 Kaleidoscope dancers have the options to perform at community events. Some hesitate to dance in public.  Sheri used to be one of them: "I did not want to perform but when I danced at the Aberdeen Art Walk, I found out how much fun it is."
Sheri and Jessica Gliddon and Danielle Townsend are reaching out to the dance community with a new biannual dance festival named Mosaic in Motion. Schools and individuals of all dance forms are invited to contribute. The next festival will take place March 13, 2018.
Kaleidoscope Belly Dance welcomes students of any age provided they are old enough to concentrate. Come and join them Fridays from 6:30 p.m.-7:30 P.M. at the Gayle Russell Dance Studio, 301 W 6th Street, Aberdeen.
Contact Angela for more information at  532-360-2292, angela_sue_to_you@yahoo.com, or visit the Kaleidoscope Belly Dance Facebook page. To learn more about Mosaic in Motion, visit the Mosaic in Motion Facebook page or email Kaleidoscopedance@yahoo.com.