It's been 10 years since Aberdeen High School last had a state wrestling champion.

Senior Tyler Sophomanichan is focused on ending that 10-year drought.
"I want to take it all this year and I definitely believe I can," said Sophomanichan, who ended 2017 ranked No. 3 in the state among 132-pound wrestlers in the 2A classification by the Washington Wrestling Report.
The Bobcats haven't had a state champion since Erich Schmidtke captured the 189-pound title in 2008. It marked Schmidtke's third career state title after winning the 189 crown in 2007 and the 171-pound title in 2006.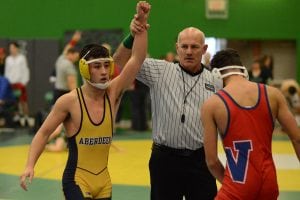 In total, Aberdeen wrestling has had three state champions with Scott Camyn, back-to-back 3A state champion in the 148-pound division in 1982 and 1983, and Mark Walseth, who won the 130-pound 3A title in 2002, joining Schmidtke on that short list.
Sophomanichan wants to be number four.
A year ago, Sophomanichan finished fourth in the 126-pound division at the state tournament, advancing to the semifinals before losing to eventual state champion Alex Cruz of Orting.
It was just the third time in the last nine seasons a Bobcat wrestler placed among the top four finishers at state. Jordan Logan, the fourth-place finisher at 285 in 2014, and Jaime Miranda, who took third at 285 in 2012, are the other two.
"I think I caught a lot of people by surprise," Sophomanichan said about last year's postseason run. "I wasn't really ranked and the year before I was sick and couldn't wrestle at regionals. So I was pretty much off everyone's radar."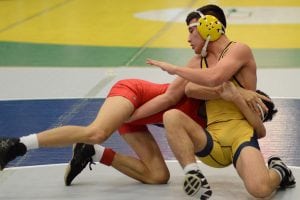 Sophomanichan secured his place in the semifinals by edging A.J. Au of Selah, 4-3, in the quarterfinals. Au would go on to finish eighth at the tournament. Sophomanichan rebounded from his semifinal defeat to knock off Ridgefield's Trevor Newburn, 5-3, in the consolation round, giving him a pair of wins over state placers at last year's tournament as Newburn ultimately finished fifth overall.
The strong showing came a year after Sophomanichan had his sophomore season cut short due to a staph infection on his knee, which prevented him from wrestling at the regional tournament.
Making up for lost time wasn't the only driving factor for Sophomanichan at state in 2017. He had significantly more emotional reasons pushing him during the two-day tournament at the Tacoma Dome.
"I felt like I was on a mission. One of my coaches, Dustin Moulton, had passed away the previous summer," Sophomanichan said about Moulton, who was an assistant on Aberdeen head coach Jimmy Martin's staff. "That season was dedicated to him. He helped me push myself to be the wrestler I am today. He's been my motivation ever since then."
Sophomanichan currently finds himself in what is arguably the deepest weight classification in the 2A ranks. He sits behind a pair of returning state champions in the rankings in Wapato senior Alex Vaca, who won the 120-pound title last year, and Jesus Rodriguez, the 2017 state champion in the 106-pound division.
Whether he finishes the year at 132 remains to be seen.
"I'm comfortable at 132, but we haven't decided where we're going to end up just yet," Sophomanichan said. "We will see where we are at, assess it and see what we want to do. I'm excited to see where I am at the end of the season. I'm really looking forward to the postseason. Anything can happen."
Unlike many of his counterparts, Sophomanichan has only been wrestling since the eighth grade. Once he picked it, however, things felt natural as he lost just once during his first year in the sport.
"A couple great friends pulled me into it and I'm so grateful they did," Sophomanichan said. "I've played baseball and I've played football, but I've never had a sport teach me so much about life like wrestling has. It has helped me through school. I've finally got my grades up, and it's because of this sport. Everything is easier once you start doing this. If you can get through a wrestling season, you can get through anything."
It's that kind of attitude Sophomanichan has brought to the Bobcats program, encouraging others to give the sport a try.
"We're trying to get as many kids as we can in here. A lot of them don't know how much wrestling has to offer," Sophomanichan said. "The turnout has really been awesome this season. When I first started here the program was just beginning to build back up and to see all the freshmen and everyone come in here is mind-blowing because I feel like I have played a part in bringing everyone in, and so do all the seniors."