It's an unfortunate fact that one out of every six people in the United States goes hungry, including an estimated 13 million children. For some that can mean spending holidays standing in lines at soup kitchens or visiting local food banks for meals. But this year, Summit Pacific Medical Center (SPMC) patients had a different option. This holiday season, the hospital team came up with an innovative way to address the need in their community while allowing people the dignity and joy of preparing and enjoying a holiday meal in their own homes.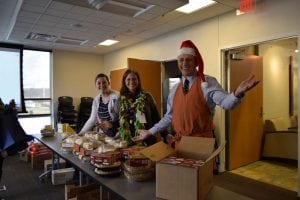 In its first year, the Summit Fights Hunger program raised $3,100 to feed 124 families in need with Holiday Meal Packs. At a cost of $25 per meal, each Holiday Meal Pack provided all the ingredients for a family of four to prepare a full meal, including either a turkey or ham, fresh green beans, potatoes, yams, stuffing, rolls, salad, salad dressing, a bottle of sparkling cider and pumpkin pie. "The Holiday Meal Pack campaign was our first collaborative, organization wide effort to combat a significant need like hunger, among our patients and community members," says Natalie Jensen, event coordinator. "It's designed to create awareness, support families living in the rural hospital district and help spread holiday cheer."
The idea for the campaign was inspired by previous outreach efforts among staff members. The hospital's leadership team decided to follow their example and organize something that all-staff could get involved with.
"We wanted to develop a program that allows us to connect with our community in a powerful, personal way that both impacts an incredible community need and demonstrates what a great place Grays Harbor is to live and work," said Josh Martin, chief executive officer of Summit Pacific Medical Center.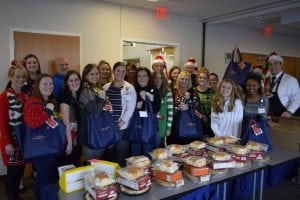 Primary care providers and care teams within SPMC's three primary care clinics nominated families. "Our care coordination teams and providers are in the fortunate position to be able to really listen to each patient's situation and learn their stories," says Martin. "From these relationships, staff were able to clearly understand the need. I believe collectively, we were all overjoyed to be able to help the families whose stories we've gotten to know."
More than 45 volunteers contacted nominees, helped cook, pack and deliver meals or hosted meal pick-ups. To accommodate those patients and families who were unable to easily cook or prepare a meal, more than 65 hot meals were prepared and either picked up or delivered. "Calling each family to let them know we have a meal for them gave us another opportunity to learn about our patients," says Jensen. "Some patient stories are so moving that they bring you to tears."
Registration Specialists Ashlynn Bowen was one of the volunteers who made calls to nominated families. "I got to deliver such happy news to so many of our patients," says Bowen. The personal connection between volunteers and recipients is part of what makes the program special, Jensen believes. "When you know you're really helping a family who may not have otherwise had a meal to share, it hits you in 'the feels.' Donating to a pantry is also a highly effective way of helping those in need, but we are fortunate enough to meet the person we're helping."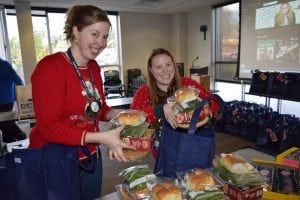 Summit staff responded with enthusiasm, nominating patients and participating any way they could. Responses ranged from "I love this idea and I'm in if you need my help" to "This is awesome! Thank you for doing this." "Serving a rural district can be tricky, but the passion of our staff and their desire to volunteer and participate made the project go smoothly," says Jensen.
Donations were collected through the Summit Pacific website and through Café Salute, located within the hospital. Initially, the goal was to raise enough funding to feed 100 families, but the team surpassed that mark, raising enough to feed 124. After meals had been distributed, leftover food was donated to East Grays Harbor County Food Bank.
The nomination process will remain internal next year, but Summit Pacific is open to collaborating with other organizations, she notes. "We've had offers to coordinate on this and future events from some pretty wonderful partners. It would be great to have other local organizations participate and get involved."
Looking ahead, Summit Pacific plans to launch similar campaigns in the future, including a summer program during the months when patients can begin to run low on staple foods. "The staff here at Summit is incredibly caring and passionate about helping patients and the response on this event was incredible, so I anticipate the campaign will gain even more momentum in the future," says Jensen.
To learn more, visit the Summit Pacific Medical Center website or call 360-346-2222.
Sponsored