Submitted by Grays Harbor Emergency Management
Grays Harbor County Emergency Management and Pacific County Emergency Management understand that time is of the essence for emergency and disaster notifications to people.  Flash flooding, landslide, wildfire, a hazardous material release, tornado, and severe thunderstorms with hail are a few notifications that could likely impact a community, your home, business or the lives of your family with little advanced notice.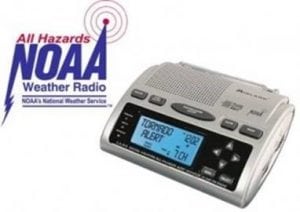 Even local emergency notification systems may be too late when attempting to notify people about these type of events.
A NOAA All Hazard "ALERT" Weather Radio can help you receive these type of notifications immediately, as soon as emergency managers receive the same information! The few extra moments you save, can help you make better preparedness and safety decisions, for your family and pets, reducing the impact of the event upon all.
NOAA All Hazard "ALERT" Weather Radios are low cost, ($25 – $50), easy to program and can be found in many local hardware and home improvement stores. They can also be purchased online.
For more information, Please contact Grays Harbor Emergency Management at 360-964-1575 or GHCDEM@co.grays-harbor.wa.us or Pacific County Emergency Management at 360-875-9338 or smcdougall@co.pacific.wa.us