The first signs of spring are upon us, as the days grow longer, trees begin to bud and flowers start to emerge. Another first sign of the spring season is Easter, which is just around the corner on April 1 this year. With such an early date, the Easter activities for families are happening in March, starting as early as March 24.

Grays Harbor has many activities planned throughout the area this year. With Easter egg hunts, pictures with the Easter Bunny and Easter-themed library activities taking place all around the county, you'll surely find something fun to do this Easter with your entire family.
Aberdeen Elks Lodge Easter Party
Saturday, March 24
Join the Aberdeen Elks Lodge for a children's Easter party from 11:30 a.m. to 2:00 p.m. Delicious snacks will be available along with exciting Easter activities. For those looking to get an early sighting of the Easter Bunny, look no further, as our furry friend will be in attendance and your first 4×6 photo is free! This event is open to the public so kickoff the Easter season at this wonderful event.
Aberdeen and Hoquiam Easter Egg Hunt
Thursday, March 29
Aberdeen and Hoquiam will host the first egg hunt of the season at the Olympic Stadium in the city of Hoquiam. The egg hunt begins at 6:00 p.m. sharp with four age groups for 1- to 12-year-olds. You'll find thousands of eggs containing special treats at this event. The Easter Bunny will also be joining this fun-filled event for those that would like to snap a few photos. Please note that once the egg hunt begins, parents are not allowed on the field and children are advised to bring their own bags or containers to use for egg collecting. The event organizers ask those attending to bring a donation of canned and/or dry food to help support the local food bank.
Elma VFW Auxiliary Egg Hunt
Saturday, March 31
The Elma VFW Auxiliary will host an egg hunt at the Grays Harbor County Fairgrounds in Elma. Nearly 1,000 children have participated in this event in past years and organizers are expecting a strong turnout again this year. There will be 6 age groups for children 10 and under, with over 10,000 eggs total spread throughout the field at the fairgrounds. There will also be 270 prize eggs with roughly 40 prize eggs for each age group. The egg hunt line up begins at 11:30 a.m. and the egg hunts start at noon.
Annual Resurrection Easter Egg Hunt
Saturday, March 31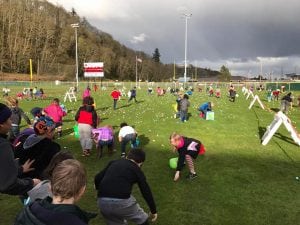 The McCleary Community Church will be hosting the Annual Resurrection Easter Egg Hunt at Beerbower Park at 11:00 a.m., where hundreds of eggs will fill the park. There will be a number of age groups for the egg hunts and all children will receive a prize. All of the egg hunts will also have special prize eggs, and a free lunch will also be served during the event for those in attendance.
Library Egg Decorating
Saturday, March 31
If you're looking to decorate Easter eggs this year consider joining the Westport Timberland Library from 2:00 p.m. – 3:00 p.m. for an egg decorating event. During the event, children will be able to use a programmable robot called an Egg bot to decorate eggs with unique designs. The event is geared toward children in grades 1-6.
Seabrook 10

th

 Annual Easter Egg Hunt
Sunday, April 1
For those looking to enjoy Easter on the coast, Seabrook will be hosting their 10th Annual Easter Egg Hunt on Sunday, April 1. The festivities begin at 10:00 a.m. at Crescent Park and children up to 13-years-old are welcome to participate in the hunt. Come get your picture taken with the Easter Bunny and enjoy some of the many treats.
Lions Club Park Easter Egg Hunt
Sunday, April 1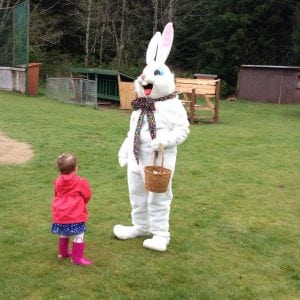 Later in the day, the Central Park Lion's Club is hosting an Easter Egg hunt at Lions Club Park at 1:00 p.m. Many eggs and tasty treats will be available at this free event. The Easter Bunny will be partaking in the festivities too, so be sure to get a few photos of the fun.
Ocean Shores Easter Egg Hunt
Sunday, April 1
Ocean Shores and the Ocean Shores Firefighter's Association is hosting an Easter egg hunt at the Ocean Shores Elementary School. The first egg hunt begins at 1:00 p.m. and this event is open to all ages. There's even an egg hunt planned for adults after the children's hunts.