If threshold anxiety is keeping you from the college education that would enhance your career opportunities, know that help is available. You may have seen the colorful fliers advertising a new Grays Harbor College (GHC) open house initiative called STEPS Toward Education Promotes Success. You are invited to check out college at your ease outside of regular business hours during a one-on-one encounter at the Grays Harbor College Welcome Center reception area. A group of friendly experts are ready to make the evening exactly right for you and to make it a relaxed and pleasant experience. Bring your kids, bring a friend, sit back, enjoy some light refreshments and let's talk about college. This is going to be so much easier than you thought.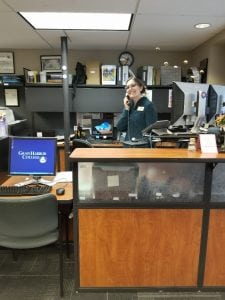 Unfortunately, the college application process is complex involving a myriad of details on the college side and in your own life. There are individuals and agencies available to help you with both. STEPS advisors make it their business to bring you complete and accurate information on the levels of support available to you at Grays Harbor College and throughout Grays Harbor. You will be amazed at the number of people in your community ready to help you get a college education.
Choosing your local community college comes with a number of advantages. Tuition is low. The course catalog is tailored to the needs of the community. Travel time is minimal. There are many local scholarships and funds available. The college works in close relationship with employment agencies and employers.
STEPS advisors can help you discern whether to go for one of GHC's two-year technical programs including carpentry, welding, diesel and automotive technology. If your goal is academic, you may opt for one of the Associate Degree Programs or you may want to take advantage of completing one of the three new Bachelor Degree Programs in Organizational Management, Teacher Education or Forest Resource Management.
Once you have decided on a course of study, STEPS advisors will guide you every step of the way. You will be able to take a placement test right there during your visit. If you are not ready for college level classes, STEPS will find you the correct transitional classes for your situation such as GED or English as a Second Language courses. Returning students will receive information on how to finish their education and Running Start students will receive help coordinating their college courses with their high school work.
Once you are ready to apply, STEPS will help you with financial aid and scholarships.
One of the biggest barriers to college attendance can be your personal situation. You may live out in Westport, Taholah or McCleary. You may have to juggle a job and children. STEPS can help. Did you know that once you are enrolled at Grays Harbor College, you will receive a free Grays Harbor Transit bus pass? Did you know that the Grays Harbor Community Foundation has set up an emergency fund to help college students with essential needs and barriers to attending or completing your education? Did you know that scholarships are available for the college daycare?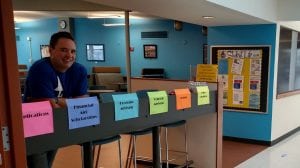 You may be attending college as part of your job training. STEPS closely works together with Grays Harbor employers and with Work Source. STEPS plans to invite different experts from the community to each session to make their knowledge available to you on a one-to-one basis. Patricia Williams from Work Source's Career Path, was graciously sharing her expertise at the first STEPS session of March 21, 2018. The STEPS team is working on recruiting more guest experts from the community.
The STEPS Program was developed by a team of eight GHC staff as part of their participation in the GHC Leadership Development Program – Elisa Anderson, student support center program assistant; Ivy Bowers, welcome center program coordinator; Lori Christmas, GHC Running Start coordinator; Lindsey Coulson, student life specialist; Kristi Daniels,  financial aid program coordinator; Peter Den Adel, information technology III;  Travis Obias, maintenance mechanic III; and Jenifer Robarge, reporting and budget analyst.  They come from different college departments sharing a passion for breaking down barriers and opening GHC to future students.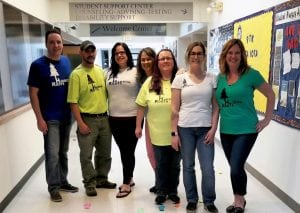 Guests at the first STEPS session reported overall positive experiences. "I was not sure about going to college before the session," was the response of one visitor. "Now I am much more assured." The STEPS team is looking forward to continuing the program into the future with the possibility of adding a Saturday session. They are inviting you to join them and break down some barriers!
The next STEPS sessions will take place April 18, May 16, June 20 and July 18, every third Wednesday of the month from 5:00 to 7:00 p.m. at the Welcome Center at the Grays Harbor College HUB. Call Elisa at 360-538-4099 or just drop in. For more information please visit the Grays Harbor College website.