For the past 17 years, tens of thousands of Comcast NBCUniversal employees, family and community partners have volunteered at projects worldwide. This year, Comcast Cares Day included over 1,000 community improvement projects and engaged its one millionth volunteer.
In Washington, volunteers contributed to 27 projects across the state. With approximately 40 employees, the Aberdeen field office is among the smallest in Washington. However, through partnering with local agencies, Aberdeen employees have a history of generating community-wide participation. The blending of employee commitment and community support has proved to be a winning combination.
This year, on April 21, more than 450 volunteers gathered at Central Park School wearing green Comcast Cares Day t-shirts. That sea of green included Comcast employees and their families, enthusiastic school children, and a host of local volunteers. They built a raised garden bed, planted flowers, pulled weeds, spread wood chips on the playground, washed windows and painted lines.
A key project involved building a kinder garden to support the science curriculum. Boy Scout Jared Erwin headed up the effort as his Eagle Scout project, building garden boxes with supplies purchased by Comcast. Kindergartners will be able to plant a garden and watch it grow right outside their classroom windows.
"I've been working on this since August," explains Jared. "It's pretty darn cool to see your ideas finally form and have a finished product."
Last year at a PTO meeting, parents and teachers began discussing the possibility of a kinder garden. Carrie Erwin, Jared's mother and a teacher at Central Park School, knew her son was looking for an Eagle Scout project. Her husband, Mike, works for Comcast. The idea for a perfect Comcast Cares Day project was born.
"We realized early on that if we want to make a big change and have a big impact, we have to reach out and involve the community more. There is such a strong sense of community here in the Harbor," says Aaron Mefford, technical operations manager at Comcast.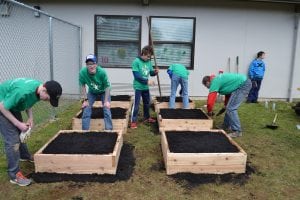 Mefford has volunteered at every Comcast Cares Day for the past 17 years and has played a pivotal role in organizing the local events. With such a small local field office, partnering with community groups is critical to success. In addition to volunteers who donated their time and muscles, local businesses like Bayview Redi-Mix and Levee Lumber provided materials at cost.
For Mefford and his team, work began early in the year. The local office coordinated with other regional offices and worked with the school and scout troop to line up necessary materials. Comcast employees came out the day before the event to remove shrubs and hedges and prep the site.
"This process has been amazing," reports Barb Page, Central Park School principal. "I think the whole school came to help, plus every sibling. When they delivered a semi full of chips for the playground, the kids flocked to the fence to watch, and that's all they could talk about. It fills my heart."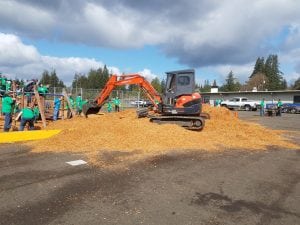 The school has been promoting the event for weeks, coordinating activities with Earth Day. The day before the event, the school held an assembly. Each of the students planted a seed that will be transferred to the new garden in the coming weeks. Teacher Carrie Erwin organized volunteers into work groups.
In addition to school children, Comcast employees and their families, volunteers from the Central Park neighborhood walked over to join the effort. "At one point we had probably 250 people here at once," says Mefford. "Some of the things that I thought would take all day were done within an hour because there were so many people."
The hundreds of volunteers accomplish even more than planting flowers and cleaning the grounds. For every volunteer who shows up for a Comcast Cares Day project, Comcast makes a cash contribution to the receiving organization.
Last year, Comcast partnered with Hoquiam Youth Baseball. With the cash grant they received, the baseball program was able to install a new scoreboard for the field. Because of the facility upgrade, they will now be able to host a regional baseball tournament that will benefit the entire town.
Likewise, the Central Park School project also benefits the surrounding community. Not only do school children use the playground during recess, but the space also serves as a playground for the neighborhood on evenings and weekdays.
"It's a lot of work," concludes Aaron Mefford. "But when you get here and you see all this, it's fantastic. This is a prime example of the old adage that many hands make light work."
Sponsored