Olympia Orthopaedic Associates (OOA) believes that a lack of funds should never be a barrier to a student that wants to play sports. Great rewards and important lessons can be obtained by participating in high school sports. Rebecca McClinon, program coordinator and board certified athletic trainer, explains that for some students the expense of participating can be too high. "In order to participate in sports, students must be cleared by a physician," she explains. This clearance is important to make sure that a student is healthy enough for the rigor of practice and games.
"For some families, the decision may be between paying the expense of a sports physical or paying the monthly electric bill," McClinon adds. "We want to remove some of that financial stress." High school student participation in extracurricular activities has long been linked to increased academic success and a decrease in risky behaviors. Student athletes learn how to support their teammates, lose gracefully, and how to persevere in tough situations.
Olympia Orthopaedic Associates will provide free sports physicals to hundreds of students from the Olympia School District during their clinic, which takes place at Capital High School from 9:00 a.m. – 12:00 pm on June 9.
McClinon understands the value of participating in youth sports. "I swam and played fast pitch in high school, and then played rugby in college," she shares. McClinon comes from a family of coaches. Her uncle was inducted into the Minnesota Coaches Hall of Fame. "I grew up around athletics," continues McClinon. "When I was a little kid the athletic trainer would tape off an area for me during my Uncle's wrestling practices and I had to stay within the square."
McClinon began working for Dr. Patrick Halpin in 2012 and stayed with him until he retired in 2017. She finished a doctorate in athletic training from the University of Idaho and did her residency at Olympia Orthopaedic Associates. McClinon enjoys working at OOA because their mission to keeping the community healthy fits right into her own value system. She looks forward to honoring that commitment each year with the sports physical clinic.
Free Sports Physical Day
Physicians from OOA will be on hand to do exams along with Residents from the Providence St. Peter Family Practice Residency. "The clinic is not only a service to the student athletes and their families, but also provides valuable education to these local physicians in training," explains McClinon. Residents are able to do comprehensive physical exams with experienced OOA surgeons nearby for advice and support. Students will be given a complete musculoskeletal screen to ensure that they are fit and safe to practice.
Olympia Orthopaedics not only provides physicians, but also the staff needed to process paperwork and keep the students moving through their exams quickly. The staff enjoy getting out of the back office and into the community, seeing the OOA mission to help people stay healthy and active in action.
Olympia Orthopaedic surgeons will partner with therapists from South Sound Physical and Hand Therapy to ensure that athletes are physically fit for participation. "Not only do we clear hundreds of student athletes for sports participation, but each year we will catch one or two that have a condition requiring further examination," explains McClinon. "These may be conditions that could become more serious had they gone undiagnosed were it not for this service to the community."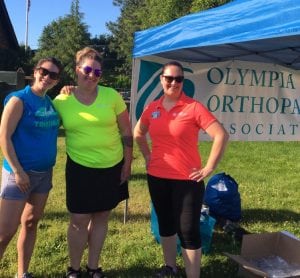 High school sports are not just for elite athletes. Many of the sports encourage participation at all levels and have no-cut policies, meaning that students can experience a sport that they haven't tried before. "We would encourage students to go ahead and try something that they have interest in," says McClinon. "OOA wants to make sure that every student is healthy and ready to participate and to eliminate any financial barrier to doing so."
Students are encouraged to come to the clinic on June 9, but if they are unable to attend the morning clinic, they can call the Rapid Orthopaedic Care center and inquire about receiving a physical at one of their two locations. Olympia High School student Taelor had been getting a physical every year through the cooperative efforts of the Olympia School District and OOA. "It is so easy to show up at one of the high schools and get it out of the way," shares Taelor. "The first time I came with a group of friends and we thought it would take forever, but there are so many people helping that it goes really fast!" Taelor's mom appreciates that the clinic is free to students of the Olympia School District.
For more information visit the Olympia Orthopaedic Associates website.
Olympia Orthopaedic Associates
3901 Capital Mall Drive SW, Olympia
360-754-7622
Sponsored