When Loric Colgrove, 13, was four-years-old and having a routine health exam before a dental procedure, numerous pigmented spots on his skin (called café au lait spots) that look akin to birthmarks were noted. Little did the Colgrove family know that this discovery was the beginning of Loric's journey with neurofibromatosis (NF).

"It has to do with when your brain doesn't have the ability to take the tumors away as easy," Loric says. "Tumors mostly clamp onto nerve endings, like your fingertips and most of your brain."
"He's missing the gene that stops tumor growth," adds Kayli Colgrove, Loric's mother.
Loric was born with NF, which is a genetic disorder that causes tumors to grow in the nervous system. There are several types of NF and many people live their lives without ever knowing they have the disorder with the only symptom being the café au lait spots. Loric has Type 1 NF, which can cause skin pigmentation, tumors to grow along nerves, and bone deformities.
The Colgrove family is from Hoquiam and lives on a 10-acre farm. Kayli is a stay-at-home mother and home schools the six Colgrove children and also works part-time as the owner of Grays Harbor Dance. Loric's father, Ezra Colgrove, works at a pulp mill. Loric's siblings are Katri, Briar, Jaron, Azure, and Trillium and they have had their brother's back during any upheaval. Other family members in the area have also made a strong support system for Loric, too.
"We couldn't have done it without nana, right?" Kayli says to Loric, talking about her mother, Holly, who would help with whatever she could.
Until age 10, the only symptom of NF Loric displayed was the spots and a winged scapula on his left shoulder that may or may not be attributed to his NF. Upon being diagnosed, Loric underwent regular full-body MRI scans to detect any tumors. Though NF tumors are most often benign, they can still become a problem because they are growing on nerve endings.
After a routine scan in 2013, a tumor was detected on Loric's cerebellum and he would later undergo surgery to have it successfully removed.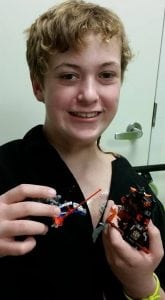 "It was in a good, operable location," Kayli says. "After removing that one, then we went a couple more years with continuing to have MRI scans just to see."
Unfortunately, after one of his scans, the doctors would find another tumor. This one had grown on the optic nerve of Loric's right eye, putting pressure on the nerve and affecting his vision. This location is inoperable, which left the only option of receiving chemotherapy to stop the tumor's growth.
For the next year, Loric would undergo chemotherapy for one day every week in Seattle. This required leaving Hoquiam around 2:00 a.m., often with a lot of waiting time throughout the day. Loric would pass the down time doing something he loved – building with Legos.
"I've always liked to build with Legos," Loric says, adding that he liked to build with other things even before he was old enough for Legos. "I like building vehicles; they're easiest to me."
His chemotherapy took place at Seattle Children's Hospital and he underwent 54 treatments, bringing a Lego set with him each time. In December 2017, his treatments were finally done.
"It made me nauseous," Loric says.
"He was not a fan," Kayli adds. "The chemo took quite a beating on his body."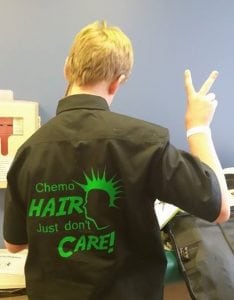 Though they ran into some challenges along the way, the chemotherapy was successful. And after a few months, Loric has been able to regain strength and stamina that the treatments had heavily affected.
Last month, Loric was granted a wish from the Make-A-Wish Foundation. He and his whole family got to go to Yellowstone National Park as well as take a train ride home as part of his wish.
Loric says that seeing all of the wild animals was one of the most memorable parts.
"That was a lot of fun," says Kayli.
Now, Loric has been nominated to be Chief for a Day at the Hoquiam Police Department where he will get to participate in a number of fun activities.
Loric is a typical active teenager and enjoys reading, his family, dancing, and spending time with the animals on the farm. Everything with his NF looks great right now and it is being regularly monitored.
"NF is something that can change at any time," Kayli says. "We suspect his journey is going to be a long one."
Through his Facebook page, Loric hopes to raise awareness for NF as there is no cure yet and also to allow people to follow his progress. For more information on ways to donate to NF research or to follow Loric's journey, visit the Lego Boy Loric Facebook page.