USA Baseball spends nine months holding development camps around the country all in an attempt to find the nation's top players to fill their 12U National Team.

Thousands try out. Only 18 make the roster.
Andrea Ebling remembers the disappointment her son, Kailand Halstead, felt last year when he was informed he did not make the team.
"He didn't make the first cut," Ebling said. "At that time, he was so determined to do whatever it took to make the team this year."
Which meant from October of last year through February, Halstead sacrificed every weekend to attend baseball camps in Puyallup at the New Level facility. He would attend catchers' camps on Saturday and follow that up with infield and hitting camps on Sundays.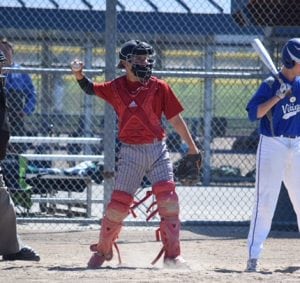 This was all in addition to traveling a couple times a week for his team practices.
"During the week, he would do homework on the way up (to practices) and on the way home," Ebling said. "Although he is a very gifted and natural talented athlete, he works very hard to achieve his goals. Often I think people just see his talents and don't understand the work and free time that a 12-year-old kid gives up to achieve this goal."
One year and countless hours of hard work later, it all has paid off as Halstead, who will be an incoming seventh grader at Miller Junior High in Aberdeen, has been named to the 2018 12U National Team that will travel to Aguascalientes, Mexico, to participate in the COPABE Pan Am "A" Championships.
"I was excited and nervous at the same time," Halstead said about his selection to the national squad. "I actually cried because I worked very hard for this and it was my dream."
Halstead, who will catch and serve as a right handed pitcher for the team, was the only Washingtonian to make the 18-man roster, which also included nine players from California, four from Florida, two from Texas, and one each from Arkansas and Georgia.
It also marks the first time a player from the Northwest has been selected to the 12U USA Baseball National Team.
All 18 players on the roster will wear the USA uniform for the first time in international competition. Athletes were invited to the 12U National Team Trials by participating in the USA Baseball National Team Identification Series, 12U Open Development Program and the 11U Futures Invitational.
After advancing through the first round of try outs, Halstead was one of 100 players to participate in the 12U National Team Trials in Castaic, California.
"It has been an unbelievably lengthy process," said 12U National Team Manager Todd Fine, who was an assistant coach with the 2017 12U National Team, which claimed gold at the 2017 World Baseball Softball Confederation (WBSC) U-12 Baseball World Cup in Taiwan. "We have seen thousands and thousands of kids over the past nine months from coast to coast. From the depths of it (the process), we ran 40 Open Development Camps all over the country, not to mention the best youth country in the tournament, with the Futures Invitational, and it all culminated with the 12U National Open. Our coaching staff is now excited and ready to move forward with these 18 players."
Halstead and his teammates will now attempt to secure the first-ever gold medal for USA Baseball at the COPABE Pan Am "A" Championships. Team USA claimed silver at the event in 2016 in Puebla, Mexico.
The 2018 12U National Team will participate in training from August 18-23 at Woodlands Baseball Academy in Houston, Texas. Team USA will take on Texas based programs on Monday, August 20, Tuesday, August 21 and Wednesday, August 22 before traveling to Aguascalientes, Mexico for the COPABE Pan Am "A" Championships, which begin August 25.
"I love everything about baseball. I love playing the game and meeting new friends," Halstead said. "I also like competition so it's fun to have really good games."
Introduced to the sport at the age of 4, Halstead currently plays for the Puyallup-based New Level Xtreme. He started playing in the Aberdeen Little League when he was 5. Prior to this year he played for the Grays Harbor Tide, in addition to various travel teams.
"I am super excited to represent the USA," Halstead said. "It is so unreal to me that I cannot hardly believe it."