"I was always mesmerized by the shape of the canoe." This is how Taholah artist Guy Capoeman begins to tell his story. "Our canoe design has been perfected for more than a millennium. It works." Guy knows what he is talking about.

In 1994, Guy Capoeman carved the first ocean-going canoe in a hundred years, a 34-foot cedar dug-out he named the May-EE or "the beginning." The name held significance for many in a time when a renaissance of art and culture began within the Quinault Nation. Today, talented young artists are at work, the old stories are rediscovered, the Quinault language is spoken again and once more the big ocean canoes are being paddled along the coast. Guy is aware of the importance of his people's history and culture: "I don't want anybody to be able to say, you are no different from us, you must live like us, talk like us, and pray like us."
In 1988, Guy Capoeman graduated from the Pacific Northwest College of Art in Portland with his Bachelor of Fine Arts in illustration. The quality of his portfolio landed him shows at the Portland Quintana Galleries  and at Stonington Gallery in Seattle. Back in Tahola, Guy became involved in tribal politics. He served on the tribal council for six years as a member and for another six years as vice chair. With his art career on the back burner, he began carving canoes with political impact.
Tribal leaders Emmett Oliver and Phillip E. Martin had demanded to be involved in the Washington State Centennial in 1989. The Tribal Journeys project was to demonstrate how coastal tribes had traveled the ocean in large cedar canoes. Paddle to Seattle was the first of the Tribal Journey events with 20 participating canoes. In 2002 and in 2013, the Quinault hosted two Paddle to Quinault events, which greatly boosted community pride and identity.
The tribe commissioned Guy Capoeman to carve the May-EE to take part in the Paddle to Quinault. The men navigated her in 20-foot swells and 8-foot breakers. "The design of the ancestors works," says Guy, "and I try to emulate it." Twenty-nine more canoes followed. Quinault canoes are shaped in the form of the Lightning Fish, a creature from legend. During a storm, Thunderbird emerges from his lair in the Olympic Mountains throwing the Lighting Fish over the ocean. In the light, Thunderbird grabs a whale and retreats to his lair with his prey.
Carving canoes is a Capoeman family tradition. Guy makes sure to involve all his seven children in the carving of a canoe. Together with his brother Jeff and his son Cecil, Guy operates Capoeman Arts. They carve canoes, paddles, masks, house posts, and more. House posts erected at the entrance of a longhouse are particular to the Coast Salish culture to which the Quinault belong. They are carved with images depicting the inhabitants' connection to nature and to the spirit world. Capoeman designs are rooted in tradition. They depict stories of mythical creatures and legendary characters inhabiting the land. In their daily lives, the Quinault seek connection to their family, their tribe, to nature, and the spirit world. They strive to be part of a harmonious whole.  This connection is reflected in their art. Geometrical shapes – triangles, crescents, circles – compose and contain the figures. In turn, these same shapes are also contained within the bodies of the figures lending cohesion to the work.
Apart from traditional design, the Capoemans also create acrylic paintings, prints, and paddles with abstract designs. Cecil sells elegant display paddles from his Facebook page. The Capoemans have created art for coastal resorts like Port Gamble and the Quinault Beach Resort.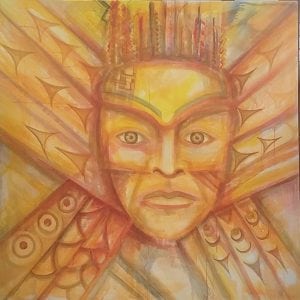 In 2016, working with Our Aberdeen, Guy and Cecil were commissioned to paint a mural on the Morck Building in Aberdeen. Titled "Kape Jiluupak," it shows Thunderbird grabbing a whale under an arch depicting the legend of a famous headman who used to travel the ocean in a 28-person canoe. Guy is a storyteller in words as well as in wood and paint. Eloquently, he talks about the connection of his people to the land, to their family and to the spiritual world. In the mural, he points out, the sun design on top shows the face of Iskwalusis, or "Bright Sun," an ancient name from oral history. The Capoeman family on Guy's great grandmother's side traces a connection to Iskwalusis.
Quinault art has evolved over time. Guy credits artist Clarence Pickernell with spring boarding Quinault art as well as his uncle Randy Capoemen. "Randy set another page. Artists compare themselves to Randy. About his own art, he says: "My art reflects my people's history. I want future generations to look at my work and know that it represents Quinault art our time." His dream is to carve something monumental, something that can be seen from far away.
For more information, you can contact Capoeman Arts at 360-268-3430, nemuuth@hotmail.com, Capoeman Arts on Facebook, and Cecil Capoeman on Facebook, or visit Capoeman Arts online gallery.