Nine years ago, Ocean Shores residents had to travel to Hoquiam or Aberdeen to see a live theater performance. Parents of children with an interest in theater had to invest time and gas money to chauffeur their offspring to the nearest opportunity, the 7th Street Kids summer program in Hoquiam.

All this changed when Kari (Phillips) Novikoff, Ron Cooper, Eric Bjella, Stacy Steele, Stan Phillips, and Tom Hoyt founded Stage West Community Theatre. Adam Cooper participated as an actor and student representative to the Board for several years and eventually as an assistant director.
Realizing the need for live theater opportunities on the North Beach, the founders formed a nonprofit board which has now grown to nine members. They set out with the ambitious goal to produce three shows per year. The Ocean Shores Lion's Club generously opened its doors and stage to the fledgling theater company.
In 2009, Stage West performed their first comedy, The Dock Brief, starring John Pratt and Eric Bjella. They followed through on their plan of three shows per year. However, such a heavy load soon became stressful for the all-volunteer theater company.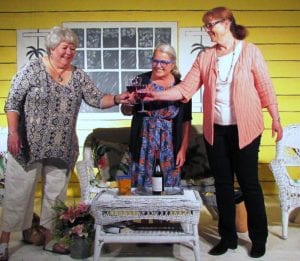 When Director Kari Novikoff left, Stage West went through a quiet period – cutting back to two shows per season. In 2016, Lori Hardin joined as board secretary and Pamela Nygaard joined as the new president. Lori soon took on a role as director and is now directing her fifth show.
Today, Stage West is back to producing three shows, usually comedies, per year along with a number of additional projects. As outreach to coastal youth is one of the main goals of Stage West, one show each season is designated as children's theater. Plays like Stuart Little and The Lion, the Witch and the Wardrobe have attracted many young actors and spectators. All ages are welcome according to each show's requirements. Stage West's youngest actress was five when she performed in Stuart Little. There is also opportunity for youth to help with many kinds of backstage work.
Participating in a theater production benefits young people in many ways. A successful production boosts a young person's self-esteem with a great sense of accomplishment. "Kids can discover a potential they never knew they had," director Lori Hardin explains. "We provide a very safe place. Nobody criticizes a fellow actor." She remembers a very shy young man who was cast for a part in The Rented Christmas. He worked very hard and gave an impressive performance.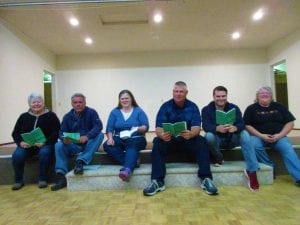 The Ocean Shores community has taken note of Stage West and opportunities for cooperation have opened up. The Chamber of Commerce is helping to spread the word up the North Beach through their Delivery Marketing Program. The City of Ocean Shores asked Stage West to participate in their three-week 2018 Elementary Summer Program. Stage West offered a week-long theater program. Karen Noble was asked to direct a few vignettes, coordinate with other board members to teach stage combat, and put together a small wearable art runway show for the camp finale. Eventually, Stage West would like to develop its own summer program for kids using a concept known as "Show in a Box."
In 2016, Stage West was approached by Stephanie Allested, organizer of the Chocolate on the Beach Festival, who was looking for an evening entertainment at Ocean Crest Resort on the Thursday preceding the festival. The first murder mystery dinner, Death by Chocolate, performed at the 2017 Chocolate on the Beach Festival, sold out before the doors opened.
"Performing among the diners without a fourth wall to keep them safe was a somewhat scary experience for our actors," Lori Hardin remembers, "but it was also new and exciting." Stage West is looking forward to their 2019 dinner show.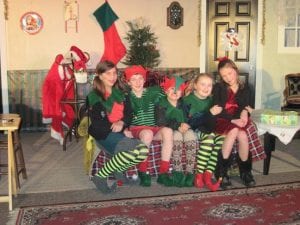 The Ocean Shores Wearable Art Show, an established popular event that takes place annually in June at the Ocean Shores Convention Center, shared their profits with Stage West last summer to help fund the summer camp program. For the 2019 show, the company was invited to act as an umbrella for a combined Stage West/Wearable Art event. The company will take over the marketing and ticketing for both shows.
Stage West's ninth season will be very busy indeed as the cast of their well-received show The Savannah Sipping Society will head out to Prosser to participate in Kaleidoscope, a competition organized by the Washington State Community Theater Association.
Stage West's new comedy show, A Doublewide Texas Christmas, will run November 30, December 1, 2, 7, 8, and 9. Tickets will be for sale at the door, on the Stage West website, at Mocha Madness, Ocean Shores Animal Hospital, Dolores and Fay's and the Ocean Shores Convention Center. Tickets will go on sale in early November.
Stage West has volunteer opportunities for actors, musicians, directors, set creators, stage managers, web and social media promoters, and stage help of all ages and experience. Call 360-268-3430, follow them on Facebook or visit Stage West Community Theater's website.