Grays Harbor College (GHC) has excelled at offering programs that meet local community and industry needs, and continues to build on the success of recent programs by offering students new educational and career opportunities. Within the past year, GHC has rolled out a number of exciting programs that position students to begin careers that are in high demand. An important part of the college's mission is service to the community. "We want to help the community with its economic recovery and vitality," says President Dr. Jim Minkler. As the demand for trained professionals in the area increases, Minkler and the staff have been busy developing new programs to meet industry needs.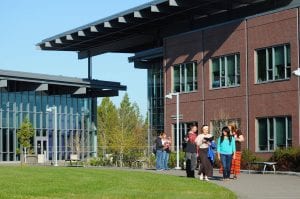 Organizational Management
In the fall of 2016, the college launched the Bachelor of Applied Science in Organizational Management program. In this program students are "getting an overview of management practices, HR policies, managerial accounting, grant-writing, and team-building, skills that apply to all industries," says Lucas Rucks, dean of workforce education. The program also teaches students leadership development, strategies for implementing change, ethical leadership, and the power of diverse teams.
Forest Resources Management
Grays Harbor County is one of the most important forestry centers in the country. The Bachelor of Applied Science in Forestry Resource Management aims to prepare students to meet the needs of this growing industry sector. "We are focusing on silviculture, the administration of the life-cycle of a healthy, working forest, but we also specialize in emerging technology, using drones and cameras," shares Rucks. "We recently added a weather station and a GPS tower on our buildings to help our students learn with new technology." Students in this program can also benefit from a National Science Foundation grant that covers tuition and books.
Teacher Education
In the Fall of 2017 the GHC began offering the Bachelor of Applied Science in Teacher Education, allowing students to earn a four-year degree with a kindergarten through eighth certification. "We want to train up early childcare employees and para educators in our local districts," describes Rucks. "We want them to learn in our local districts, and we want them to teach in our local schools." The program's first cohort will graduate in June 2019.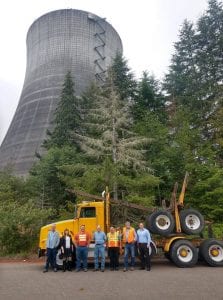 Log Truck Driving Certificate
By vigilantly identifying and responding to local industry needs, GHC launched a log truck driving certification in the Fall of 2018, giving students who already have their CDL hands on experience driving trucks on logging roads. In this program, students learn the safe practices of hauling live loads from the forest to the mills.  "The program fits the area so well and it's in partnership with the Pacific Mountain Workforce Development Council," says Minkler.
Diesel Technology
GHC has responded to the needs of regional employers by adding a CDL certification to the Diesel Technology program.  We want our students to have every advantage when they go out into the workplace," explains Diesel Technology instructor David Werner. "Our Diesel students will also graduate with their commercial driving license (CDL), along with forklift certification, first aid and CPR training. In diesel shops, these big vehicles can only be moved, even in and out of the shop bays, by someone with a CDL. Our students will have theirs," he exclaimed.
Certification in Welding (Construction)
"We have, I think, maybe the best welding program in the Pacific Northwest," shares Minkler. GHC offers an associate degree in welding, along with several certificates. The Welding Certification in Construction began in the Fall of 2018.  GHC also offers degree tracks in Pipe Fitting and Structural Welding.
Medical Assisting Program
The Medical Assisting program is a partnership with the Twin Harbors Skill Center. "It allows high school students to receive high school and college credit at the same time," explains Minkler. "Our healthcare providers in the community are really excited, because they've had a difficult time being able to hire medical assistants. They have a big need right now."  Medical Assistants are highly versatile professionals in both clinical and administrative realms. The program provides students with a knowledge base that includes anatomy, physiology, medical terminology, pharmacology, medical billing and coding, medical office clinical assessments and procedures, patient care and education. Medical Assistants learn to effectively communicate with a wide variety of people including doctors, nurses, clients, medical billing staff, insurance representatives, and pharmacists.
Bachelors of Science Nursing Program
GHC already has a well-established nursing program where students can become Registered Nurses (RN), but in the Fall of 2018, the college established Direct Transfer Agreements with 7 universities.  This allows students to complete their RN degree at GHC and work as a Registered Nurse or complete the first 3 years of a Bachelors of Science in Nursing and then transfer to one of the 7 universities that GHC has partnered with.  This is a three-plus-one program, which gives students the opportunity to study three years at GHC and one year at a transfer institution, such as the University of Washington Tacoma. "It's much more economical to do this than it is to spend all four years at a university," explains Minkler.
GPS/GIS Training Certification
Also, in the past year, GHC began offering a geographical information system (GIS) course in Pacific County, with plans to expand to Taholah in the Summer of 2019. This course gives students hands on experience using GPS software and hardware and handling GIS data. "We hope to add two advanced GPS courses for those interested in forestry, zoning, land management, real estate, and restoring habitats," says Minkler.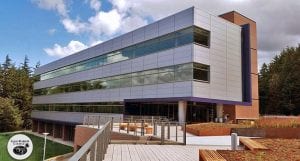 Future Offerings
Grays Harbor College has a number of exciting plans for future programs and courses. Aiming for a Winter 2019 start is the Associate of Applied Science (A.A.S) in Early Childhood Education. This program provides students with a two-year degree in early childhood education.
Within the next three years, the college hopes to offer A.A.S degrees in Occupational Therapy, Ecotourism and Hospitality Management, Interpreter Training, and Transportation and Logistics.
The Ecotourism and Hospitality Management program will have certificates available in recreation, culinary arts, and sustainable harvesting and seafood preparation. "Because we're the only institution of higher education on the Washington State Pacific Coast, our culinary arts program will focus on the seafood, and our ecotourism program will focus on the tourism industry that goes along with the beaches and Olympics National Park," explains Minkler.
Grays Harbor College has carefully planned its current and future program offerings, allowing students to enter thriving career opportunities. In serving the community, the college values "working with parents early on to let our youth in Grays Harbor County and Pacific County understand all the opportunities here," shares Minkler. "Every child should know that there's a world of opportunity out there."
From certificates and two-year programs to four-year degrees, Grays Harbor College offers training in a vast number of exciting careers. Your future awaits and you can learn more by visiting the Grays Harbor College website or calling 360-532-9020.
Sponsored