What is it about Yellow Finnish potatoes that lure customers back autumn after autumn – some from hours away – to Lubbe Farms?

"I think it's the most universal potato in the world," said Kurt Lubbe, who says he doesn't know of anyone else in Western Washington who grows them commercially. "The Yellow Finn will stay together because of the moisture content, but has less starch – and more flavor – than a white potato."
"They're sweet, buttery, moist, and creamy," said Lynn Lubbe, his wife and business partner. "They are great baked, scalloped, mashed, just any way."
"But it's the flavor that gets to you and keeps you," Kurt added.
It was likely that flavor that caught the attention of Carl Riipinen, who farmed south of Montesano in an area known locally as Finn Island on Minkler Road. He was introduced to Yellow Finnish potatoes while visiting his homeland.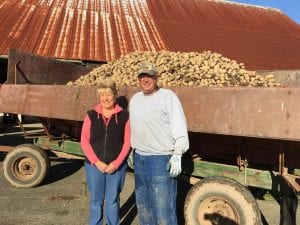 "The story goes that in 1952, he had gone to the Helsinki Olympics and then visited his native Finland," Kurt said. "While there, he took the opportunity to visit a lab – something like our WSU extension offices – where they were developing this new Finnish potato. He ended up taking about six small ones and sewing them into the lining of his coat and smuggling them into the United States, bringing them back to this area. He knew when he tasted them that they had something special."
Kurt, who is a third generation farmer, moved from the Puyallup area with his family to Grays Harbor when he was in seventh grade. It was his grandmother who started the nearby Satsop Bulb Farm, which his sisters, Kris Edem and Karel Smith, now own and operate. And, it's from about four acres of sandy soil behind the bulb farm that Lynn and Kurt recently harvested some 60 tons of the thin-skinned Yellow Finnish potatoes as well as a thicker-skinned German potatos, which are also popular.
On one early fall morning, as the couple slowly drives matching tractors perfectly parallel, digging up potatoes from the earth, and also as they anticipate each other's next move while working with employees to sort them, it is evident the Lubbes are accustomed to working hard and working together. The interest in the earth and farming has continued to the next generation. Their son, Vance, a 2005 Montesano High School graduate, works for the Department of Agriculture in Tumwater.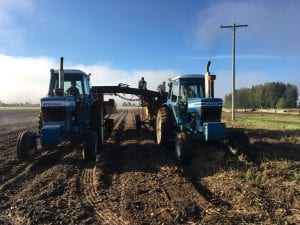 Lynn had grown up on a dairy farm in Porter and met Kurt at Elma High School, where they became friends and sweethearts. After graduating in 1978, Kurt wasn't interested in going to college, preferring working with his hands and "rolling in the dirt" at his family daffodil farm.
The next year, his father, Charles Lubbe, had gotten ahold of some of the Finnish potatoes and encouraged 19-year-old Kurt to grow some of them as well as the daffodils he was growing. The bulk of the Riipinen farm had been condemned by the government to build the Satsop nuclear site. Carl had given his sons the rights to grow the potatoes, but he was scaling down his operation. Kurt's father thought he tasted opportunity.
"I'm not going to say I was excited about growing potatoes. I was a daffodil farmer, but when fall came and I was selling them, I knew I had something special," said Kurt. "The word got out and the next thing I know I had old Europeans now living in the Fort Lewis area – some were war brides – driving all the way down to buy my potatoes, telling me some amazing stories of their life during the war and also spreading the word around through their community about the potatoes," he said.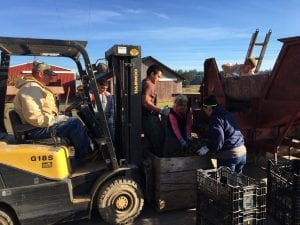 "In Europe, they build their meal around the potato while, in America, it tends to be around the meat. They are more particular and aware of the different kinds of potatoes and these people were thrilled," he said.
However as some of his older customers have died, the demand has dropped off some. This year, the Lubbes planted four acres in potatoes, but a few years back they would plant 10 acres.
However there still are hundreds of regular customers who know the Lubbes as potato farmers and who enjoy chatting with them as they pick up their bags of potatoes in the fall. Many of them might be surprised to learn that their potato farming is almost more of a hobby that fills in time – and brings about 10 percent of their income – when they aren't busy with their commercial daffodil business.
Usually the potatoes are sold out before the end of the year, and in February and March it's already time to start picking daffodils. Lubbe Farms grows Dutch Master, a big bright yellow, hearty flower that ships well and is a perennial favorite. The farm produces about four to five million stems a year and employs about 60 people for about a month in early spring to pick them all. The daffs are sold commercially through Pacific Flower Shippers, a flower broker in Edmonds. Most of them end up at Trader Joe's stores in California.
But now it's fall, and it's time to talk – and sell – potatoes. Lubbe Farms is located at 211 Brady Loop Road East, which is on the south side of Highway 12 between Montesano and Elma. Both the Yellow Finnish and German varieties come in 10-, 25-, and 50-pound sacks of medium or large. The potatoes will store well for up to six months in a cool, dark, dry place. Lubbe Farms is open for business from 9:00 a.m. to 5:00 p.m. seven days a week.
With Chapman Farms pumpkin patch and corn maze the next farm down the road, many people make it an annual tradition to stop by and pick up potatoes on the way to the pumpkin patch. But even after the October rush, things stay pretty busy at the big green warehouse as razor clam tides and dreams of creamy mashed potatoes at Thanksgiving and Christmas continue to bring customers until the last bag is sold.