Getting to your destination can be a challenge sometimes, especially with the rising costs of fuel, maintenance, and car ownership. This doesn't have to be the case, as public transportation is a great option for the community. Grays Harbor Transit (GHT) has been working hard on updates and carefully listening to rider feedback to make your travel experience in the county one of the best. "Everything that we're doing is to create a better system for the citizens of Grays Harbor, whatever we can do to make their bus transportation easier and more comfortable," says Tami Dragoo of Grays Harbor Transit. From an updated bus book, a paperless bus pass program, and GPS bus route technology, to free and reduced fare options, public transportation in Grays Harbor is better than ever.
New Bus Book
The next time you're flipping through the pages of a Grays Harbor Transit bus book you might notice a few updates and improvements. A new feature in the book, located on the back cover, is a list of upcoming events taking place around the county. The events are even color-coded to correspond with the matching bus route that you can use to get to the event.
Grays Harbor Transit is on Twitter
Are you a frequent social media user? Be sure to follow GHT on Twitter to get important transit and travel announcements. "We just started tweeting," says Dragoo. "It's especially going to come in handy for inclement weather when we start getting snow and ice and for detours or road closures." If you're not on Twitter, don't worry. All GHT Twitter posts will also be streamed on the transit website.
Token Transit Mobile App
Riding the bus has never been easier. You can now use the Token Transit mobile app to buy any type of bus pass right on your phone or tablet. Simply purchase the pass on your device and show the bus driver your purchased pass on your phone when you board the bus. Passes are good for 30 days after purchase.
Track Your Bus with GPS
All vehicles in the GHT fleet are now equipped with GPS technology.  GHT partnered with Unite GPS to develop this comprehensive system. You can use this software to track incoming buses, ensuring that you'll never miss a bus again. You can access bus GPS routes from the GHT website or at https://transit.unitegps.com/gh.
Dragoo notes that this technology has significantly improved the rider experience by streamlining communication between buses and dispatch. Safety has also been increased as GPS also allows GHT to know where all of their vehicles are located at all times.
GHT was the first transit customer of Unite GPS. "We're a small, rural transit agency, and for those types of programs that are out there, they're so expensive, and out of the grasp of smaller agencies. With us helping them develop this, it made technology for smaller transit agencies more accessible," explains Dragoo.
Digital Signage and New Buses
GHT will soon be adding large screens to the Aberdeen and Hoquiam transit stations, which will display arrival and departure times of buses. They also plan to use the screens to share transit tips as well as upcoming special events.
In January, 6 new, 35-foot buses will be added to the transit fleet. The new buses will feature two passive restraint stations for wheelchairs, which "allows someone in a wheelchair to come in and secure themselves without any help," explains Dragoo.
Looking to charge your phone or tablet while riding the bus? Each new bus will have a USB charging station at every seat.
Veterans Ride Free and Regional Reduced Fare Permits
All veterans can ride GHT buses for free within the county. All you need to be eligible for this service is your veteran ID card. If you're a veteran and don't have an ID, you can make an appointment to visit the transit office and get an ID card there.
For riders with medically-documented disabilities, GHT has regional reduced fare permits. This permit allows riders to pay a discounted cash fare or purchase a disable pass. There's a $3 fee for the ID card and the application form is available on the Grays Harbor Transit website. "There's now one uniform ID card that is for the whole Puget Sound area, including the ferries," notes Dragoo. Be sure to make an appointment to visit the transit office.
State Agency Rider Pass and Vanpool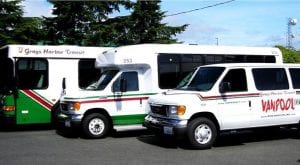 As part of a one-year pilot program, GHT is now accepting STAR (State Agency Rider) passes, which allow riders to use transit for Mason, Grays Harbor, and Intercity transit agencies for free.
GHT also continues to offer vanpool options for riders. This convenient service lets you form a vanpool of 7-15 people and use a GHT van to get to where to you need to go. GHT covers all fuel and maintenance costs, making your commute very economical. "One of their group goes through our driver training program, a defensive driving course, and gets certified as the driver for the vanpool," explains Dragoo. "And they have an alternate driver."
Stuff the Bus and Special Holiday Service Calendar
Riding the bus during the holiday season is going to be a breeze this year, with the free holiday service calendar. All bus rides within the county will be free the day after Thanksgiving, the weekends leading up to Christmas, and the entire week before the holiday. Check out the free holiday schedule in the GHT bus book. "Holidays can be stressful. We want to help the public during these times. It's the best time of the year," shares Mehin.
In December, they will be collecting unwrapped new toys, as well as cash and food donations as part of the Stuff the Bus event.  All donated items support families in need and the event is a partnership with Connections children's advocacy center in Montesano and Coastal Harvest food bank.
Be sure to attend the GHT Valentine's Day bake sale this year and try some of the delicious treats. All proceeds from this event go to Connections and Coastal Harvest, and they will "have something for any kind of budget," says Ken Mehin, Grays Harbor Transit general manager.
The next time you're planning your trip, be sure to consider using Grays Harbor Transit to take advantage of the many updates and exciting programs in the works. "On a daily basis we ask, 'What else can we do?'" says Mehin. "By attending conferences and looking at other transit agencies, we look for things to improve." All program and schedule information can be found on the GHT website or by calling 360-532-2770 or 800-562-9730.
Sponsored