For 40 years, from 1946 to 1986, a remarkable forest community called Camp Grisdale housed up to 300 single loggers and 52 logging families. A unique culture developed in this solitary place high up in the foothills of the Olympics and the world took notice.

Simpson Logging Company had become successful by constructing a network of railroads from Shelton into the flatland woods to the west. Every few miles along the tracks, a numbered mobile logging camp was stationed ready to move with the flow of the logging operation. The logs were transported by train down to Shelton to the company sawmills and manufacturing plants.
In 1945, Simpson loggers had reached the high country of the South Olympics. A new type of camp was planned just south of the Wynoochee Dam. It was to be a place to attract the loggers with their families. The camp was given a name rather than a number: Grisdale, after brothers J. William (1874-1968) and George M. (1872-1929) Grisdale, nephews to founder Sol G. Simpson. Grisdale became a timber transfer station where logs were moved from trucks to flatbed train cars at the Simpson railhead. Former residents are still proud of specialized high country logging techniques they developed on the steep slopes around Grisdale.
Camp Grisdale was envisioned by George Lincoln Drake, chief forester and vice president of Simpson's logging division.  Drake planned a neat town with houses designed to attract housewives: "To keep a good man, you've got to please his wife." The bunk houses for the 300 single men had hot and cold running water, thick mattresses, and a bed maker who shook out the sheets and fluffed the pillows every day. The cookhouse for the single men served excellent and abundant food. Visiting logging historian Stewart Holbrook wrote: "Loggers are the best-fed industrial workers on earth." The bunkhouse area was separated from the family residences where single men were only allowed by invitation.
Grisdale offered every amenity needed for family living: a store, a recreation hall, and a two-classroom school that taught eight grades and hosted church services on Sundays. Lou Messmer, 98, was Grisdale's first teacher. In his biography, he describes his job as "upper grades teacher, principal, bus driver, and janitor."
Serina Sheek and her husband, logger Larry Mahaffey, lived in Grisdale from 1978 to 1982. Their daughter Amanda was born during that time. There was no medical facility in camp. To give birth, women had to travel to Aberdeen. "We only had one phone in town," Serina remembers. "There used to be an old-fashioned crank phone that shocked you in the rain." It took Serina about a year to get used to life in Grisdale. By then, she had fallen in love with the solitude and the wilderness.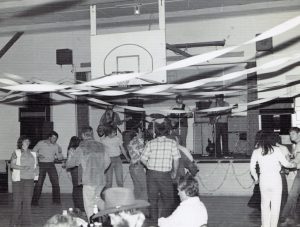 Grisdale residents lived with the highest rainfall in the continental United States at 160 inches per year. To avoid cabin fever, the company provided means for entertainment. Frisken Recreation Center offered an auditorium, a bowling alley, a movie theater, billiards, and card tables. The Grisdale Recreation Association (GRA) organized movies, sports events, school Christmas programs, concerts, and dances that even attracted outsiders. In the early days, there was a jazz band, the Grisdale Syncopaters. Mario Winkelman, father of Hoquiam Councilman Ben Winkelman, acted as president of the GRA. Serina Sheek was a frequent volunteer.
Mario Winkelman arrived in Grisdale in 1972. Starting out as a bunkhouse resident, he later moved his family into a Grisdale home. Mario worked in road construction contributing to the 1,500 miles of access roads built by Simpson. The roads were used by log trucks, but they were also immensely enjoyed by the Brush Buzzards, a biker's club founded by Mario. An impressive 75% of Grisdale residents owned bikes. Mario also published a newspaper, the Grisdale Wild Word, complete with cartoons, which he wrote and printed in his home.
During its operation, Camp Grisdale received much media attention and many visitors. "Strange cars would drive through the streets and stare at us," Serina recalls. The world had become aware of a remarkable way of life. The 1986 closing of Grisdale, the last of the company-owned logging camps in the continental United States, became a media event.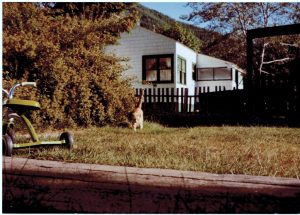 After moving to Montesano, eight-year-old Ben Winkelman, disappointed with his new home, decided to ride his bike up the Wynoochee Valley Road to go home to Grisdale. Little did he know that his home was no more. The buildings had been demolished. Today, this former enclave of civilization has been reclaimed by the forest. A sign points out the place where Grisdale once used to be.
"It is important to remember Grisdale," Mario says, "for its culture and its part in Grays Harbor history."
Grisdale residents stay in contact through a Facebook group: I Lived and/or Worked In Grisdale,WA. Their next annual reunion is going to take place August 10, 2019.