When thinking back to our youth, more often than not we can instantly recall an individual who helped shape our high school experience. During one of the most transitional times of a student's life, having a teacher, coach, mentor, or friend to reach out to for help along the way is essential. That individual for many students at Aberdeen High School (AHS) is William Rabung.

Currently in charge of the Positive Approach to Student Success (PASS) program at AHS, Mr. Rabung uses the program to help his students succeed in mainstream classrooms. PASS is built on the belief that children with behavioral and emotional challenges can benefit academically from integration within the general curriculum as well as behaviorally from broad educational experiences. Mr. Rabung is a teacher that students in the PASS program can look to for guidance as well as someone who takes the extra leap to get to know his students on a personal level. At the end of each trimester, Mr. Rabung's passion for cooking is on full display as he provides each of his students with a home cooked meal complete with his famous chili, pulled pork, and mac and cheese.
Not only is Mr. Rabung an integral part of academics at AHS, but he's also widely known at almost every sporting event. Over the past decade, Mr. Rabung has volunteered for the AHS swim team.
April Heikkila currently coaches the girls swim team and has coached both of Mr. Rabung's daughters throughout the years. "William is that instantly recognizable voice that you hear at almost every Aberdeen sporting event," explains April. "He strives to make these young athletes' competitions a fun experience for everyone involved. He's the type of person who can get folks excited to be in a hot pool environment watching an often lengthy swim meet, which is not an easy task. William truly makes every game and match that he's a part of a true spectacle."
In addition to his work with the AHS swim team, Mr. Rabung is the announcer at many other sporting events, including wrestling matches, basketball games, often times baseball games, and football games. To help wish the AHS football team good luck, Mr. Rabung is known to break out his cooking skills once again and whip up a meal for the athletes before each home game at Stewart Field.
High school state send-off events are exciting times, and Mr. Rabung assists in making these events extra special for the students, athletes, staff, and parents involved. Both the Aberdeen Fire Department and Police Department are present to help send off the students in style, but Mr. Rabung recently went above and beyond coordinating the National Guard as well, making for a unique escort out of town.
Bobcat pride runs deep within the students at AHS. During the annual senior prank day, the jokes that students play can easily get out of hand. That's where Mr. Rabung steps up to take responsibility for the pranks that are chosen, keeping the seniors in good spirits while simultaneously having fun.
Another school spirit function that requires a close eye is the guarding of the AHS spirit rock. Each year prior to the Aberdeen vs. Hoquiam rivalry football game, students camp out overnight guarding the rock from potential vandalism. Mr. Rabung is present all night helping to monitor the activity, feeding the kids and ensuring that the coveted spirit rock emerges unscathed.
"If this isn't the definition of school spirit, I don't know what is," says April. "William clearly embodies Bobcat pride and works to instill a sense of spirit and community within the school itself and within the students. He truly goes above and beyond engaging in activities that demonstrate AHS spirit, more so than I think I have ever seen within a teacher."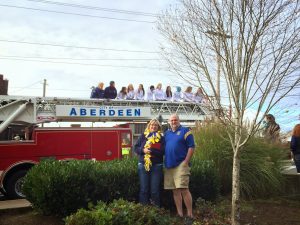 As if the list of good deeds isn't long enough, Mr. Rabung does even more for the Grays Harbor community and AHS, including running the SAT and ACT program held at AHS, donating dinners to various auctions, dropping everything to take calls at any time of day and night from students' families, and driving the van for events at his church.
"He has been an advocate for many students to not only succeed in school, but to be an active participant in sports and other school activities," says April. "William is the first and last to high five a kid walking down the hall and he cares deeply about those that he engages with. Building young folks up in a way that is both positive and impactful is what he does best."
Teaching is the one profession that creates all other professions, and Mr. Rabung doesn't take this knowledge lightly. Having a strong, encouraging adviser to walk the halls with is truly invaluable and a gift to everyone at AHS.