At Summit Pacific's (SPMC) Emergency Department, those in need will be met by a medical team dedicated to the wellbeing of the Grays Harbor community. From being open 24 hours per day, seven days per week, to having designations in cardiac, stroke, trauma care and airlift available, the emergency department has well-trained employees and lifesaving medicine at the ready.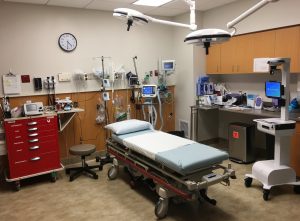 "Our emergency department is employed by a full-time staff of physicians who are emergency medicine board-certified, which is kind of difficult to find in rural areas," says Dr. Mimi Syed, emergency department medical director at SPMC. "Our physicians are also certified in trauma care, in addition to being board-certified in emergency medicine."
The emergency department has more than 35 staff members between physicians and nurses who provide round-the-clock care, many of them coming from diverse backgrounds that strengthen department operations as they bring in their ideas and experiences and invest in the community.
"I have critical care and ED experience," says Nicole Simons, nurse manager of Summit Pacific's Emergency Department. "I came to Summit from a larger organization because I like smaller hospitals. And I'm a rural, country girl at heart, so I live in the community now. I wanted to work in a progressive organization and Summit is fast-changing, progressive. We're trying to make Summit the best little hospital it can be."
"Nicole and I have both worked in larger facilities and have worked with large organizations," Syed adds. "So, I think having that is a very unique situation, because we bring large city organization ideas into a very small community and try to do the latest and greatest evidence-based medicine for the patients of the community."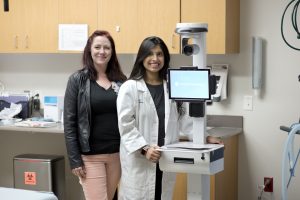 Though SPMC does not provide surgical services, it is critical access and has 10 emergency department bays that includes a trauma bay. In addition to being a level three stroke and cardiac facility and having a level four trauma designation, they also have a telestroke robot that makes it possible for stroke patients to connect directly to a partnered Providence St. Peter's Hospital neurologist. With 28 patients last year that activated a code stroke, the robot is a lifesaving tool that can be utilized.
SPMC has limited specialty services compared to large city hospitals, but their emergency department's intended purpose is served well as a critical access hospital. "What we are really good at doing is seeing patients, stabilizing patients, finding out what specialty services they need and getting them to that appropriate service," Simons says. "So, because we are critical access, we're very small and we're not going to have all of the specialty services. What we have is some well-trained ED physicians and partnerships with those larger facilities. We get people where they need to be."
The emergency department volumes have been increasing each year, with around 15,000 patients in 2018. With those numbers increasing each year, the hospital is being proactive in providing new services and programs to accommodate more visits working to keep wait times low and care excellent.
Visit the ED for Flu When:
• Fever over 101.4 that is not relieved by medication
• Trouble breathing
• Under six months of age with flu symptoms
• Elderly showing flu symptoms
• Immunocompromised showing flu symptoms
• Other flu symptoms where people can see their primary care providers include fever, sore throat, body aches, headache, exposure to the flu
One new program that is expected to be operational by mid-2019 is the SANE (Sexual Assault Nurse Examiner) program that Simons is heading up. "We would like to give thanks to Beyond Survival, the advocacy group in Grays Harbor who is assisting with some of the funding for that training," Simons says.
Something else that makes SPMC special is the dyad approach to management within each department, creating strong partnerships between staff.
"At a lot of hospitals, you might have a medical director who focuses specifically on physician leadership and training, but she actually works with me in operations," Simons says of working alongside Syed. "So as a nurse manager, I'm ultimately over the nurses but I'm also the operational manager overseeing the budget and day-to-day activities. But because we are a dyad, Mimi and I work together as a team."
Both Simons and Syed oversee programmatic changes and new developments. They commend this approach as it takes into consideration nursing and physician concerns and they are both excited to continue working with SPMC to bring the best emergency department services and programs available to the area.
The emergency department entrance and parking lot can be found off Young Street on the backside of the medical center in Elma. There is also a drive-up for patient drop offs. For more information or to view live published wait times for the emergency room, visit the Summit Pacific's official website or call 360-346-2222.

Sponsored