Zach Miller, who moved to Grays Harbor in 2012, found the ultimate hobby when he became involved in the local branches of the Society of Creative Anachronism (SCA) that studies and recreates historical happenings from the 17th century and prior.

Miller moved to Grays Harbor five years ago and while he works as an emergency department technician and phlebotomist at Grays Harbor Community Hospital, in the summer he spends every weekend taking on a different persona – one that he has created of a Greek fighter named Septimus in a group called the Achilles Myrmidons.
A simplistic way that people might refer to the SCA is "themed camping," but to a lot of members, like Miller who is a big history buff, it is much more as they immerse themselves fully into their characters and bring history to life one weekend at a time.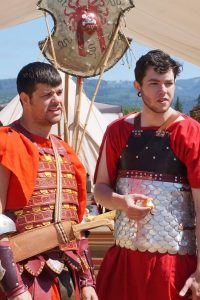 "It's everything you encompass; you can play as much as you want to play," Miller says. "I always bow to the king and play the game of royalty. You don't have to, it's not required, but it's all part of the game and the fun and the more you immerse yourself into the game, the more you get out of it."
Something unique about the SCA is that everything they do is based on historical facts and findings that their arts and science group researchers have presented. Though some people do mostly camp with their friends while wearing medieval garb and it's completely acceptable, Miller has found he gets much more out of the experience by going off the "deep end" of the game.
"I jumped in the deep end and I'm in the deep end swimming around," Miller says.
When Miller participates, he brings a period tent that is accurate for the era his persona is from, which is around 800 B.C. He also wears armor and clothing that matches the era and his group also tries out food and drinks to match, too.
Part of the fun is in the battles. With the exception of his helmet, Miller painstakingly made his own armor. His armor has been assembled using aluminum lamellar plates, leather and threads, and has details like the Myrmidon key etched into it. Miller spent about 500 hours making this special armor.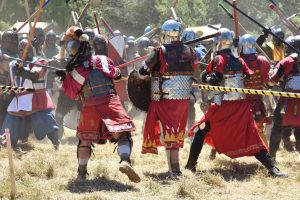 "I've been in it five years, so I wanted to have pretty armor," Miller says. "I took time and learned the craft and I made pretty armor."
Learning different crafts and skills is another aspect of the SCA that appeals to many members. Members are encouraged to learn anything that interests them, whether it is sewing, blacksmithing, archery, painting scrolls, carpentry, leatherworking, forging, or other skills. Miller first started out as a Viking, but switched his persona to a Greek fighter because he wanted to be a part of a house that focuses more on combat. In the Myrmidon group, there is a year-long waiting period where newcomers camp and fight with the group and later decide if they want to make the commitment to stay. In June, Miller's waiting period as well as two of his close friends will be up and they will have to go through The Gauntlet. If they pass this test, they become official members of the Myrmidons.
"Since we're a fighting household, it is a fighting tournament," Miller says. "I have to fight everybody in the house who wears armor and as of right now, back to back. And I have to fight everybody twice. I think it will encompass about 24 fights."
Miller says that he is in the SCA for life. When it's the off season, he likes to spend time snowboarding, playing video games, working out, working on armor and other medieval projects.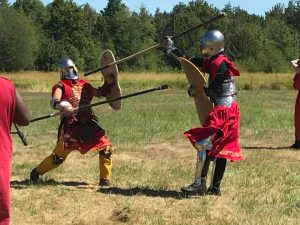 The SCA at a Glance
The SCA was first established in 1966 and has grown to have 21 kingdoms all over the world. The SCA now has roots around the globe with a lot of popular events like Battle of the Nations and a new show called Knight Fight that has ties to SCA members.
The kingdom that Grays Harbor falls in is called An Tir and goes all the way from the California border and up to British Columbia. The barony inside An Tir that Grays Harbor falls in is called Glymm Mere with local houses within the barony like Corhaven and Waldhafn in Aberdeen.
The SCA is family friendly and has activities for all ages to enjoy, from story time to archery practice. There are also annual events put on like the Honey War held in Shelton each July that is nearby and other events like Mayfaire and June Faire that are more of a drive.
For more information on the SCA, visit the official SCA website. For more information on the local kingdom or local barony, check out the official An Tir website and Glymm Mere website. There is also a calendar of events for those wanting to check out the fun for themselves.