If you're looking for a full-service brokerage team, look no further than Riley Jackson Real Estate. Located in multiple locations in western Washington, this expanding firm is able to meet all of your real estate needs. The Westport office location brings together local experts to the industry creating a powerhouse team of professionals that are able to meet their clients' specific needs. At the annual Riley Jackson banquet held in January, the dedication that the agents put into their careers was celebrated and recognized. The top three brokers over the last year at the Westport firm included: Helen Gundersen in first place, Lacey Bishop in second place and Kathryn Franzen in third place.
Helen Gundersen
This year's Westport office first place finisher, Helen Gundersen, has been a full time resident of the Westport area since 1994. She grew up on a ranch in eastern Washington and graduated from WSU.  She relocated to the harbor after 10 years in Seattle because she knew it would be a wonderful place to raise her family.  After obtaining her real estate license in 2000, she's spent nearly two decades helping individuals buy and sell both residential and commercial properties on the South Beach. She was the first Broker on board when the Westport Riley Jackson office opened. Helen say's "Kayci Glaefke from the Montesano office told me how happy she was at Riley Jackson and she was right. I will always be grateful for her advice. I've been affiliated with two other brokerages and neither provided anything close to the support & training RJ does.  Helping us be at the top of our game allows us to provide our clients with the best possible experience."
"Receiving the first-place award makes me feel both honored and blessed" expresses Helen.  "I feel very honored that people choose me to help and guide them through what is probably the biggest financial decision of their lives. It is an incredible responsibility that I take very seriously. I feel blessed to be doing what I was born to do, to have found my calling. If I won the lottery, I would still be out showing properties, I love it that much!"
Lacey Bishop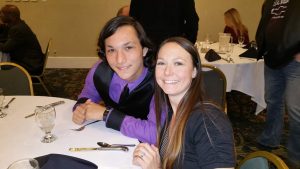 With just over of three years in the real estate industry, Lacey Bishop is so grateful and proud to have earned second place in sales at the 2018 banquet. "I've been with Riley Jackson Westport from the beginning," states Lacey. "We are a competitive office and we work well together." As a self-driven go-getter, Lacey appreciates the amazing community support that has cheered her on. The training, education and ongoing support that she receives is insurmountable. "I'd like to thank Paul for all for his help along the way as he encourages me to strive to be the best realtor I can be," she adds. "I must give a shout out to the ladies behind the scene, Carol Holm and Nancy Kuczmarski in the Olympia office, they are top notch at keeping three offices running smoothly."
Lacey is a Grays Harbor native that takes pride in her community and volunteers a lot of her time to local organizations. "I love sharing fun facts and history about Grays Harbor with all my clients and friends," says Lacey. She enjoys meeting new people and is never at a loss for words, which is a strong trait in her career path. "When choosing a career," explains Lacey, "I looked for flexibility that would allow for family time. I also didn't want each day to be the same. I have zero regrets about joining the Riley Jackson team."
Kathryn Franzen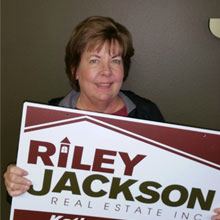 Kathryn Franzen was born and raised in Oklahoma City before moving to Olympia with her husband. She began selling real estate in early 1993, beginning with residential and then adding in commercial properties. She was thrilled when Riley Jackson opened their Westport office as it meant that she could spend more time at her condo in the South Beach area and split her time between there and Olympia while still working in the field she loves.
"I'm so happy to have been named one of the top sellers at our Westport location," states Kathryn. "Paul is a fantastic person to work for. He helps to keep us motivated while keeping us informed on the latest technological advancements within the industry, which isn't always easy." Kathryn is also a board member of the Westport/Grayland Chamber of Commerce.
Each broker at Riley Jackson puts in the time and effort required to ensure that they stay on top of current market trends in order to help their clients find the best possible solution for their housing needs. The top three sellers at the Westport branch demonstrate a strong desire to help individuals looking to make their next purchase feel confident and secure during a pivotal moment in their life. For more information on Riley Jackson Real Estate, contact them at 360-753-8000 or realtors@rileyjackson.net.
Riley Jackson Real Estate – Westport Office
206 West Ocean Avenue, Westport
Sponsored