Nothing says spring like the Easter Bunny! April is full of fun Easter activities for the whole family to enjoy, from Seabrook's Easter Egg Hunt to the Grays Harbor Fairgrounds Easter Egg Hunt, there are lots of places to go and get your fill of brightly colored plastic eggs, candy and prizes. Be sure to check out the list below and add them to your calendar so you don't miss your chance to visit the Easter Bunny and collect some eggs.
Elma VFW Easter Egg Hunt
April 20
Grays Harbor County Fairgrounds
32 Elma McCleary Rd, Elma
11:30 a.m.
Free
The Elma VFW is hosting their 21st annual Easter Egg Hunt at The Grays Harbor County Fairgrounds. There will be handicap access and designated parking. Hunts will be broken into several age groups with great prizes for all. Line up is at 11:30 a.m., hunt begins at 12:00 p.m.
Annual Resurrection Easter Egg Hunt
April 20
Beerbower Park
McCleary
11:00 a.m.
Free
The McCleary Community Church is putting on their annual egg hunt. This fun event is perfect for the whole family. Local businesses have provided the prizes, and there are some great ones for every age group up to 12-years-old. For those older than 12-years-old, there were will be free tickets for prizes, so everyone can have some fun! Come hungry, as the Church is serving lunch and it's also free. They are even providing baskets.
Seabrook Easter Egg Hunt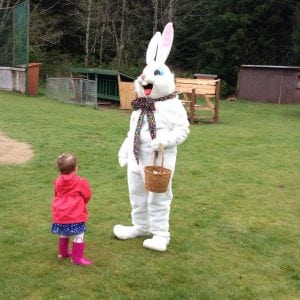 April 21
Town Green Park, Seabrook Village, Pacific Beach
10:00am
Free
The 10th annual Seabrook Easter Egg Hunt is coming up soon with plenty of egg hunting fun for children up to 13-years-old. Wacky Wabbit will be on hand for you to meet and you get your photo with, and then enjoy tasty treats, a bouncy house and more. Of course, the big event are the hunts, just remember to bring your own basket.
Lake Quinault Lodge Easter Egg Hunt
April 21
345 S Shore Rd, Quinault
6:30 a.m. – 3:00 p.m.
Free – $34
If you are looking for something special to do on Easter Sunday, check out the Lake Quinault Lodge. They are having their annual Easter egg hunt, which includes a meeting with the Easter Bunny himself! Start by having breakfast (served from 7:30 a.m. to 9:00 a.m.) or Easter brunch (served 11:00 a.m. – 4:00 p.m.) in the Roosevelt Dining Room. Kids ages 6-years-old and under are free, 6-years-old and up are $19, adults $34 and seniors $30. Reservations are recommended by calling 360-288-2900
Then head to the lawn for the egg hunts at 12:00 p.m. There will be two age group for kids ages 2- to 10-years-old, with prizes and one golden egg per group.