The former lead singer of Nirvana, Kurt Cobain, is more well-known than almost any other musician of his era. Although Kurt tragically passed away at just 27 years old in 1994, fans from across the globe are still fascinated by the legacy that he left behind.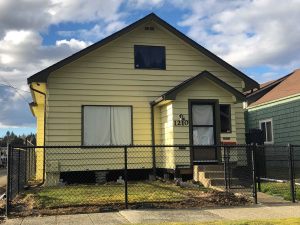 When you search his name, thousands upon thousands of articles, photos and videos appear chronicling his life and career. Having been both born and raised in Grays Harbor County, primarily Aberdeen, locals in the area are all too familiar with his name. But, did you know that many fans, journalists and movie producers from around the world have made the journey to Cobain's hometown to get a first-hand experience in the area that helped shape his life? In the lyrics that he wrote and performed with his Nirvana bandmates, references to Aberdeen were prevalent. Kurt's love/hate relationship with his hometown became an integral part of the music evolution that the band's hit songs had on late 20th century music.
Aberdeen resident, Hilary Richrod, had a personal relationship with Kurt Cobain. However, at the time she had zero inkling that the young man whom she chatted with while at work in the 1980s would become a rock star phenomenon. "The Russian Ministry of Health, BBC and MTV were some of the many companies who contacted me to learn more about him after his death," explains Richrod.
As a reference department employee at the Aberdeen Timberland Library in the '80s, Richrod got to know many individuals who came into the library. Cobain was one of those people. "He came into the library quite a bit," says Richrod. "I would take book requests from him and help him out when he needed assistance on the computers. He was a very sweet natured person who reminded me quite a bit of my brother."
Not long after meeting at the library, Cobain showed up at Richrod's door with a pigeon with a dislocated hip. Being known across town as the "bird lady," Richrod, a licensed bird rehabilitator, agreed to help Cobain out with the injured bird. "I had no idea that the short encounter would wind up being such a prominent memory in my life and would spark countless conversations with journalists and reporters," expresses Richrod.
As Nirvana began to grow in popularity at local music venues, including their very first gig at a 1987 house party in Raymond, the youth of the early 1990s were eager for a genre of music that they could relate to. At the time, the current musicians topping the charts included Michael Jackson and Billy Joel, portraying images and sounds much different than what Nirvana was creating. The eventual quadruple platinum 1991 album, "Nevermind" gave them just what they were longing for. With a combination of sounds and lyrics strewn about in an all-new style, the grunge phenomenon was born. The birth of this punk melody quickly led to the Seattle music scene making a name for itself as similar bands such as Soundgarden and Alice in Chains emerged, solidifying Nirvana's rise to the top. Cobain and his bandmates, including Aberdeen native and bassist, Krist Novoselic, have been quoted as being surprised by the tsunami of support that spread around the world in such a rapid pace. While on tour in Europe in 1991, the hit song "Smells Like Teen Spirit" could be heard on nearly every radio station on the air.
As the fame of Nirvana began to spread like wildfire, many Aberdeen residents were shocked to hear how quickly this local kid had made a name for himself, including Richrod. "I really didn't realize how famous he had become until someone asked me if I had heard his music on the radio," she says. But as with many bands that are forced into the spotlight at a rapid pace and young age, cracks began to emerge.
After releasing two more studio albums, taping an episode of MTV's "Unplugged" and performing their final American tour date in Seattle, Nirvana headed out in 1994 for a final European tour. Sadly, the tour came to an abrupt end, eventually leading to the final days in Cobain's life and his death in April 1994. Shock waves began to spread across the globe, including in Cobain's former hometown. What occurred after that, and to this day, continues to write out the story of a life that ended far too soon.
"A lot of people would come in to the library to research him after his passing," states Richrod. "They would ask for Aberdeen High School yearbooks in search of him, completely unaware that he was never present for any of the school photos." To this day, Richrod and many others who knew him on any level often receive handwritten letters, photographs, artwork and other mementos from people eager to learn more about an artist who inspired them in one way or another. "People would seek me out and ask about the 'bird lady' story or about how well I knew him from when he used to come to the library," she adds. "The craziest story that I can remember was someone who wanted to touch me just because I barely knew him. That's a true testament to the power of his music and the imprint that he had on so many people."
Although the media often portrayed Cobain as having a strong hatred for the town he grew up in, Novoselic recalls in the book, On the Harbor – From Black Friday to Nirvana and other printworks that the two would often look back on the city with fond memories and would notice familiarities to their hometown in many of the cities that they visited. Whether you're a fan of his music or not, there's no doubt about the lasting memory that Kurt Cobain has left on the music industry, and in Aberdeen itself.
Visitors looking to gain insight into the life of Cobain still visit Aberdeen and the many sites around the city that recognize him as an artist born and raised near the Muddy Banks of the Wishkah.
For a complete list of locations where you can discover Kurt Cobain's legacy in Aberdeen, read Five Places in Aberdeen to Find the Spirit of Kurt Cobain.
Sponsored