A 20-win season, a third straight league championship, and the program's first ever state playoff victory. There was certainly no shortage of accomplishments for this year's Ocosta High School baseball team.

Coach Mike Allton's squad continued its upward trend in 2019. The Wildcats went 21-5, winning the 2B Pacific League by two games and advancing to the state tournament for a second consecutive season.
"This year's team has been a very special team to coach. They have worked very hard together to get the baseball program to the level it is at now," Allton said. "They have bought in to our 'team first' philosophy and core values like accountability, sacrifice, and trust. In doing so, we have the structure and discipline in place to build a baseball program that can achieve success on and off the field."
Ocosta made history at state, defeating Crosspoint, 4-3, in the first round to post its first ever state playoff victory. The Wildcats had been 0-4 all-time at the state tournament, but sophomore Cesar Martinez changed all that with his run-scoring single in the bottom of the seventh to give Ocosta the win over Crosspoint.
Martinez finished 2-for-4 at the plate against Crosspoint, while senior captain Jayden Matthews had two hits and drove in three runs in the victory.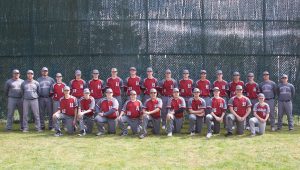 Hopes of the team's first ever trip to the final four, however, was doomed following an 11-run fourth inning by Kalama (23-2) in the Chinook's 13-1 win over the Wildcats in the regional finals.
"It was nice to finally get our first ever win at regionals, but we are young and very motivated to hopefully take the next step next year," Allton said. "We lose two key seniors in Kobe Beck and Jayden Matthews, but we are returning a lot of underclassmen with lots of experience. Those two guys helped build this team and had excellent senior seasons both making the all-league team."
Ocosta went 15-1 in the league play, outscoring its opponents a combined 185-23 with its only league setback coming in a 4-3 loss to Adna in late March. The Wildcats responded to the defeat by winning 12 out of its next 13 games, losing only to fellow 2B state participant Onalaska over that stretch.
Ocosta was able to avenge the loss in the first round of the 2B Southwest District 4 tournament with a 5-3 win over the Loggers. After losing to Adna, 2-0, in the district semifinals, the Wildcats knocked off Wahkiakum, 7-1, in a loser-out game before securing the No. 3 seed with a 7-4 victory over Rainier, a team that would eventually reach the state semifinals.
The Wildcats will lose seniors Beck and Matthews to graduation, but appeared poised for another deep playoff run next year as they welcome back virtually their entire starting lineup, headed by pitcher Cole Hatton, a two-time league MVP.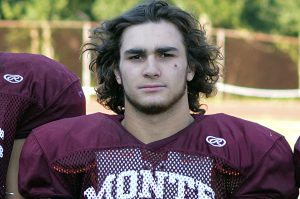 "The loss to Kalama in the regional final still stings, but we know we are very close to making it to the final four next year," Allton said. "Nothing is ever guaranteed so we must continue to grow in the areas that need improvement. Our district is so competitive and is full of great programs that are chasing the same goals we are. If we continue to work hard and stay hungry, anything is possible with this team."
Hoquiam's Folkers, Montesano's Zillyett Named 1A Evergreen League's Co-MVPs
After leading their respective squads to the Class 1A state tournament, Hoquiam's Jackson Folkers and Montesano's Teegan Zillyett capped their high school baseball careers by sharing 1A Evergreen League MVP honors.
Montesano also had first-team selections in pitchers Evan Bates and Ben Willis, catcher Parker Plato, third baseman Payson Parker, and outfielder Aaron Lano.
The Bulldogs' head coach Mike Osgood, who was named the league's coach of the year, guided Montesano to a 22-3 record and an appearance in the 1A state quarterfinals. After winning league and district championships, the Bulldogs' season came to an end in a 4-3 loss to Seattle Christian in the regional finals.
In addition to Folkers, the Grizzlies had first-team all-league players in senior shortstop Payton Quintanilla and junior utility player Kyle Larsen. Hoquiam finished with a 14-9 record and advanced to the state playoffs for the first time since 2016.
Elma received first-team recognition for junior outfielders Brady Shriver and Tyson Richardson.