There is nothing quite like camping. Under the night sky, smelling the campfire and listening to the crackling wood, many of us find that camping is the perfect escape from the stresses of our daily routine. While many will retreat out to the far corners of the Olympic Peninsula, or elsewhere in the Evergreen State for camping trips, the outskirts of the towns in Grays Harbor are home to fantastic places to pitch a tent or pull in your RV. The city of Elma is one of these spots, located perfectly for day trips to the coast, Olympic National Park and Forest, and the historical towns of Grays Harbor. Whether you are searching for a spot for relative solitude, or hoping to be close to amenities and activities, these four camping spots around Elma give you great options.
Schafer State Park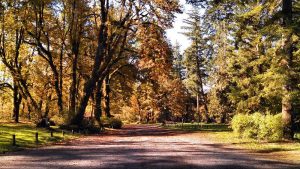 Love camping along a river and in the forest? Schafer State Park is the perfect spot for you and your family. Nestled along the Satsop River, this spot is ideal for hikers, fishing enthusiasts, swimmers, birders and many more. In the park, you'll find two miles of hiking trails, highlighting the forest, as well as the logging history of the region. You'll also have incredible access to the river, which is full of salmon in the fall months. Schafer State Park's camping areas are both kid and dog-friendly, and have been a place of recreation and relaxation since the late 1800s. Once inside the park, you'll find 32 standard campsites, 9 partial-hookup sites, 1 primitive site, a dump station, and even a restroom with showers. You'll have a picnic table and a fire ring at your site so you can enjoy the great outdoors even longer. Keep in mind that while the park is open all year, the campground is closed annually from October 1 to April 30, making this a great summer spot. Finally, to camp here, you'll need a Discover Pass for each vehicle.
Elma RV Park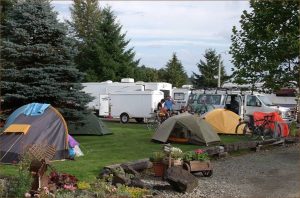 Have an RV and not sure where to go? Consider heading to the Elma RV Park in the Chehalis River Valley. Open year round, this stunning spot is perfect as a basecamp for adventures, or a place to park and relax. Elma RV Park is inviting for all, especially since the park is friendly for those traveling with kids and dogs. The campground is even bicycle traveler friendly, offering campsites for those who are riding the region! While rates vary, your experiences here do not. With Wi-Fi, a laundromat, a library and much more, Elma RV is your home away from home. While you will love the laid back atmosphere of the RV Park, those looking for adventure can find it with ease. The park is also near many amenities, from the Grays Harbor Raceway, Oaksridge Golf Course and even the wilds of Olympic National Park and Forest.
Grays Harbor Fairgrounds
One of the most overlooked camping destinations around Elma is found at the Grays Harbor County Fairgrounds. Located inside the fairgrounds, which is close to the city itself, camping here is simple and straight forward, giving you a great basecamp for adventure, or a place to camp close to the incredible events that occur on the fairgrounds throughout the year. Camping spaces at the Fairgrounds are available on a first-come first-serve basis. During big events, such as the County Fair, reservations can be made in advance. It is also important to note that if you plan on camping here, double check to make sure if an event is occurring during the dates you are hoping for a site. Dogs are allowed, as long as they are leashed. On the grounds, you cannot have an open fire, but barbecues and other devices that contain fires are allowed.
KM Travel Inn RV Resort
Just 30 minutes from the beaches of Grays Harbor, the Travel Inn RV Resort in Elma is another fantastic place to pull in with your RV. This resort is ideal for those looking for plenty of amenities, as there is a clubhouse, a place to work out, a pool, showers, and much more. Open year round, those who become members here also gain access to parks all around Western Washington, including along the coast. With 200 sites, you won't be alone here, but the community that comes to the Travel Inn is part of the charm. While you won't find hiking trails in the park, you are close to numerous parks and world class destinations that are located just a short drive away. For more information on how to become a member or make a reservation to enjoy the incredible grounds found here, check out the KM Travel website.
Sponsored