Your grandmother may have told you stories about the cozy neighborhood bookstore where customers could see and touch the books and sample a few pages, the bookstore of long ago which, sadly, has given way to Amazon and other online retailers. Dry your tears, kids, grannies and readers of all persuasions! Aberdeen has a real bookstore again: Harbor Books owned and operated by Ruth and Greg Zschomler.

"We are not to the only bookstore on the Harbor anymore," Greg Zschomler states. "Joie des Livres has opened in Seabrook. However, we are still the only full-service bookstore within 50 miles."
Native Washingtonians Ruth Ann and Greg E. Zschomler are the quintessential bookworms. Ruth's father was a college librarian, her mother an English major. Ruth holds an MFA in Creative Writing from Goddard College. She is the mother of eight, an accomplished writer and a writing instructor. Her husband, award-winning playwright Greg Zschomler, is the author of over a dozen books, some of them self-published. He holds a BA in Digital Technologies and Culture from Washington State University. He credits his parents for instilling a love of reading and writing by signing him up for book clubs and bestowing magazine subscriptions.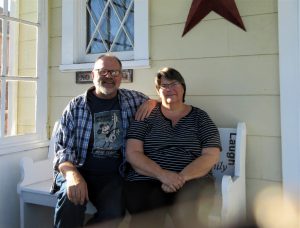 The story of Harbor Books began when the Zschomlers moved to Cannon Beach in 2014 after Ruth's mother had passed away. Ruth had been her mother's caregiver in their home in Richfield, Washington. The kids had grown and Ruth found the time to complete her master's degree. Greg completed three books during their short stay in Cannon Beach. He also hung out a lot with Watt Childress in his store Jupiter's Books. Ruth and Greg were looking for a place to open a writing center.
The Zschomlers discovered that Cannon Beach was too expensive for their purposes and began to look up and down the coast for a suitable building. When the house at 510 West First Street in Aberdeen became available, they knew they had found their place. The residential/commercial zoning made it possible for them to operate a live-in business – essential for cutting overhead costs. The Zschomlers moved in July 2016 and opened Harbor House Writers, LLC, only two months later.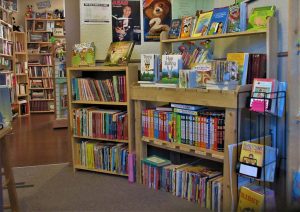 Soon, students attending Harbor House writing classes began to ask for a bookstore. The beginnings were humble and easy. The Zschomlers owned a large collection of books and were willing to part with a portion. They placed three shelves in the back room on the ground floor adjacent to the main living room where the classes were held. The number of shelves grew and soon the bookstore took over the writing center.
On September 1, 2017, Harbor Books celebrated its grand opening along with the centennial celebration of their historic house built in 1917. The writing center is still operating offering classes in college writing, poetry, memoir writing, publishing and more.
The selection of books is carefully curated. Ruth and Greg keep their pulse on the needs and wishes of their customers as space is limited in this small store. Harbor Books carries new and used books, even some rare editions. There is a bright and beautiful children's corner with a homeschool section. The young adult section is extensive as the Zschomlers want to encourage reading in young people. The backroom now houses current bestsellers, faith-based books and bibles, cookbooks and a nice selection of beautiful gift books.
A large part of the main area is dedicated to authors from Washington and Oregon, many of them self-published. There is a local authors shelf featuring local writers, many of them independently published. It is important to Ruth and Greg to support fellow authors. They frequently host authors talks and book signings. Naturally, the store also carries the work of the Zschomler family, Greg's books, the picture book Silly Billy and Ducky Dee by son Joe Benjamin, and a collection of short stories including contributions by all three Zschomler family writers.
There is an obvious question to mom-and-pop bookstore owners: "Can you compete with Amazon?" Greg's answer is: "Yes and no. If you don't have Amazon Prime, we are the better deal because of the shipping costs. We cannot compete with Amazon Prime, but wouldn't you prefer your money and your taxes stay in your community?"
The strength of Harbor Books is customer service, human interaction, and the advantage of having the actual book in your hands to look at and to sample. There is a comfy couch to sit and read a little before you buy. A number of regulars come in with lists, some collect certain authors. Harbor Books will order any title a customer may seek even though special orders do not generate a profit. Ruth and Greg enjoy serving the reading and writing needs of their customers.
Greg offers a quote by his friend Watt Childress: "You don't make a living from a bookstore. It's a lifestyle."
Contact the bookstore and the writing center at harborhousewriters@yahoo.com, or find them online at their website, Facebook or Greg's author blog.