Driving south leaving the town's limit on Ocean Shores Boulevard, you'll pass a unique building.

Adjacent to The Polynesian Resort, a round structure with a formidable octagon roof and top-notch turret can't be missed. Over the years of visiting and now living in Ocean Shores, I'm still intrigued with its suggestion of fantasy and myth. Built in 1968, the structure is one of the oldest developments in town and it definitely stands out from the other architecture on what is historically called "hotel row."
Originally intended as a conference center and banquet room sitting 260 for meetings and 1,000 for food services, the rotunda evolved, eventually arriving at its lasting purpose as a restaurant site. The longest-term resident, Mariah's, was there for decades until recently.
The metamorphoses began with the contracting of an outside hospitality/restaurant consultant team this past summer.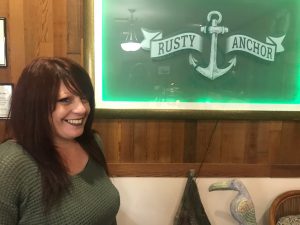 In the end, kitchen and server staff were rejuvenated under the guidance of the new restaurant manager, Kelly Weiler, who has 30-years of hospitality experience, and The Rusty Anchor Grill and Pub (RAGP) bloomed under her win-win management style.
"I don't consider the people I work with my employees. I consider them my coworkers and that we're one big team. And they are amazing," she said.
Changes like this are a little difficult for some people to accept, especially long-time customers, both local citizens and returning visitors.
To ease the shock, Weiler and her team ushered in the transition over several months listening to opinions and weighing feelings for many final decisions. Her concerns for both sides of the business, staff and customer, results in a relaxed folksy ambiance.
The former restaurants' accoutrements gradually disappeared, replaced by a nautical décor more in-line with the new name. The restaurant's new menu was also presented.
Weiler noted the house menu was designed before she arrived by the consultant team. Their changes made the process more cohesive for the kitchen, where all the ingredients would go together reducing wastage and preserving valuable time.
Some keynote entrees she pointed out are the Cajun cod dinner, seafood fettuccine, a bright strawberry salad and a favorite of hers – barbecue mac and cheese with bacon.
"What I'd like to see added are some fresh crab or other seafood dishes that would not take too long to make getting them out a little bit quicker," she said of the main course fair.
A bar-only menu added a snappy combination of appetizers from a pita bread and hummus platter to coconut prawns. A cheeseburger with French fries standard or sweet potato side can stand as a nice full meal. The bar menu is available during happy hour from 4:00 p.m. to 6:00 p.m. daily with prices of $6 or $8 per item.
One holdover survived the transitional cut due in part to popular demand. Monday night pizza in the bar is alive and well featuring a good size pie for two with a choice up to four toppings available until closing. It's the bomb for longtime Monday night fans.
Vegetarians and food-conscious guests can find options on either menu fitting their needs or plates can be coordinated between the service staff and the kitchen.
Once available only on Sunday, the popular breakfast buffet is now being served on Saturday with same hours from 8:30 a.m. until 1:30 p.m. By next spring, Weiler's taking the buffet into weekdays adding lunch with fresh salad bar and various ingredients for wraps.
Additionally, Weiler revealed the main dining room will have large television screens for sporting events with sections for families with children and seating for adult beverage customers besides bar access. Seattle Seahawks and Seattle Mariners games will treat fans to changing menu items, too.
It's a lot to take in but there is shared staff enthusiasm that is infectious.
Big changes, add-ons and the like will find RABG in constant motion through the off-season months, which are typically slower for Ocean Shores businesses.
But by the time the summer of 2020 rolls into view, visitors will have plenty of reasons to check out the round building on the Polynesian Resort property.
"What I'd like to see is it back on the map again. Like someone talks about Ocean Shores that this is one of the must-sees. Like you must go to the Rusty Anchor," Weiler says.
For more information, visit the RAGP website