Every person in the United States has been affected by cancer, whether they know someone who has it, or has been diagnosed themselves. In Washington State alone, there were 39,160 new cases in 2019. The American Cancer Society strives towards a day when this number is zero. Their mission is to "Save Lives, Celebrate Lives, Lead the Fight for a world without cancer." Here in our county, the Relay for Life of Grays Harbor raises funds annually to help local families affected by cancer.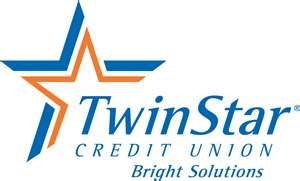 Although a national organization, the American Cancer Society has 250 regional offices in 6 geographic regions. The regional and local offices lead their communities in the fight against cancer. This includes delivering potentially lifesaving programs and services, as well as raising funds to support their mission. "The local offices create their own fundraising activities, work with community leaders and have strong input in how the money is spent in the communities," says Nichole Woolsey, senior community development manager for Thurston County. She works with the other development managers, including Amanda Ditzhazy, the community development manager for Grays Harbor, out of the Tacoma-based regional office. She says they spend most of their time working in the communities with volunteers and businesses, building relationships and focusing on the communities where they hold events.
It's these local offices that are on the forefront when it comes to bringing the community together. "Our local events are inspiring, uplifting, and great at bringing the fight against cancer directly into our communities," shares Woolsey. "Our local offices assess the needs in each community and work with community leaders and passionate volunteers to educate and join the spirit of camaraderie and compassion as we work together to save lives from cancer."
Each year, Relay for Life of Grays Harbor raises funds that help pay for programs and services, at the local, state and national level. "A lot of the funds go to cancer research," says Woolsey. "Currently, we have more than $9 million dollars in active grants in our state. Our hope is that through these grants, we'll see break-throughs and will lead to new discoveries, treatments and cures."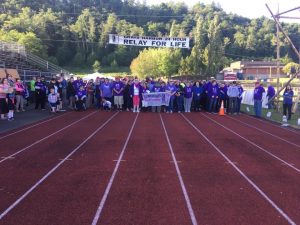 In 2018, the Relay for Life of Grays Harbor provided access to care, support to patients and their caregivers and provided items to better the lives of those undergoing treatment. A new program, Road to Recovery, provided 10 free rides to treatment. "This program had just started in 2018, so we expect a big increase when we get the 2019 numbers," shares Woolsey. They also provided 28 nights of free lodging to patients and their caregivers who needed to travel for treatment. Finally, to support patients at a deeper level, they provided 15 wigs, and over 50 other needs, including turbans, visits to their Cancer Resource Center, and support.
It Takes Everyone to Run Cancer Away
Relay for Life of Grays Harbor and the American Cancer Society depend on the generosity of organizations and individuals to help them in the fight against cancer. In Grays Harbor, one such organization is TwinStar Credit Union. Both branches in Aberdeen and Hoquiam sponsor Relay for Life of Grays Harbor. A team of workers from both branches not only walked at the event, but they sold luminaria bags as a fundraiser and a way to remember those that been diagnosed during a remembrance ceremony the Friday before the Relay.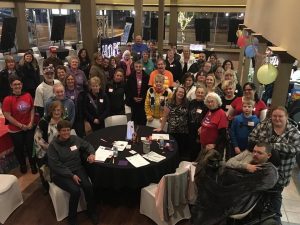 "The employee engagement TwinStar brings to the table is truly priceless, it raises awareness not only to their employees but throughout the community," shares Woolsey. This awareness is so important to help people understand why they should get early screenings, where they can go for resources if they or a loved one is diagnosed and why research is important. "With their dynamic involvement people are being invited to join the events and know their community is there to support them, to celebrate their strength, to give hope. Hope is stronger than fear and when we help to spread hope, it changes lives. TwinStar is a leader in their communities and we are so proud to have them as a partner."
Every person counts when it comes to the cancer fight. Individuals are always welcome to volunteer time and effort, even if they cannot donate. "We are a volunteer driven organization" Woolsey adds. "Nationally we have approximately 4,000 employees but 2.5 million volunteers who give their time and skills to lead the fight with us." Volunteers help, not only with events, but help with resources, such as Road to Recovery drivers.
And, of course, any donations are tax-deductible. For more information on ways you can get involved, or for help with your own fight, visit the American Cancer Society website and the Relay for Life of Grays Harbor website or Facebook page.