Each year Americans welcome nearly 4 million new babies into the world. And the majority of those arrive with the help of a skilled OB/GYN physician. If you're lucky enough to belong to the Grays Harbor Community Hospital family, it's likely that your new addition was delivered by the capable hands of Dr. Nicholas Hallak.
If his last name sounds familiar, it's because there are FOUR Hallaks on staff and yes, they're related (two brothers and their wives). "When somebody says 'Dr. Hallak' everybody looks and asks 'which one?'" he laughs.
Dr. Nicholas Hallak started with the hospital in 2008 after completing his residency program and working in large university hospitals. He and his wife, also on the hospital staff, "decided to work in an underserved area and chose to come fill a really desperate need. We love it so much," he admits, "And we feel we're helping so many people. A rural area is, to me, the best place to practice."
This small-town atmosphere is reflected in the life-long friendships which spring from dedicated continuity of care. "You see patients for every single visit and if someone has two or three babies—that's a lot of visits," Hallak says. Added to that is the benefit of coming to know so many people. Whether from treating them directly or introductions made at pre- and post-natal visits, Hallak meets many moms, husbands, sisters and friends. "Knowing everyone and their parents makes it easy to establish trust," he admits. "And there's a 50 percent chance I delivered any child under the age of 12 around here!"
Continuity of care also means less medical stress on the mothers during what is an emotional time. "Delivering in a rural community gives very personalized care," says Hallak. "If a patient comes in in labor, most often they have the same nurse and doctor throughout. It's quieter and not so much a labor and delivery hub as a birthing center. We want to make it a good experience from beginning to end." And he knows what he's talking about. Hallak and his wife had their first child in a university hospital setting but were in Grays Harbor for delivery of the second. "I can speak from experience," he adds.
More than just a familiar face, continuity of care has physical benefits as well. The UK's National Health Service reports that women who experience it during childbirth often experience shorter labor; reduced use of pain medicine, forceps, and C-sections; and have "a better chance of healthier babies [and] a lower chance of negative feelings about the whole birth experience."
"Being a community OB/GYN physician, I am taking care of women in our small community from their youth, into their reproductive years, through their change of life and beyond," says Hallak. "I am privileged to be part of that and to have found my calling that, not only do I want to wake up for in the morning, but I even want to wake up for in the middle of the night. It is a real honor and privilege to be able to serve my community and do what I love. Being able to safely and compassionately care for my patients is my field goal, my touchdown, my home run."
For seriously ill patients, a new clinic has been opened on the hospital's East Campus. It is following very strict guidelines and protocols to provide top quality care while avoiding cross-contamination. Dr. Hallak and his fellow medical staffers find it a "very exciting" new step during the COVID-19 outbreak.
Their delivery clinic is running extremely well too, even in these chaotic times. They strive to improve and always look for ways to keep everyone safe and healthy. Though he's noticed "a wide spectrum of stress in the moms," Hallak has been very impressed at how many are following CDC guidelines on staying home and staying safe. Though some informational visits are done via telemedicine, many of their patients must be met with regularly in person. But all are called beforehand and walked through a questionnaire to gauge their current health.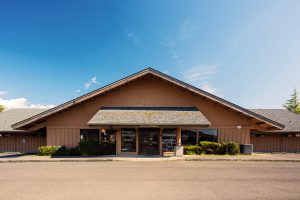 Few things change your life as completely as pregnancy and childbirth. Your outlook, goals, hopes, dreams, and waistline will change as your family grows. It's also a time of worry and anxiety. But having a knowledgeable team to guide you throughout the process provides advice, information, and peace. If you or someone you know is about to welcome a little one, consider letting Dr. Nicholas Hallak take charge.
Contact Grays Harbor Community Hospital by calling 360-532-8330, at www.ghcares.org, or through their Facebook page. Read through their online Health Library for information about everything from the COVID-19 outbreak to how to hull a strawberry. Whatever services you need, their mission is simple: to heal, comfort, and serve our community with compassion.
Sponsored