Whether from illness or injury, surgery or aches and pains, Americans filled more than 4.3 billion prescriptions in 2019 alone. Some—like antibiotics—are taken until they're gone but others can be designated for fluctuating pain levels. Unused prescriptions cause problems if they fall into the wrong hands but simply throwing them in the garbage is hazardous for the environment.  In partnership with the Aberdeen Police Department, Grays Harbor County Public Health and Social Services is offering to help residents become Harbor Strong through year round medication collection and disposal.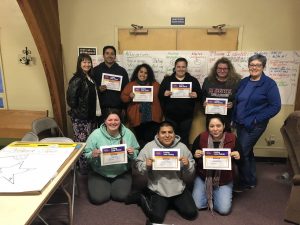 The Center on Addiction reports that for opioid pain relievers "most people receiving these prescriptions report using only some or none of the pills. As many as 92 percent of people recovering from surgery stop taking their medications before the pills run out. Yet, only about one-quarter properly store or dispose of their unused meds—leaving the highly addictive prescriptions vulnerable to fall into the wrong hands."
But any medication, even over the counter pain relievers like cough syrup, ibuprofen, and Tylenol, can cause injury if taken inappropriately. Safe storage and disposal of medications/substances is one of the major strategies that Harbor Strong, a Community Prevention and Wellness Initiative (CPWI), addresses. A partnership between the Health Care Authority, Grays Harbor County Public Health, Aberdeen School District, and ESD 113/True North, its priorities focus on reducing opioid use/misuse by middle and high school students. In addition, the Coalition focuses on reducing risk factors that impact underage drinking, marijuana, vaping and tobacco use. "One of our main goals is to reduce risk factors and increase protective factors within our community," explains April Heikkila, coalition coordinator. She further explains that risk factors may include ease of access, poor family management, and parental attitudes toward antisocial behavior and drugs while protective factors may include opportunities for prosocial involvement and family attachment.
Founded in May 2018 with funding through the Washington State Health Care Authority and its State Targeted Response grant, its members include dedicated volunteers all sharing a common goal of creating a safe and healthy community. Coalition members represent 12 different sectors in the community including media, parents, law enforcement, health care, tribal, civic groups, youth serving organizations, faith-based organizations, local government, local business community, youth, schools and healthcare professionals. "The strength of our Coalition is due in part to the diversity of our membership," says Heikkila. "We have worked diligently to have all sectors represented as well as our Hispanic population. It has been incredibly valuable to have Youth Coalition members as a part of our team and a part of our efforts for community wide change as well."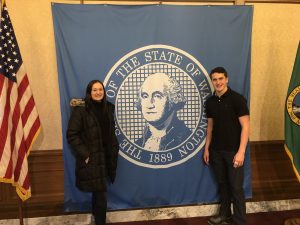 Youth Coalition members lend a "real" voice to the challenges that young folks face daily amongst their peers, school and family. Heikkila commends the efforts of Merryn Bruener and Liam Heikkila.  Both Youth Coalition members have presented to our local County Commissioners and the Board of Health as well as advocated for prevention programs at our State Legislature. They care about our community, they care about their school and their friends and they put their hearts into making a difference," says Heikkila.
"The primary goal is to reduce the use/misuse of substances for youth and families within the Aberdeen area," explains Heikkila. "Our funding is based on a committed partnership between Grays Harbor County Public Health, the Aberdeen School District and ESD 113/True North."
In addition, the Harbor Strong Coalition works closely with the MY TOWN Coalition, which has a similar focus in the Hoquiam Community.  "Although our funding is dedicated toward the Aberdeen Community, both coalitions value collective efforts and work together on prevention strategies whenever there is an opportunity to do so," she shares.
Safe disposal methods are one key aspect of their program. "There are two National Drug Take Back events that we partner with the Aberdeen Police Department to provide for the community," says Heikkila. "The APD has to provide staff resources in order to host a Take Back Event. To date, Harbor Strong and APD have hosted three community Take-Back events. In addition, the APD has secured a permanent medication drop box for year round disposal." The coalition is also able to provide free medication lock boxes that can be distributed to community members.
In addition to partnering with the APD, Harbor Strong partners with our local medical providers and Hospice providers to provide lock boxes to patients at point of contact. "The success of our Coalition is due in part to the strong community collaborations we have," says Heikkila.
Other strategies that the coalition focuses on are social norm campaigns such as Starts With One; parenting classes (Guiding Good Choices) for parents of 9- to 14-year-olds; Lifeskills curriculum within the Junior High; youth prevention teams; and collaboration with medical providers."
Aberdeen High School Principal Sherri Northington is excited about the program. "The inception of the Harbor Strong Coalition has brought about a new level of awareness for our schools and communities in working with our students to overcome their addictions," she says. "This takes a team of community resources to bring about essential change in working towards a prevention model for both students and their families. The drug culture grows and changes frequently, the work efforts to remain knowledgeable by the Harbor Strong Coalition has given hope and support at Aberdeen High School to continue creating a safe place for students to be."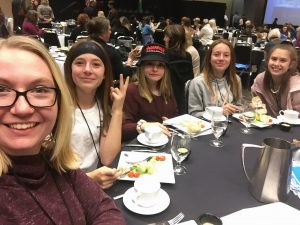 Merryn Bruner, a current sophomore at Aberdeen High School, wants to spread the word. "As a youth coalition member, one of the most important things we can do is to lead by example," she says. "In high school, a lot of kids can get caught up in the crowd, so it is important to make that crowd a positive one. With that being said, sometimes we have to be the voice that says 'this is not okay,' which can be tough when you are in high school, but it also makes a big impact in changing teen mindsets. It is also important to us to help other students to get the help they need if they are struggling with abuse. It's completely okay to reach out for help, and we are here for you in that process, along with our administrators and True North."
"True North has enjoyed working with Harbor Strong immensely," says Clinical Supervisor for Grays Harbor and Pacific County Jessica Verboomen. "Harbor Strong has been a strong partner with us and we appreciate that they are always looking for a youth driven, evidenced based, and innovative way to educate and support our youth and community in regards to substance use and abuse."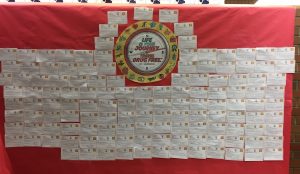 Secure medicine drop boxes are located at the Aberdeen, Hoquiam, Montesano, and Westport Police Departments. They take all controlled substances, medicines, and vitamins but cannot take empty containers, needles, IV supplies, infectious waste, personal care products, or thermometers. To insure privacy, remove or black out all personal information from individual prescription bottles.
Coalition work is incredibly important to achieve community wide change. It allows us to bring together experts from a variety of sectors, working collectively to reduce substance use/misuse on the Harbor. If you have additional questions or are interested in joining Harbor Strong please email April Heikkila at AHeikkila@co.grays-harbor.wa.us or call 360-500-4057. Their new website will be live very soon with details, information, and community updates.
Sponsored