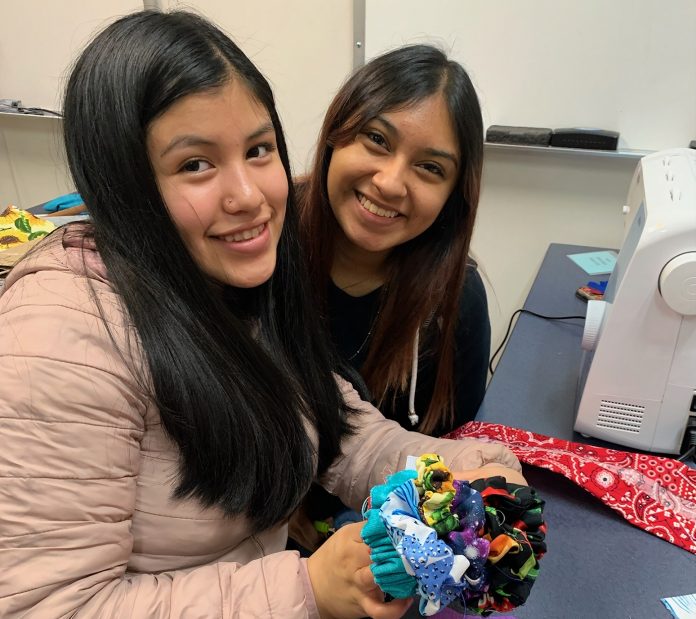 In school we learn so much more than the ABCs and intricacies of math, science, and literature. We learn how to learn and experience working with others towards a shared goal. At Aberdeen High School, Tammy Heth teaches the real world skills of business, marketing and so much more.

Unfortunately there's a constant shortage of teachers, especially in rural and outlying areas. A recent Harvard report explained that "More so than in urban areas, where other institutions hold a dominant role, rural schools often are the nerve center of rural communities. When rural schools thrive, so do the towns and regions around them…Rural schools and communities have a number of strengths that outsiders typically overlook, including a very strong sense of community and lots of opportunity for teachers and other educators looking to make a difference."
Heth knows the ins and outs of rural communities as she was born and raised in Aberdeen. After leaving town to roam the West coast for a few years, she returned to raise her family and start a career. In 2003 she began working at the high school. "I was a liaison between school, community businesses, and organizations developing partnerships for students," she says. "I coached students on work experience sites; provide fieldtrips and job shadows; recruited classroom presenters that enhanced career paths. Also by creating job duties within the school such as the Recycling Club, Cats Closet Clothing Bank, and cafeteria positions, our students could develop a measureable work ethic."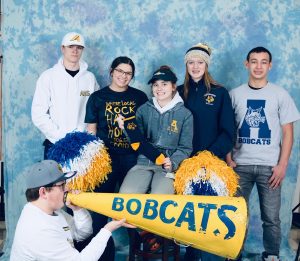 She added business and marketing instruction to her medley of tasks in 2014. "Everything I learned in the previous position was relevant to Career and Tech Ed," Heth shares. "Our classrooms emulate work experience and we teach the skills needed to be successful in the real world of work. I strive to provide students with valuable learning opportunities and provide meaningful career path exploration. I think I have created and built programs of real interest to the students, ones that help them develop leadership and employable skills. I have plenty of stories from past graduates that have found their passion, continued their education and are now employed due to their experiences in marketing and business classes."
Unlike traditional classroom settings, Heth's students are actively working, training and gaining real world experiences. They pitch projects and products, sew, create and staff on-site shopfronts. "I am a poster child for trade school education and can discuss truthfully the importance of additional education with my students," she adds. "After floundering at many small community colleges, I attended International Air Academy, received my Interior Design Society endorsement, Small Business certificate from Grays Harbor College and the numerous management programs at large corporations. Career and Technical Educators require teaching endorsements in your area of expertise, I was required to attend Bates Technical College, and I was able to earn 11 endorsements due to my deep history of work experience."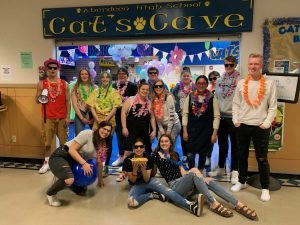 The recent COVID-19 outbreak has been especially difficult for Heth's program. Translating their materials into remote-accessible experiences has been a learning experience for everyone. "I pride myself on my genuine interest in my students, not just academically but socially and personally," Heth says. "Students know my care is real and I will do whatever it takes to make things better, sometimes it is just a simple hug. I am worried for their social and emotional wellbeing, their distress and drama can be devastating while in our current shelter in place predicament."
But this extra degree of interaction is a blessing in small towns like Aberdeen. Heth delivers food during the weekends to food insecure students and collaborates with the May Day Foundation to disperse gift cards from Safeway to some of her students and their families. "This program is funded completely through generous community donations, as is our Cats Closet Clothing Bank," she adds.
Outside of work, Heth describes herself as "a total domestic goddess," loving to decorate, remodel, garden, entertain and putter about the house. She also loves to travel and is co-advisor of the high school's Travel Club. Her loudest passion, however, is classic cars. "I am a total car chick and love a classic car with a big engine rumble, cars shows are better than chocolate."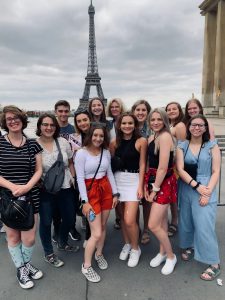 The future, however, has Heth a little worried. "My greatest concern is the reduction in programs such as Career and Technical Education," she says. "Our CTE programs attract students from Hoquiam, North Beach, Montesano, Raymond and Ocosta. With the deep cuts that have happened in the last few weeks, our department will not have the capacity to reach out and teach students cutting edge, rigorous, and relevant career and tech education. CTE's career tracks teach students life skills and career skills at the same time, jump-starting their lives and turning them into productive members of their communities."
Author C.S. Lewis once said that "the task of the modern educator is not to cut down jungles, but to irrigate deserts." Teachers—especially in rural or inner-city locations—do just that on a daily basis. They spend time, money, enthusiasm, and love on students who may not have the same advantages as those in centralized urban environments. During regular classes, distance learning, Zoom meetings, Teacher Appreciation Week, or any time, take a minute to thank a teacher in your life like Tammy Heth who helped make your life what it is today. I suggest wine, cupcakes or a note from the heart.