It's the time of year when students of all ages dig out backpacks and pencil cases to return to school. But in 2020, everything from kindergarten to college is being offered virtually to keep everyone safe from COVID-19. Online learning can bridge many gaps, but students without reliable internet worry about their short- and long-term success. Thanks to the Grays Harbor PUD, new Wi-Fi hotspots are available and free to the public countywide.
Studies report that "Schools have closed nationwide to prevent the spread of COVID-19, meaning a majority of the more than 56 million K-12 students in the US will attend school online…Some students will be able to make this transition easier than others. According to the most recent data from the National Center for Education Statistics (NCES), 14% of children ages 3-18 don't have internet access at home. More than 9 million schoolchildren will face difficultly completing assignments online."
Add to those numbers the impacted adults looking for new jobs, filing for unemployment benefits, or video chatting with sick or distant family members and the internet is more important than ever before. It's become our entertainment, safe shopping portal, and lifeline to the outside world in an age of continued social-distancing.
To combat this, the Grays Harbor PUD has facilitated the opening of six new mobile hotspots throughout the county. "These are new this summer specifically to address COVID restrictions and access to the internet for those who don't have it available," explains PUD Core Services Director Rob Hanny.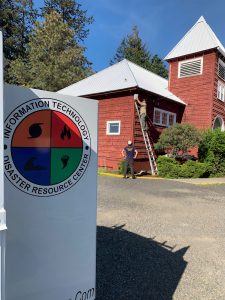 The new Wi-Fi sites are easy to find. They are located at:
Found at regional schools and stadiums, they offer large parking lots for use 24/7. "The PUD chose the sites based on feedback from the school districts and the cities," says Hanny. There are no limits to usage. "We would like to encourage folks to use them! We are monitoring the usage at each site and if usage is low on a particular site they may be redeployed to a different area of the County."
Simply walk or drive to one of the six locations and choose the homeworkhub network with your phone, tablet or device. That allows you to access the PUD's fiber network for free. "Equipment for the four sites has been provided to the utility free of charge by the Information Technology Disaster Resource Center, a private, industry funded disaster relief organization while the bandwidth is being offered by Northwest Open Access Network (NoaNet)," explains Hanny.
Officials hope to keep the sites open even after Washington's Safe Start plan allows for in-person learning again. "But that will be impacted by a number of factors," admits Hanny. "These units are the PUD's to keep but the bandwidth that provides access to the Internet is currently being donated. Once COVID restrictions ease it is unclear who, if anyone, will be willing or able to provide the free bandwidth. I am confident that can be sorted out when we get to that point and start having those discussions."
For additional information about these new hotspots or with questions about the project as a whole, simply email the team at telecom@ghpud.org.
For residents who need help with their utility bills during the Coronavirus, the Grays Harbor PUD COVID-19 Assistance Program may be able to help. Starting in April, they suspended late fees and residential disconnects as well as postponing a planned rate increase. To apply or see if you're eligible, contact the customer service team by calling 360-532-4220 or email customerservice@ghpud.org.
Whether you log on for school, work, telemedicine, television or to load up online shopping carts, we've all come to rely on the internet as a safe, germ-free way to stay informed, healthy and occupied. Thanks to the Grays Harbor PUD, everyone can have access when and where they need.