Craig Dublanko remembers Saturday, June 9, 2018 like it was yesterday. "I got a call at 9:28 a.m. telling me the armory building was on fire," he recalls. Craig is CEO of the nonprofit Coastal Community Action Program (CCAP), who was a major tenant of the building. When he arrived, he saw the fire was in the back corner of the museum, diagonal from his office. "I was sure they would get it put out long before it reached our offices," he continues. But he stood there in the street with the other CCAP employees and their family members, hour after hour, as the fire consumed office after office. He had a photo of his family taped to the window of his office, so he watched, waiting for the photo to be consumed. "There were tears by many," he adds. By 12 p.m. the building was mostly gone, including all of the CCAP offices.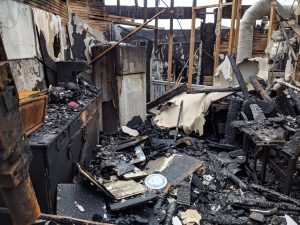 As a renter, CCAP had insurance to cover the inside items, but nothing else. The only thing they were able to salvage were a couple hard drives that worked for two days before quitting from the damage that was done by the fire. As a social service organization, Craig and his team knew it was vital they continued. People had immediate needs like housing, food, employment, and transportation that did not disappear just because CCAP no longer had a home. So, they wasted no time getting to work, meeting that very night and next day at a local church. "One of the first things I did that Saturday was call the guy that was representing the owner of the Bank of America building," explains Craig. He knew its central location and large capacity was perfect for CCAP's growing programs.
And like a phoenix, CCAP raised from the ashes and re-opened their doors in a new location just three days after the fire.
A Building Communities Fund (BCF) Grant in 2018 helped with the purchase of the old Bank of America building as well as work on the HVAC system, elevators, lighting retrofit and architectural work that was needed to upgrade the old building.
"The fire gave us an opportunity to start over, to build from the ground up, and we made ourselves so much better," explains Craig. The large space of the new building gives them room to expand their programs, which included taking full advantage of newly allotted Washington State Medicaid funds, which can now be used for supportive housing services. "It's performance based contract," explains Lucy Machowek, CFO of Coastal Community Action Program. "We are fortunate that we can help so many more people."  Part of this is the Pathways program, which has 20 paths to help those who are homeless get back into a home. CCAP has over 750 people on Medicaid and the Pathways program throughout Grays and Pacific counties.
Many of you probably remember that the Aberdeen Senior Center was also in the same building, and is run by CCAP. Part of their rising strong strategy, they purchased a separate building—the old Eagles lodge—that is transforming into a Senior Center with a full commercial kitchen, billiards, tv, game tables, and a floor space big enough for dances, with a stage for entertainment. The Center will also have a coffee bar when finished, where seniors, as well as the public, can come in, grab a coffee or snack to go, or sit at one of the tables.
Back at the CCAP building, COVID-19 made them switch gears once more, when the governor said no inside work. Again, they knew they couldn't just close their doors as hundreds of people relied on their services to survive. More quick thinking on the part of Craig and his team kept their doors open without a hitch. "We had the old, undercover drive through area, so we turned it into an outdoor walk-up office. People can check in, we have charging stations, and then they can get connected with the help they need." In the drive, they set up a pop-up building for security, along with several pop-up wooden "huts." Each hut has a heater, TV, laptop and camera. Once checked-in, a person is directed to one of these huts and, once inside, they can have a Zoom chat with one of the workers inside the building. The ingenuity to keep their services open to the public no matter what – come fire or virus – is impressive.
Just the Beginning
But this is just the beginning. The building is still mostly a shell, with some donated furniture and a few temporary cubicles that were being used to meet with clients before COVID-19. Otherwise, they pretty much used what was there. "We are like water," says Lucy, "we just flowed around what was left here and have used it the best we could." For example, walk into the old safe and you will find office supplies inside the deposit boxes: that's one way to make sure you always have pens! Or the old teller desks, now being used as payee windows for the social security payee program. The payee program showcases another ingenious move by CCAP: They found that people were having a hard time cashing checks from the payee program, so they worked to get their own debit card. Now, they can put money on the debit card for people to have readily available.
Other programs include four employment programs, housing and energy services (such as weatherization), housing assistance, health and nutrition, home care services, transportation (including to and from job interviews or medical appointments), and more. They are the coordinated entry hub for the area for those that are homeless. They also have the Ryan White HIV/Aids Case Management and Services program where they work on virus suppression. They have a 97% suppression rate. In Grays Harbor they give over $1.5 million in rental assistance per year. And in energy assistance, they give $1 million per year in both counties. It's hard to grasp the scope of their programs without seeing office upon office—three stories in total—all to help local low-income residents increase their quality of life.
To continue to rebuild, they have applied for another round of BCF Grant funding. Craig and his team have worked hard to keep costs down, including lowering their initial building budget by nearly $1 million. And they use local companies whenever possible while getting the best rates for the work they need to keep them at budget, or even under when possible. This second round of funding is for $4.1 million, to finish the project. It includes the remodel of over 30,000-square-feet of space; roof, seal and paint repair; fire protection; electrical; and furniture and equipment.
"This building has the potential to be so much more than what we were before," says Craig. The building is tsunami resistant, with an electrical grid that is large enough to power half the Downtown Aberdeen, so they have already talked to the Red Cross and the County Emergency Management about using it as an emergency shelter, including having it stocked and ready to go as a place for temporary shelter should a natural disaster occur.
For more information on service, how to donate or volunteer, visit the Coastal Community Action Program website.
A fire is never a good thing, but in this case, the phoenix did rise again and is growing into something even better. Something #CCAPStrong.
Coastal Community Action Program
101 E Market Street, Aberdeen
360.553.5100
Sponsored