For over 20 years, Lily Lane Farm has been providing Grays Harbor with stunning flowers. Founders Monte and Loni Hooper began the farm with lilies, looking for something people with a "brown thumb" could grow. After naming his first hybrid daylily after his wife, Loni Jane Hooper, a business was formed.

Since then, they have been selling flowers along with antiques and other items in their small gift shop. Last Year, Monte and Loni decided it was time to move on. In a July 10, 2020 Facebook post they said: "Due to health concerns and wanting to have more freedom in our retirement, we have decided to turn our 'retail reins' over to a younger, more energetic talent. We would like to introduce Angela Johnson, who will be starting up the retail end of the farm spring of 2021. She will be continuing the business under the name Lily Lane Flower Farm." The Hoopers will be maintain their Lily Lane Farm Facebook page, though, so you can still keep in touch with the couple that has brightened our lives for over two decades.
A New Chapter for Lily Lane Flower Farm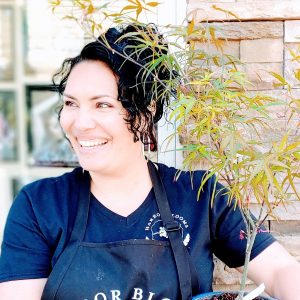 Angela has been a lover of flowers since she was a little girl. "Ever since I was a little girl I was always drawn to flowers," she says. "I was mesmerized by their amazing shapes and color palette." So it made sense she would be drawn to a career that involved flowers. She started when she was 16 years old, working at Gifts A La Carte in Mill Valley, California. There she worked with freeze-dried flowers. When she was 19, she got a position at a floral shop where they trained her in design. She had found her passion.
During that time, roughly 20 years, Angela Johnson would come to Grays Harbor every summer to visit her father, a commercial fisherman. "One summer vacation, it was time to go back to Cali and my stomach felt sick, I just thought, 'Why am I going back to a place I don't want to be?'" Angela explains. "So, my husband and I decided to pack up our three kids and move to Westport. I just loved the small-town community and laid-back beach life and wanted my kids to grow up in a place like this."
That was 10 years ago. During that time, she worked as a designer at Harbor Blooms. Then, five years ago, Angela met the Hoopers. "When I worked at Harbor Blooms, I used to pass by every day and grab some cut flowers for the shop," she says. "I have always dreamed of someday having a farm and loved the idea of a flower farm. Loni and I were always talking maybe someday I would take it over."
When the day came, and the Hoopers asked her officially if she wanted to take over, she jumped at the chance. "I have never worked on a farm before, but just believed I had it in me, and Loni believed in me too," she shares. "I know owning a farm is going to be a lot of work but I have a lot of support from my family. I know I'm up for the challenge."
She has big plans for Lily Lane Flower Farm, while keeping with the Hooper's traditions. You will still find lots of daylilies, but she is expanding the variety of cut flowers as well. In addition, she wanted to bring in more customers by expanding the gift shop with a focus on locally made products. You will also now find nursery plants and lots of unique terrariums and indoor plants. "We may have classes on terrariums or maybe paint and sips in the future," Angela adds.
Lily Lane Flower Farm is now officially open and Angela plans on extending the hours past the regular flower blooming season, into the holidays so you can shop for locally made gifts for everyone on your list. You can follow Lily Lane Flower Farm on her new Facebook page, on Instagram, or visit the Lily Lane Flower Farm website for more information.