This calendar is the place to find fun events happening throughout Grays Harbor County including Aberdeen, Hoquiam, Westport, Ocean Shores, Elma, Montesano and beyond.

Sep
16
Sat
Chehalis Watershed Festival

@ Lake Sylvia State Park
Sep 16 @ 9:00 am – 2:00 pm
Jul
6
Fri
Driftwood Theater presents "Love Letters" by A.R. Gurney

@ Driftwood Theater
Jul 6 @ 7:30 pm – Jul 28 @ 7:30 pm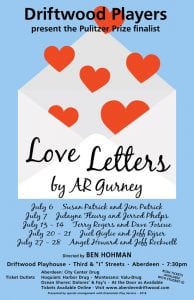 LOVE LETTERS
Written by A. R. Gurney
Directed by Ben Hohman
Reader's Theatre for all ages.
Andrew Makepeace Ladd III and Melissa Gardner, both born to wealth and position, are childhood friends whose lifelong correspondence begins with birthday party thank you notes and summer camp postcards. Romantically attached, they continue to exchange letters through the boarding school and college years, where Andy goes on to excel at Yale and law school, while Melissa flunks out of a series of "good schools." While Andy if off at war, Melissa marries, but her attachment to Andy remains strong and she continues to keep in touch as he marries, becomes a successful attorney, gets involved in politics and eventually is elected to the U.S. Senate. Meanwhile, her marriage in tatters, Melissa dabbles in art and gigolos, drinks more than she should and becomes estranged from her children. Eventually she and Andy do become involved in a brief affair, but it is too late for both of them. However, Andy's last letter, written to her mother after Melissa's untimely death, makes it eloquently clear how much they really meant and gave to each other over the years; physically apart, perhaps, but spiritually as close as only true lovers can be.
Performance dates: Every Friday and Saturday evening with curtain time at 7:30. Each weekend features a different cast.
Tickets are $15.00 and are available online at:
aberdeendriftwood.com

Aug
14
Wed
The Perspective Album Release Party

@ NW Passage
Aug 14 @ 9:00 pm