This calendar is the place to find fun events happening throughout Grays Harbor County including Aberdeen, Hoquiam, Westport, Ocean Shores, Elma, Montesano and beyond.

Apr
22
Fri
Chehalis Basin Partnership Meeting: Agriculture in the Chehalis

@ Lucky Eagle Casino
Apr 22 @ 9:30 am – 12:00 pm
The theme of this month's meeting is "Agriculture in the Chehalis Basin".
A presenter from the Lewis County Farm Bureau will present information about opportunities and challenges to the agriculture industry in the Chehalis Basin. We will also hear from the owner of a local organic farm.
We will also have a chance to learn about the Voluntary Stewardship Program being offered in Thurston, Lewis and Grays Harbor County. The program helps farmers create voluntary stewardship plans for protecting Critical Areas.
The Lewis Conservation District will share what they are doing to work with farmers in the Chehalis.
This meeting is open to the public and everyone is invited to attend!

Jun
16
Sat
Tour and Vigil for Housing

@ Downtown Aberdeen
Jun 16 @ 3:00 pm – 5:00 pm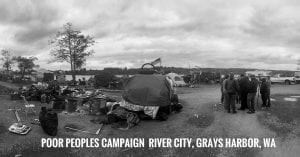 FOR IMMEDIATE RELEASE
"We are coming together because we are tired of Grays Harbor County's economic devastation and we are working together to make our city a better place for everyone," says Mashyla Buckmaster, organizer with Harbor Rising and Chaplains the Harbor.
June 12th, 2018
CONTACTS:
Mashyla Buckmaster (360) 580-4278
Stina Janssen (360) 301-3340
Downtown Future Housing Site Tour and Vigil to advance vision for 2,000 affordable housing units in Aberdeen Revitalization Plan
Aberdeen, WA – Residents of Aberdeen who have experienced homelessness first-hand and housing-insecure families advocate that affordable housing must be a central emphasis in Aberdeen's Revitalization Plan. Saturday, under the banner "Harbor Rising," we will gather to welcome the Most Reverend Michael Curry, presiding bishop of the Episcopal Church, to the streets of Aberdeen. Having sermonized at the Royal Wedding, Curry is now an international household name. Presiding Bishop Curry's presence honors the work of our local community, which is rising to the challenge as we face down a housing crisis and advance lasting solutions.
Local residents will lead a downtown tour highlighting both our plight and our potential for future affordable housing and treatment centers, demonstrating our vision to the Presiding Bishop and members of the New Poor People's Campaign visiting from across Washington State. We will end the day with a vigil at Aberdeen City Hall to honor the many lives lost due to homelessness in our community. The tour will meet at 3:00pm Saturday, June 16th in the parking lot next to Jay's Fruit Stand (corner of South G St and E Heron St, Aberdeen, WA 98520) and will end at City Hall (200 E Market St) for a vigil.
Making housing a central priority in Aberdeen's Revitalization Plan would address issues at the heart of citywide concern for Aberdeen's economic future.
In recent weeks, the City has responded to homelessness with ordinances that would punish homeless people for the housing crisis. There have been community efforts to evict the largest homeless camp in the city. Like the City and the business community, we want a better future for our city and we want businesses and workers to do well.
We mourn the devastating loss of the Aberdeen Armory, which housed vital services including Meals on Wheels, the Museum of History, and Coastal Community Action Program, a provider of housing assistance. Despite the backlog the fire's destruction will place on housing resources, we know that as a resilient community, we will rise.
Those who know homelessness firsthand have a vision to restore our county and its people by rebuilding our housing stock. One in sixteen people—approximately 1,000 people—are homeless in Aberdeen (DSHS 2017). For every 100 extremely low-income families in Grays Harbor, there are just 17 housing affordable units available. For the 1,775 extremely low-income households in the county, there are only 615 affordable units available, and for the 1,715 very low-income households, only 605 affordable units are available (American Community Survey Data 2016).
Meanwhile in Aberdeen, 11.7% of housing, 862 units, stand vacant (US Census 2010), most of these currently unfit for human habitation. We propose that 2,000 units be built or restored in Aberdeen to fill the gap in affordable housing availability. Harbor Rising imagines responsible agencies partnering with local organizations to provide housing including pathways to home-ownership and employment in housing construction and restoration. The Future Housing Site tour, led by people who have experienced homeless and housing insecurity first-hand.
The tour will end at City Hall for a vigil for those who have died on the street, prayer, and words from Presiding Bishop Curry.
Harbor Rising is made up of people with experiences of homelessness and housing insecurity, local residents, and organizations including Chaplains on the Harbor, Democracy Rising, Blind Justice and more.