Apr
7
Fri
K9ScootersNW Glow Run

@ Beach Trail
Apr 7 @ 8:00 pm
Come watch the dog teams mush down the Beach Trail in Westport. The dog teams will be leaving Westport Light State Park on W. Ocean Ave. at approximately 8:00PM and heading to the Tower located in the Marina. The Tower will be the turn around point for the teams and they will be mushing back to the State Park. You can view the teams at any place along the trail. K9ScootersNW Members will be decorating their dog teams with glow lighting and will be competing for the best lit team.

Apr
8
Sat
K9ScootersNW Parade and Meet the Mushers

@ Westport Marina and City Parking Lot #3
Apr 8 @ 1:00 pm – 3:30 pm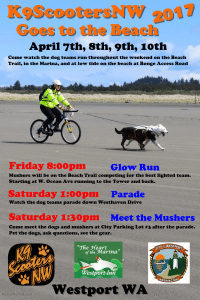 Come watch the mushers and dog teams parade through the Westport marina. Parade starts at 1:00pm. The dog teams will be leaving City Parking Lot #3 (next to the Tower) and running down Nyhus St. N. to Lamb Street. The dog teams will then return down Westhaven Drive to City Parking Lot #3. After the parade, come Meet the Mushers in the parking lot. Ask questions, meet and pet the dogs, see the gear.