Craig Dublanko is a golfer, save for a few fleeting moments on the gridiron in high school.  At 5'9″, the links enthusiast is like many other middle aged males across the country, preferring the greens to the ground.
However, his son, Joel, is the exception for incoming high school sophomores across the United States.
At age 15, Joel is rated one of the top football players in the country for the class of 2016.
Already 6'3″ and weighing in between 220-230 pounds, Dublanko is close to the prototype for a middle linebacker and has the speed and skills to play at the Division I collegiate level.
As a freshman at Aberdeen High School last season, Dublanko added to his high level reputation that he earned at the Eastbay 7th and 8th Grade All-American games in 2011 and 2012.
For the Bobcats, Dublanko started games at linebacker, defensive end and running back, totaling over 400 plays at the varsity level during the 2012 season.
Rated as one the top 50 prospects for his class by Maxpreps.com, Dublanko has already generated recruiting interest from a large collection of the nation's top college football programs.
Currently holding Division I offers from Mississippi State and Akron, Dublanko is also being recruited by Nebraska, USC, Stanford, Arkansas, UCLA and North Carolina among many others.
This past offseason was extremely busy for Dublanko.  He was the starting linebacker and captain for the Under-16 US National Team in Austin, TX. He also visited several camps and college campuses across the country, including Washington, Oregon State, Mississippi State, Florida State, Tennessee, Georgia, UCLA and Washington State.
Holding a 3.4 GPA in the classroom, Dublanko enjoyed the whirlwind tour this past spring and summer, which also included trips to the Northwest Elite Barton Football Academy. However, he is ready to get back on the field and compete with his Aberdeen teammates.
"(Visiting camps and campuses) was great.  Some of the programs (down south) are legendary, and it can be intimidating going in. I think I held my own, and I'm just glad to have had that experience," said Dublanko, who was offered by Mississippi State while visiting this summer. "It's all still fun to me.  I like the recruiting process and talking to reporters. But I love hitting people, and I'm excited for the season to begin and start playing in the games."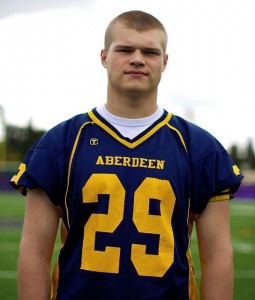 Craig is very pleased with how his son is handling the attention and accolades he's receiving at such a young age.
"He's getting a lot thrown at him but he's approaching it with the right mindset, the right attitude," said the proud father.  "As parents, we know he's a good, hard working kid, and he always tries to do the right thing."
Things are certainly starting to go right for the Aberdeen football team in recent years after a period of low win totals.  Last year, the Bobcats went 3-6, after finishing with only one win in each of the two years prior.  Now, under second year head coach Terry Dion, a former player at the University of Oregon and a previous member of the Seattle Seahawks, the Bobcats have nineteen seniors and a new set of expectations.
"I think, from what I've seen, we've come a long way from last year," said Dublanko. "We had one of our better years in a while last year and we expect more this year. Our offensive line is all seniors and it's just a great group of guys to play with."
"The team has been highly competitive.  We've had a really strong spring and were dominant in camp," said Dion, who helped lead Shelton High School to the 1974 state championship before playing at Oregon.  "We're evenly talented at every position, and it's a tight knit group."
This season, Dublanko is slated as the starting linebacker in the Bobcats stack 3-5 scheme.  Offensively, he will be the starting three back, which joins the quarterback in the now popular pistol formation.
On defense, Dublanko, depending on the situation and formation of the opposing offense, will be moving inside and out.  While on offense, the Bobcats will use his size, speed and natural football instincts to move the ball down field.
Whatever the coaching staff asks of him, Dublanko will be quick to answer the call
"I feel faster and stronger and that I can make more of an impact than last year," said Dublanko, who is also the team's back-up quarterback. "It's fun to play all these positions because you're involved in a lot of plays and just can help your teammates even more."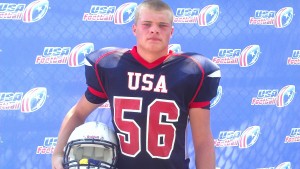 "His future at the next level is at inside linebacker, but he's going to play a variety of roles for us.  We're trying to make sure we balance our talent out," said Dion, who noted that Dublanko can throw the ball 70 yards.  "There's lots of promise in the future for him at quarterback but he's such a physical running back and can really punish tacklers."
Recruiting has changed a lot since Dion was an aspiring Division I athlete.  There was no social media, game film was hard to come by, and players earned a reputation by word of mouth between traveling coaches and recruiters.  Dion and Craig Dublanko know if anyone can handle the recruiting pressure at such a young age, it's Joel.
"Recruiting is not even close to being similar now with Twitter, YouTube. It's just a totally different world.  I think it has gone a little overboard," said Dion. "But Joel is the real deal, no doubt about it and he's a great kid.  If any kid can handle that and keep a level head, it's him."
"It's just a reality now," said Craig Dublanko of the current recruiting landscape.  "It's something we just have to adjust to.  But Joel, he keeps perspective.  His head isn't any bigger now than it was when he was younger.  He just does his work and handles his business like always."
Dublanko credits his parent's sacrifices for generating his exposure to nationwide football scouts.
"I'm very thankful for my entire family.  They've sacrificed so much so I can go these camps," said Dublanko, who, according to his father, is the number one linebacker recruit for the class of 2016 by Florida State coaches and near the top at a number of other programs. "I'm just blessed and want to make the most of these opportunities."
With exposure comes a target on the back of Dublanko's jersey.   Aberdeen's Greater St. Helens League opponents will certainly have heard about the star linebacker from Grays Harbor.  Dublanko has accepted the pressure and is more than happy to put his skills up to the test.
"I've got a target painted on my back with all of this (recognition and recruiting).  I just have to play as hard as I can," said Dublanko, the highest regarded football recruit from Aberdeen since Mark Bruener in the late 80s and early 90s. "I don't feel pressure really. I just know I need to work hard every play.  I like the big hits, the ones where fans say 'he got crushed.'  I like the tight games, where the teams are closely matched.  You have to like all of those things to be a top player."
Dublanko is certainly on the path toward gridiron greatness – a path he will meet with hard work, talent and a drive to be the best.
"I know I have a lot more work to do," said Dublanko.  "I worked on my agility and strength all summer. It's a long process.  I just want to stay grounded."
The natural size and ability that make him such a great player appears to not have come from Craig Dublanko's side of family.  "My daughter is 5'11" and Joel is 6'3″.  My wife's dad was 6'4," said Craig Dublanko.  "I guess I married well."
I guess so indeed.