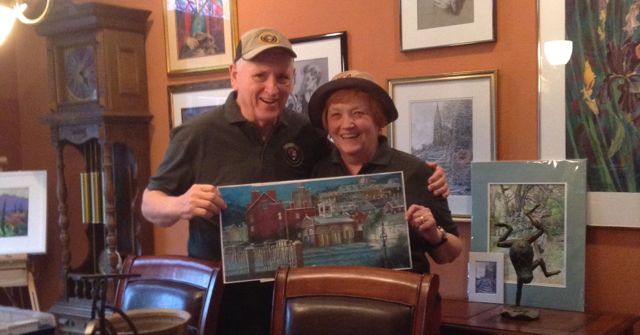 By Lisa Shell

It's a long way from Grays Harbor to the historic town of Harpers Ferry, West Virginia, but it wasn't too far for Ken and Vicki Mitchell, the not-so-retired couple from Cosmopolis.
In the fall of 2012, Ken's fascination for the Civil War led the couple on a life changing adventure.  After visiting the battlefield at Gettysburg, the Mitchell's took a country road to a place where the Potomac River meets the Shenandoah River. They landed at the historic town of Harpers Ferry.
Harpers Ferry was home to the first successful railroad and the place where John Brown's attack on slavery took place. The largest surrender of Federal troops occurred here during the Civil War.  After the war, the town housed one of the first integrated schools in the United States.
Ken, Vicki and her mom, Virginia, toured the historic region, stopping at the national park.
The Mitchell's had added the stop to their itinerary at the last minute.  While visiting the park, Ken and Vicki chatted with some of the staff. These two lifelong educators and artists were recruited on the spot to serve as volunteers and an artist in residence. 

Recently, I sat down for a little chat at the couple's Cosmopolis home.   When I entered through the front door, they stood side-by-side, sporting matching dark green logo shirts with a patch on the upper left corner that read, "Volunteer Harpers Ferry National Historical Park."  Ken quickly walked towards the dining room, and I followed.  My eyes glimpsed around and landed, just for a moment upon the painting of two wrinkled faced ladies side by side – one with a scowl, one with a smile.  Ken said, "That's arsenic and old lace."  I chuckled.
Ken met Vicki in 1967 while painting a large outdoor mural on the University of Northern Colorado campus. They married in 1968. Both received masters degrees and Vicki finished her doctorate.
The couple taught at Colby College in Kansas for twenty years.  Ken taught fine arts and Vicki taught art history and women's studies. Vicki spent ten years as a dean at Yakima Valley Community College.  They relocated to Aberdeen about 15 years ago to be closer to their son, K.C., and his family. Vicki took a job as Vice President of Instruction at Grays Harbor College, finishing her teaching career at Harbor High Alternative School teaching English and Art.
This year marks Ken's 50th year teaching.  He spent it as substitute teacher at Miller Junior High School.  Currently, Vicki spends four days a week helping students prepare for their GED exams at GRAVITY.  In her spare time, she creates gourds, murals, pastel portraits, and stage jewelry for her costume designer daughter, Kendra Rai.  Ken plans to "always teach art."
When they landed in Harpers Ferry, the Mitchell's arranged to bolster their Civil War knowledge by reading five books and taking a class.  After, the pair settled into a federalist-style inn, located in Harpers Ferry's old downtown.  During the day, you can find them stationed along the cobblestone streets painting, sketching and spreading enthusiasm about the area.  They answer questions about the railroad industry, national heritage and John Brown's Raid.
In September 2013, Vicki was recognized by the National Park Service as Volunteer of the Month.
One of Ken's paintings was recognized and reviewed for accuracy.  It will be displayed at the main visitor center. The chosen watercolor illustrates John Brown's Fort in its original form.  The fort itself was torn down brick by brick several times and moved over the years.  It rests now back at Harpers Ferry. In 1862, John Brown's Fort was a firehouse protecting the nation's armory. John Brown and his men held their last stand in the old red brick building, and that is why it's often referred to as a fort.
As I looked around the different rooms and listened to the stories about their life, I was overcome by the scenery, colors and characters that gazed at me. The paintings, sketches, photos, pottery and statues all seemed to own the place.  I felt humbled and quieted.  Ken and Vicki are teachers at heart, proud parents, loving grandparents and active in the community.
Currently, the couple is celebrating the costume design work of their daughter, Kendra Rai.  Her costumes are featured in the performance "Three Little Birds," a musical based on a story by Cedella Marley, who is the first-born daughter of famous reggae singers Bob and Rita Marley.  The show played live at The New Victory Theater, an off-Broadway theater located on West 42nd Street in midtown Manhattan.
Proudly Vicki said, "We walked towards the theater. They had a great big billboard, displaying Kendra's work.  It was larger than life."  Ken added, "Like on a catwalk, we were so thrilled."
Kendra's costumes have also been displayed at the Lincoln Center, Kennedy Center and in the Hall of Mirrors in Versailles, France.  Her dad said proudly, "She was the youngest firsthand that the national opera ever had.  She was offered a full-ride scholarship from Penn State, recognizing her ability to take designs and them into costumes."
You can view Ken's watercolors and Vicki's pastels at the Aberdeen Timberland Regional Library in June.  If you plan a trip to Harpers Ferry say hello to the Mitchell's.  If you remember the words to John Denver Song, "Country Roads," sing along.  "Almost heaven, West Virginia, Blue Ridge Mountains, Shenandoah River."