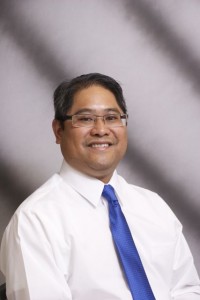 After a long search for the right addition to the Gastroenterology team at Grays Harbor Community Hospital, Dr. Justin Marasigan made the move from the east coast to set up his practice here in Grays Harbor.
Dr. Marasigan had just finished his fellowship at Millcreek Community Hospital in Erie, Pennsylvania when he found the opportunity at GHCH. After living away from the west coast for years, he wanted to come back to this side of the country to settle down.  The smaller community feel offered in Grays Harbor was the perfect fit.
He grew up in Southern California where he also received his undergraduate degree. From there, Marasigan attended Kirksville College of Osteopathic Medicine in Missouri and received further training in Detroit, Michigan. Erie was his last stop on the road back to the west coast with his wife and their german-shephard/lab mix dog.
Marasigan has been practicing at Grays Harbor Community Hospital for nearly a year. His interest in the world of gastroenterology has been a part of his life for many years.  He claims that it may have started his interest in scopes which seemed almost like a video game at times. He obviously became more serious as his studies progressed and now is able to see and treat patients with a variety of ailments on a daily basis.
Gastroenterology is a field dealing mostly with the digestive tract including the stomach, colon and liver. Colon health is especially important for those over the age of 50 or with family history of colon cancer and catching this cancer in its earliest stages can be vital to staying healthy.
Dr. Marasigan also recommends that those experiencing acid reflux notify their primary care physician. Many people suffer from the difficulty of indigestion and acid reflux, which may seem harmless at first, but can in extreme cases cause esophageal cancer and other more serious ailments. Should your primary care physician recommend you to him, Dr. Marasigan can use a scope to easily see in more detail what kind of damage might have occurred due to acid reflux and help you find ways to combat it and heal.
Though Grays Harbor is not entirely close to Los Angeles, Dr. Marasigan is excited to be back on the west coast. "Everyone warned us about the weather," he said, "but coming from the Great Lakes… this isn't so bad."
On those days when the sun does shine, he enjoys visiting Ruby Beach or Westport with his wife and their dog just to enjoy the natural surroundings and the slower pace of life.
Should you be in need of health care for you GI tract, consider speaking with your primary care physician to ensure you maintain your good health.