By Chelsea Royer

"Daddy, daddy! I want to be a Cub Scout!" Rick Strom's son came home during the last week of kindergarten with a Boy Scouts of America flier. Having grown up as a Scout and graduated with his Eagle Badge, Rick didn't need much encouragement to get involved again. With twenty-five years now invested into the Boy Scouts program, Rick Strom is still excited to be a part of the Scout mission. It's his passion, what consumed much of his childhood, his adulthood and something he is passing on to the next generation.
Rick is proud of the fact that he achieved his Eagle Badge all those years ago. But more so, he is proud of his son and the fact that 38 years to the day since Rick was awarded, his son received his own Eagle's Badge. Out of the six or seven original Scouts Rick began leading as Cubs, five of them have been committed enough to strive for their Eagle Badge. Rick couldn't be more proud.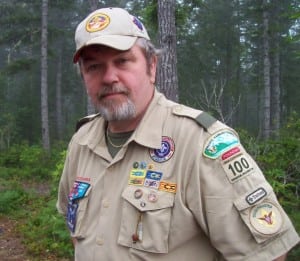 As a Scout leader, Rick feels one of the greatest benefits to being a Boy Scout is learning how to serve the community. With three of his Scouts working on their Eagle Badge, their final projects involve hundreds of hours benefiting their communities. Their motto, "Go big or go home," has been their mantra as they pour heart and soul into their individual projects.
Becoming an Eagle Scout is no easy feat. The prerequisites require a minimum of 21 Merit Badges before the additional requirement of an Eagle project that benefits the community. Allan Burnett, Eagle Scout of the year for his district, poured 550 hours into his project renewing a local park. Other Eagle tasks under Rick's supervision have included restoring the tombstones of veterans, putting up dozens of flags and flagpoles in downtown Hoquiam, building concession stands, and landscaping public buildings.
Obtaining an Eagle Badge requires dedication and determination, which is why Rick has reason to boast. His Troop, otherwise known as the Hoquiam Troop 100, has produced six Eagle Scouts through this year. "The Scouts get a sense of worth out of doing good," Rick explains. With the news highlighting so many youths at risk and in crime, he is proud to be encouraging a set of young men with the desire to impact their communities for the better. It gives the community a reason to highlight their youths for positive reasons, something Rick considers very important.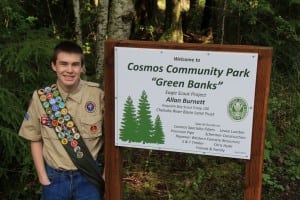 "Coach Rick," as he is often called, doesn't limit his activity to leading Boy Scouts. A coach of numerous sports in Grays Harbor County, he is currently coaching two teams in Harbor Youth Soccer. His constant encouragement for his Troops to stay active is what he believes helps his Eagle Scouts stay motivated. Perhaps this attribute lends itself to the success of many of his Scouts – after all, several have been in the top ten Eagle Scouts of the year for their Washington District.
Rick is excited to see that nearly every one of his boys have enthusiasm for helping out the younger generation of Scouts. Having had such positive experiences themselves, they are excited to give back and ensure amazing first years for the upcoming sets of Cub Scouts.
Rick explains that much of the time, he isn't around so much to lead his scouts as he is to supervise. Developing leadership skills have changed little boys who liked to throw tantrums into young adults who are kind-hearted and unafraid of taking charge.
One of Rick's proudest moments was seeing a Scout, who has grown up with Autism, help lead a group of Cubs on a hike, take care of their scrapes and bruises, and then decide he would achieve his Eagle Badge. Whether or not Rick's Scouts have pre-existing challenges, each one has had to work hard and unceasingly to reach the goals they set for themselves.
Though his son is now an Eagle Scout, Rick has no intention of leaving. He has way too much enthusiasm for recruiting new Scouts. In fact, he'd like to talk to you about joining Boy Scouts of America in your own neck of the woods!
You can email Rick at: rstrom19@comcast.net or check out the Hoquiam Boy Scout Troop 100 Facebook Page for more information on how to join or volunteer.